Free trailer - Breaking the boy
Free trailer - The French Pornographer

Full member's upload - 42 minutes. "Irene Boss meets Dante Posh"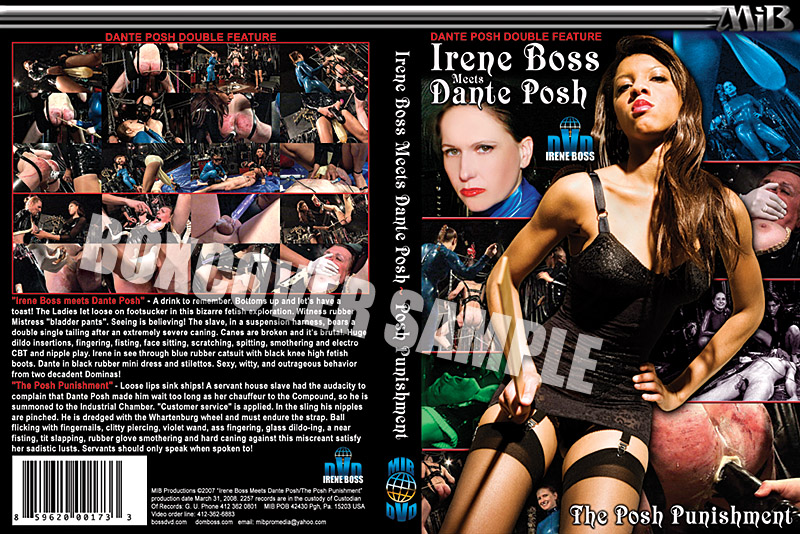 A drink to remember. Bottoms up and let's have a toast! The Ladies let loose on footsucker in this bizarre fetish exploration. Witness rubber Mistress "bladder pants". Seeing is believing! The slave is on the cross and bears a double single tailing after an extremely severe caning. Canes are broken and it's brutal. Huge dildo insertions, fingering, fisting, face sitting, scratching, spitting, smothering and electro CBT and nipple play. Irene in see through blue rubber catsuit with black knee high fetish boots. Dante in black rubber mini dress and stilettos. Sexy, witty, and outrageous behavior from two decadent Dominas!

Full member's upload - 75 minutes. "The Discount Whorehouse"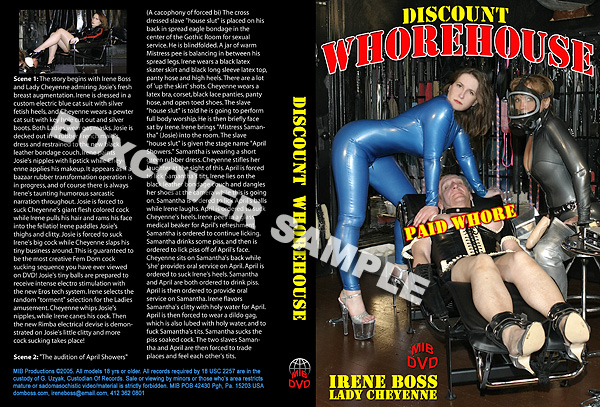 Scene 1: The story begins with Irene Boss and Lady Cheyenne admiring Dingdong's fresh breast augmentation. Irene is dressed in a custom electric blue cat suit with silver fetish heels, and Cheyenne wears a pewter cat suit with key hole cut out and silver boots. Both Ladies wear gas masks. Dingdong is decked out in a rubber French maid's dress and restrained to the new black leather bondage couch. Irene paints Dingdong's nipples with lipstick while Cheyenne applies his makeup. It appears as if a bazaar rubber transformation operation is in progress, and of course there is always Irene's taunting humorous sarcastic narration throughout. Dingdong is forced to suck Cheyenne's giant flesh colored cock while Irene pulls his hair and rams his face into the fellatio! Irene paddles Dingdong's thighs and clitty. Dingdong is forced to suck Irene's big cock while Cheyenne slaps his tiny business around. This is guaranteed to be the most creative Fem Dom cock sucking sequence you have ever viewed on DVD! Dingdong's tiny balls are prepared to receive intense electro stimulation with the new Eros tech system. Irene selects the random "torment" selection for the Ladies amusement. Cheyenne whips Dingdong's nipples, while Irene canes his cock. Then the new Rimba electrical devise is demonstrated on Dingdong's little clitty and more cock sucking takes place!
Scene 2: "The audition of April Showers" (A cacophony of forced bi) The cross dressed slave "house slut" is placed on his back in spread eagle bondage in the center of the Gothic Room for sexual service. He is blindfolded. A jar of warm Mistress pee is balancing in between his spread legs. Irene wears a black latex skater skirt and black long sleeve latex top, panty hose and high heels. There are a lot of 'up the skirt' shots. Cheyenne wears a latex bra, corset, black lace panties, panty hose, and open toed shoes. The slave "house slut" is told he is going to perform full body worship. He is then briefly face sat by Irene. Irene brings "Mistress Samantha" (Dingdong) into the room. The slave "house slut" is given the stage name "April Showers." Samantha is wearing a short green rubber dress. Cheyenne stifles her laughter at the sight of this. April is forced to lick Samantha's tits. Irene lies on the black leather bondage couch and dangles her shoes at the camera while this is going on. Samantha is ordered to lick April's balls while Irene laughs. April is ordered to suck Cheyenne's heels. Irene pees in a glass medical beaker for April's refreshment. Samantha is ordered to continue licking. Cheyenne sits on Samantha's back while 'she' provides oral service on April. April is ordered to suck Irene's heels. April is then ordered to provide oral service on Samantha. Irene flavors Samantha's clitty with holy water for April. April is then forced to wear a dildo gag, which is also lubed with holy water, and to fuck Samantha's tits. The two slaves Samantha and April are then forced to trade places and feel each other's tits.

| | |
| --- | --- |
| Domina Catilin's debut on DVD with MIB Productions. | "Breaking the boy" Enjoy Domina Caitlin's sexy Brooklyn accent! Welcome to "Stud's cleaning service". The arrogant masculine male maid has chosen to take naps in the Guest Mistress Suite at the Compound instead of cleaning the bedding. Domina Irene Boss and Mistress Caitlin from NYC figure it all out quickly. They give him an ultimatum. He must either endure a strict no nonsense corporal punishment at the hands of the two Dominant Domestic Cougars and apologize, or he will be reported to the Better Business Bureau. First he is made to strip. He talks at the camera and you get to see how he really feels, but the Ladies prevail over the smirky smart ass. They begin with a good old fashioned over the knee tandem bare bottom hand spanking with verbal humiliation. He falls asleep during the spanking, so the Ladies take serious measures against the sassy brat. He is placed face down upon the very bed he soiled in a spread eagle bondage position. The Ladies break out the paddles, tawses, straps and lexan. The miscreant is moved to the dungeon for corrective clothespin torment and the Ladies change into sexy corsets of rubber and brocade. Oh yes, the Ladies bat the clothespins off and he is made to pick them all up while he wears a spreader bar. He is then put on the CBT chair for bipolar electric nipple play and electric CBT with a corona stimulator and sparkler. He gives in at the end by proclaiming that all women are naturally dominant, and all men are controlled by their cocks. The Ladies win and Women rule! He thanks the Ladies for his correction. Yah right. Some stud! |

| | |
| --- | --- |
| | "The French Pornographer" The debut of Mina Meow and Anastasia Pierce on DVD with MIB Productions. The French pornographer, Anastasia Pierce is working passionately with her model Mina Meow. A photo shoot and POV video are in perfect order for this edgy, unique artistic project. Into their work, way too much noise is being made, thus summoning Kendra James, head of hotel security. Upon entering the problem room, Kendra finds a very provocative and graphic video shoot taking place. "This must not continue in this five star hotel", however Anastasia and Mina have a very different plan for the salacious head of security. Try as she might, Kendra cannot fight off the very horny Mina. With the French pornographer at the helm, it does not take long before Kendra is pulled into the mix of their naughty French fuck fest. Forced to engage in many sexual positions and scenarios, Kendra is soon overwhelmed and begins to enjoy the pornographer's dirty direction. Anastasia, Kendra and Mina give it their all in this very sexy and original film. Their one of a kind talents, top notch performances and integrated POV footage make this a movie to remember! Also included, stand alone strictly POV footage for your enjoyment. |

Travel gallery and clips page - Public whippings at Bound Con and Venus Fair 20 minutes

Free Trailer: Mayhem in Munich
Free Trailer: Zapped by the Boss
Free Trailer: The Corporal's Punishment

"Mayhem in Munich" 92 minutes.

PANTYHOSE / NIPPLE TORTURE / FACE SITTING / BOOTS / BONDAGE / COCK AND BALL WHIPPING / PUBLIC DISPLAY / ASS WHIPPING / CBT / C&B / LONG NAILS / EXTREME STRAPPING AND CANING / DOMESTIC DISCIPLINE
"Mayhem in Munich" 3 scenes. Filmed during BoundCon! Our story begins with Irene and slave USB sitting on a bed in a German hotel room. He has just laced and worshiped her boots. He is covered in clothespins. She explains what has happened and what she plans on doing next. She begins batting his clothespins about with a riding crop. She torments his nipples and removes the clothespins on his cock with her mouth. Face sitting, nipple torture, extreme bondage, belly and thigh caning, big dominant female ass walking around the room for a boot wimp, frontal flogging, C&B, cock and ball whipping, and frontal cropping. The slave is moved to a seated chair bondage position for a double flogging. Mistress wears a short tight red mini dress, pantyhose with no panties and sexy shiny black patent leather over the knee boots. Scene 2: A savage whipping on stage at Bound Con! Mistress in blue rubber cat suit with corset top. Scene 3: Last night's brutal bull whipping marks are evident as Mistress warms the slave up with a double flogging first. The slave is strapped and lectured. The most savage caning imaginable while the slave is in tight rope bondage. Many canes are used including the whippet and the dragon. Caning and rope bondage go so well together! Mistress wears office lady attire - long sleeve white shirt and black skirt. Get an occasional glimpse of her pantyhose covered feet and drool over her long luscious red fingernails! 92 minutes.