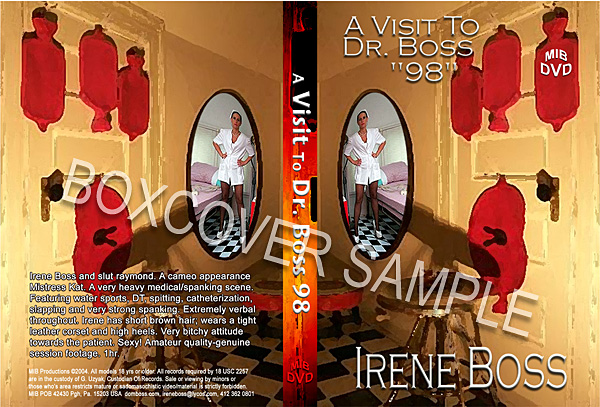 "A visit to Dr Boss - 1998" 54 minutes View Now Order DVD
CROSS DRESSING / ENEMAS / ELECTRICAL / DILDO TRAINING / SPITTING / SLAPPING / EXTREME CORPORAL / BONDAGE / PISS
Cruel and unusual! Irene Boss and slut raymond. A cameo appearance by Mistress Kat. A very heavy medical/spanking scene. Featuring E's, DT, spitting, slapping, and very extreme spanking. Extremely verbal throughout. Irene has short brown hair, and wears a tight white leather corset and high heels. Very bitchy attitude towards the patient. Amateur quality.

"Irene Boss meets Dante Posh" 42 minutes

This director's cut plus DVD contains never before seen golden footage!

A drink to remember.

Bottoms up and let's have a toast!

The Ladies let loose on footsucker in this bizarre fetish exploration.

Witness rubber Mistress "bladder pants".

Seeing is believing!

The slave is on the cross and bears a double single tailing after an extremely severe caning.

Canes are broken and it's brutal.

Huge dildo insertions, fingering, fisting, face sitting, scratching, spitting, smothering and electro CBT and nipple play.

Irene in see through blue rubber catsuit with black knee high fetish boots.

Dante in black rubber mini dress and stilettos.

Sexy, witty, and outrageous behavior from two decadent Dominas!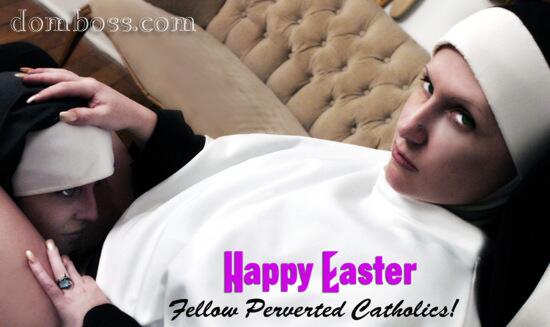 "Punishing the rickshaw boy" (Excerpt from this renamed double feature)

OUTDOORS / PONY BOY / FOOT WORSHIP / SHOE WORSHIP / BALL KICKING

Irene's slave is giving her a rickshaw ride in Frick Park at 6 am one cold blustery November day. The park is silent, it's just Irene and her slaves in the cold morning air with the falling leaves and the early morning sun. Giddy up! Then it's time to return to the Compound. He is placed in a straight jacket to prevent any attempts to flee and placed on the floor while Irene tramples his balls for awhile in shoes and then stocking covered feet. He is forced to kiss and worship her feet after some ball kicking, and he must lick her gorgeous black patent platform fetish shoes. Irene looks very sexy with her long flowing hair, black leather Colette corset, and seamed stockings. She is in a very bitchy mood however because she is on her period. As a reward for taking the pain, he is brought down and allowed to worship her bare feet. She has French pedicured toe nails and alabaster skin.

"Boss Boot Worship in Berlin" 22 minutes

Watch the domination of slave USB from the FemDomScene Messageboard right in his hotel room during Venus Fair in Berlin Germany!

BOOT SLAVE TRAINING / EXTREME VERBAL / NIPPLE TORTURE WITH HEELS / BALL TRAMPLE / BOOT WORSHIP / LANGUAGE BARRIER

Not available as a DVD - only available right here in DomBoss.Com members!

"Caned, whipped, kicked, and fucked!"

(Bullwhip and signal whip)

Filmed at Lady Cheyenne's (Rhode Island)

Lady Cheyenne wears a custom made rubber outfit and Irene in black leather corset with 8" high fetish boots. slave Chris is attached face down to the leaning St. Andrew's Cross in the center of Lady Cheyenne's dungeon. He is taking a caning while in nipple play predicament bondage; his nipple clamps are attached to the cross, and every time he moves from the caning he gives himself a nice painful sensation. He is also placed in predicament cbt ball bondage by Irene and Cheyenne uses the lash on him. Irene holds him to the cross while Cheyenne continues to give him the lash. He takes the cane one more time, and then Irene begin to discipline him with her signal whip. Irene warms him up while Cheyenne watches. A branding is discussed. Then Irene begins using her bullwhip. The slave is inspected and more bullwhipping occurs. He is then moved to a kneeling suspension position, with his arms overhead. Cheyenne begins kicking his balls. Then, it is Irene's turn. The slave is made to "present "his balls to the two Mistresses from more kicking. He is also kicked in the ass. Lady Cheyenne then engages the slave in some shaft kicking, first from behind and then in front. He is then moved to the large bondage frame for strap on play. He sucks Cheyenne's cock while Irene scolds and spanks him. He is reprimanded by Irene about his unkempt hole and asshole manners. Irene spanks him, leaves him plugged, and then watches him as he continues to suck Cheyenne's big black cock.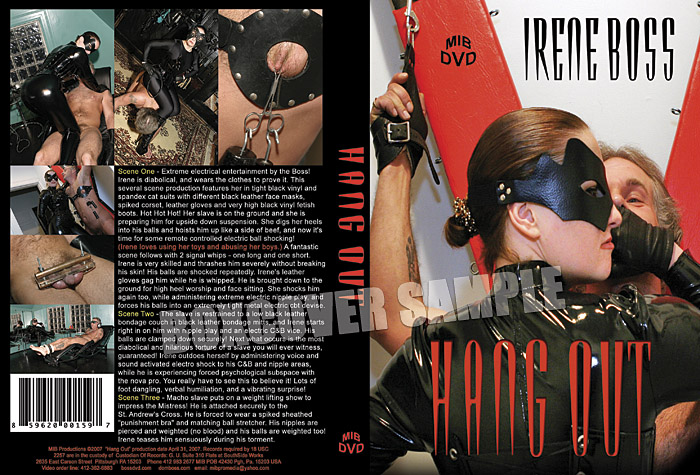 "Hangout" 52 minutes EXTREME ELECTRO / WHIPPING Scene one - Extreme electrical entertainment by the Boss! Irene is diabolical, and wears the clothes to prove it. This several scene production features her in tight black vinyl and spandex cat suits with different black leather face masks, spiked corset, leather gloves and very high black vinyl fetish boots. Hot Hot Hot! Her slave is on the ground and she is preparing him for upside down suspension. She digs her heels into his balls and hoists him up like a side of beef, and now it's time for some remote controlled electric ball shocking! (Irene loves using her toys and abusing her boys.) A fantastic scene follows with 2 signal whips - one long and one short. Irene is very skilled and thrashes him severely without breaking his skin! His balls are shocked repeatedly. He is gagged by Irene's leather gloves while he is whipped. He is brought down to the ground for high heel worship and face sitting. She shocks him again too, while administering extreme electric nipple play, and forces his balls into an extremely tight metal electric cbt devise. Scene two - The slave is restrained to a low black leather bondage couch in black leather bondage mitts, and Irene starts right in on him with nipple play and an electric C&B vice. His balls are clamped down securely! Next what occurs is the most diabolical and hilarious torture of a slave you will ever witness, guaranteed! Irene outdoes her self by administering voice and sound activated electro shock to his C&B and nipple areas, while he is experiencing forced psychological subspace with the nova pro. You really have to see this to believe it! Lots of foot dangling, verbal humiliation, and a vibrating surprise! Scene three - Macho slave puts on a weight lifting show to impress the Mistress! He is attached securely to the St. Andrew's Cross. He is forced to wear a spiked sheathed "punishment bra" and matching ball stretcher. His nipples are pierced and weighted (no blood) and his balls are weighted too! Irene teases him sensuously during his torment. View Now Order DVD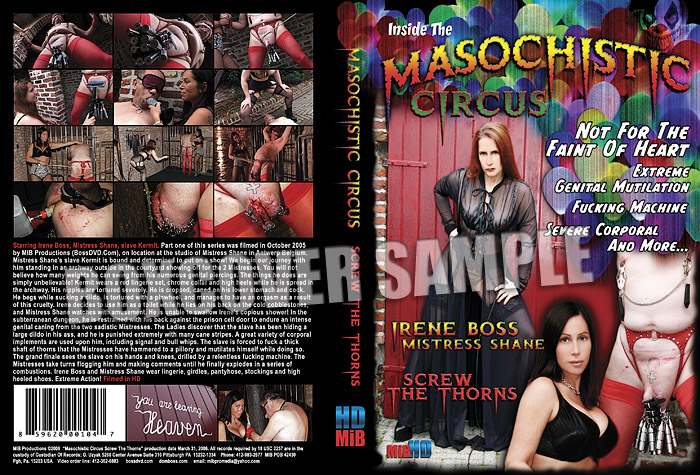 "The Masochistic Circus" 45 minutes. EXTREME PIERCING / WHIPPING / FUCK MACHINE Starring Irene Boss, Mistress Shane, and slave Kermit. Part one of this series was filmed in October by MIB Productions (BossDVD.Com), on location at the studio of Mistress Shane in Antwerp Belgium. Mistress Shane.s slave Kermit is bound and determined to put on a show! We begin our journey with him standing in an archway outside in the courtyard showing off for the 2 Mistresses. You will not believe how many weights he can swing from his numerous genital piercings. The things he does are simply unbelievable! Kermit wears a red lingerie set, chrome collar, and high heels while he is spread in the archway. His nipples are tortured severely. He is cropped, caned on his lower stomach and cock. He begs while sucking a dildo, is tortured with a pinwheel, and manages to have an orgasm as a result of this cruelty. In the subterranean dungeon, he is restrained with his back against the prison cell door to endure an intense genital caning from the two sadistic Mistresses. The Ladies discover that the slave has been hiding a large dildo in his ass, and he is punished extremely with many cane stripes.. A great variety of corporal implements are used upon him, including signal and bull whips. The grand finale sees the slave on his hands and knees, drilled by a relentless fucking machine. The Mistresses take turns flogging him and making comments until he finally explodes in a series of combustions. Irene Boss and Mistress Shane wear lingerie, girdles, pantyhose, stockings and high heeled shoes. Extreme Action! View Now Order DVD

New Writing in Members! "Expanding Limits at the Compound, Part 2" When I arrived at the Compound for my second visit, I was eager to be released from the Curve, the chastity device locked onto me by the Mistress the day before. Following the Mistress' instructions, I was wearing her beautiful rubber corset and her feathered bra and panties set under my man clothes. I also wore my garter belt and hose since they must go on underneath. I worried that the panties would get stretched by the considerable steel bulk of the Curve, but I had to follow the Mistress' instructions. A necklace, bracelet, and rings completed the female part of my attire and I carried a small black sparkly purse at my side to be more feminine, yet not obviously outrageous, as I came to the door of the Compound. My heart skipped a beat as I saw the Mistress descending the stairs in brilliant fetish attire. She was dazzling in a golden spandex body suit accentuated with a black corset, black stack heels, and earrings and necklace to match. I just wanted to gaze at her dominant beauty, but she quickly took control and told me to …(join to read the rest)
Pictured: Steel bondage shoe at the Compound