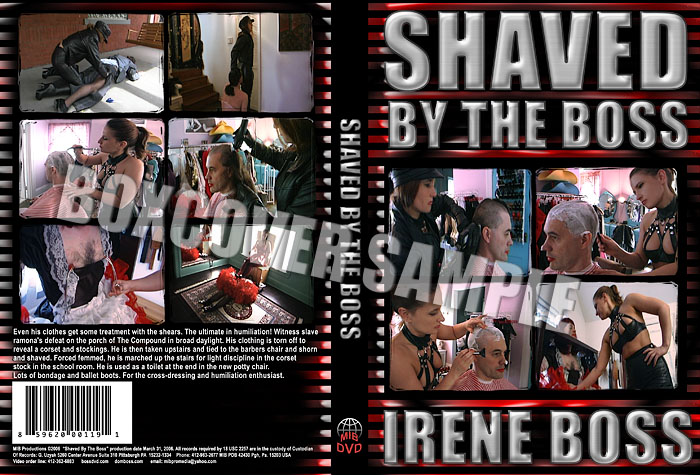 "Shaved by the Boss" 47minutes View now
Full head shaving! Even his clothes get some treatment with the shears. The ultimate in humiliation! Witness slave ramona's defeat on the porch of The Compound in broad daylight. His clothing is torn off to reveal a corset and stockings. He is then taken upstairs and tied to the barbers chair and shorn and shaved. Forced femmed, he is marched up the stairs for light discipline in the corset stockade in the school room. he is used as a toilet at the end in the new potty chair. Lots of bondage and ballet boots. For the cross-dressing and humiliation enthusiast.

"The Porsche Principle"

Trailers contain footage from "Irene Boss 1 and 2"

Entire movie 40 minutes - view now

Filmed during Porsche Lynn's visit to the Pittsburgh Compound

Irene Boss has decided to send slave Dave to Porsche Lynn for discipline! Irene had painted his toenails bright red, since he had allowed them to grow out so long again, and felt it was time for macho slave to receive a proper feminization. He is forced into girdle, stocking, high heel shoes and blond bob wig. He looks simply atrocious as a female! He is placed in the caning stockade for a barehanded spanking and is then corrected with leather paddles, straps and canes. He is given a good solid single tailing and then performs foot worship. He is placed in near suspension in the cbt pillory for nipple torture, cock whipping and flogging. Mistress Porsche finishes with a single tailing. He is teased throughout be her sensuous shiny pantyhose covered legs! Don't miss this new video starring this legendary Mistress!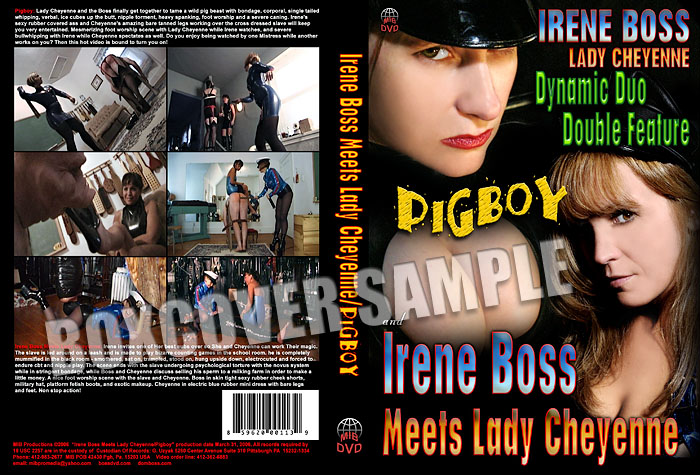 Brand new to members: "Pigboy" Lady Cheyenne and the Boss finally get together to tame a wild pig beast with bondage, corporal, single tailed whipping, verbal, ice cubes up the butt, nipple torment, heavy spanking, foot worship, and a severe caning. Irene's sexy rubber covered ass and Cheyenne's amazing bare tanned legs working over the cross dressed slave will keep you very entertained. Mesmerizing foot worship scene with Lady Cheyenne while Irene watches, and severe bullwhipping with Irene while Cheyenne spectates as well. Do you enjoy being watched by one Mistress while another works on you? Then this hot video is bound to turn you on! View online / Order DVD (part of a double feature that contains 30 minutes of trailers from other films)

Many brand new hi resolution photos of Ms Boss in members - August 2015
Metal outfit in first 4 thumbnails by Downtown Willy. Say Irene Boss sent you and get something made for Me.
Special thank you to slave boot licker for commissioning this one. YOU ROCK!

"The Sound, Cane and Saline Solution!"

90 minutes

free flash trailer Member's content is in .mp4

Scene 1 - Leather Domina Doctor Boss gets diabolical! Irene has her buckskin on and someone is horny. He has been summoned to the Compound for treatment. He is strapped down to the leather bondage chair with a gag, hood and mitts. His C&B is placed in the erection zapper to be made soft for the sound checkup! His nipples are callipered and stretched in a predicament. Every time he moves his body he pulls on his poor aching nipples. In between each cock hole stretching he is made soft again with the Wartenburg wheel. The sounds go up in size! Scene 2 - Irene changes into a rubber bra and tight black pants. The slave's nipples are placed in bipolar electric nipple clamps and he goes into a straight jacket with a hood and gag. He is bound on the leather bondage couch and his scrotal sac is inflated with saline. This is a lengthy procedure and a good chastity method! Later the saline will migrate into the shaft of his cock, making it appear quite swollen and huge. Who needs Viagra anyway? It's size that counts! Scene 3 - It's time for corporal discipline with a variety of canes and nobody does it better. Mistress in black rubber corset, sexy shimmering pantyhose, stockings, and high heels. Superb close ups!

Higher resolution DVD contains 30 minutes of trailers from other films