visited February 25th, 26th and 27th.

I enjoy a broad range of methods to elicit reaction. Each offers a unique pleasure and many combine to offer a kaleidoscope of variety. I barely scratch the surface of possibilities with these activities. • Fetish Domination • Acute Humiliation • Control • Female Superior Worship • Corporal Punishment • Interrogation • Sadistic Tease and Denial • Genuine Sadism • Ardent boot & heel worship • Booted kicking • Booted trampling & stiletto heel torment • Attentive glove worship • Face slapping • Gloved hand smothering & choking • Electrical Torture • Chastity & Penis Control to include Key Holding • Cock and Ball Torment & Torture • Whipping, Paddling, Spanking, Stropping & Caning (sensual to exceptionally severe) • Skill & Creative use with Tools of the Trade (clamps, clips, toys and so on) • Heavy Bondage: Leather, Metal, Latex, Zip Ties, Straps, Plastic Wrap, Predicament, Mummification • Madame's Couch: Psycho-Analysis (Fetish, not licensed) & Behavior Modification • Judicial Punishment & Reform • Confession & Absolution • Limits expansion • Objectification, Depersonalization, Dehumanization • Capture & Imprisonment • Interrogation • Torture • Fear & Terror • Autocratic, Totalitarian, Authoritarian Discipline • Extended Scenarios • Overbearing & Demanding Femme (can include financial fetishism) • Re-Programming & Hypnotic Inducements • Duplex Dominae • Girl Gang Fridays • Carte Blanche Encounters • husband/boyfriend Training

Divas of Domestic Discipline: The Porche Principle / Irene Boss 1 and 2 - Triple Feature
FREE TRAILER JOIN TO VIEW LONGER TRAILER ORDER DVD
Film 1: Irene Boss has decided to send slave Dave to Porsche Lynn for discipline! Irene had painted his toenails bright red, since he had allowed them to grow out so long again, and felt it was time for macho slave to receive a proper feminization. He is forced into girdle, stocking, high heel shoes and blond bob wig. He looks simply atrocious as a female! He is placed in the caning stockade for a barehanded spanking and is then corrected with leather paddles, straps and canes. He is given a good solid single tailing and then performs foot worship. He is placed in near suspension in the cbt pillory for nipple torture, cock whipping and flogging. Mistress Porsche finishes with a single tailing. He is teased throughout be her sensuous shiny pantyhose covered legs! Don't miss this new video starring this legendary Mistress! Film 2: Errant husband gets caught watching the game without doing chores! OTK spanking with hand and hairbrush, caning, verbal and cross dressing. Ends with naughty house husband cleaning the house. Ms. Boss wears the pants in this video, with a white satin sports bra and sensible ankle boots. Takes place in the personal living quarters. Film 3: Errant husband gets caught watching the game without doing chores (again)! Role play - OTK spanking with hand and hairbrush, caning, belt, bondage, smoking, and cross dressing. Sexy smoking scenes while slave husband is hogtied. Ashtray use of slave/husband too. 3 costume changes for Ms. Boss, including a black girdle with a see through back panel and black leather bra, and a skin tight PVC black ca tsuit with knee length black patent platform boots. Takes place in the personal living quarters. Product information: DVD arrives shrink wrapped with box art - DVD 5 format.

Assaholics Anonymous / Electric Debauchery Diabolique - Double Feature
FREE TRAILER JOIN TO VIEW LONGER TRAILER ORDER DVD
Film 1: Vanessa has a problem. She is obsessed with ASS! Gaurdess Cock Mommie Madame Dr Nadine (what a mouthful) has invited a specialist to the rescue - "Dr Anderson Smith AKA Mistress Renee" from Philadelphia. ASS obsessed Vanessa runs up the stairs hoping to challenge the sexy specialist she has heard so much about with her extreme fetish, but Dr. Smith prevails in blowing her brain gasket with radical therapy methods proven to cure sexual addictions. Vanessa is in denial. Watch what ensues. Hot female ASSES going up the stairs. ASSES encased in girdles, t-backs and stockings and frequently - encased in nothing at all. ASS insertions, full ASS worship, female masturbation, ASS smelling, ass licking, rimming, cavity search, vaginal strapon on, ASS tasting, straight jackets, DP, verbal humiliation, ASS to mouth, erotic spitting mouth to mouth, and ASS dialogue. Vanessa announces that Dr Smith's ASS tastes like peaches! Radical ASS addiction therapy with very unorthodox methods. Dr Smith introduces her own ASS. Yes it's all about the ASS. Intimate tattoos in hidden places on display and erotic verbosity that would make even the most hedonistic fetishist blush. Heavy hand spanking for unwelcome touching. Violet wand therapy. Electrical ass insertions. ASS OVERLOAD. You have arrived. After it has been determined that there is probably no cure for Vanessa (after an extremely erotic and sexual anal exam) it is determined that specialist Dr Renee will need to force feed the fetish to cure her. Watch the DVD. ASS or air? You decide. 45 minutes of ASSTASTIC action from MIB Productions. Film 2: Electric Debauchery Diabolique - Irene Boss's fierce electrical experiments on a male! The slave is bound to the new multi bench in the CBT position. He cannot move anything but his high heeled shoes. He is gagged, corseted, and collared taking a myriad of Irene's torments. He is a leg fetishist. First she teases him with her strong pantyhose covered stems, and once he is excited she experiments with one of her own electrical devises (she designed) on his nut sack. He is catheterized with a sparkler and electric bi-polar nipple vices are attached for a ride you won't believe! Product information: DVD arrives shrink wrapped with box art - DVD 5 format.

5 hours and 6 minutes - The entire Dom Con series has been loaded.
Click on the images to view the free promotional trailers, and then scroll down for more free samples!
Click on the images to see the free previews, courtesy of C4S store 5548.
Go here for individual downloads, or join now to download everything!
Obnoxious filming slave taught to obey

Goddess Genesis is annoyed that the foot slave she has summoned is making himself so comfortable. He arrived early and had the nerve to ask Irene Boss if he could "serve by worshiping her feet" while she worked on the computer. Of course the answer was NO. Irene commanded him to wait for his Mistress in the other room. Now he must be admonished. Mistress Genesis took control immediately upon arrival and put him in his place, by reminding him that he is there for her pleasure and not for his own selfish desires. Action: He removes her shoes and starts massaging her sexy feet. He is made to describe in excruciating detail why he loves her feet so much. He is made to serve as a foot rest while she stretches out her legs. He begs to kiss her feet, but she declines until he answers her questions. She has French pedicured toes and he continues to beg. He deeply inhales the scent. His nose is pinched between the toes and foot smothering commences. She hypnotizes him with her feet and rubs them on his face. She begins light barefoot trampling on his chest. Very nicely filmed with lots of slow motion shots and sounds. Slow and torturous extreme foot smothering. It is true that he has MUCH to learn! 16 minutes

Mistress Simone discovers Jen masturbating

"Ohhhh the slave girl moans, how I wish Mistress were here" as she drives a vibrating dildo in and out of her wet pussy. It is easy to see by looking at the marks all over her that she has already had quite a weekend. She is deliberately placing her self in a predicament to be discovered. What a naughty little masochist! Who would have thought? Mistress Simone pulls her hair and reminds her that the Mistress is the one who is supposed to experience pleasure. The slave girl is made to hold the used dildo in her mouth while she is berated. She has been on orgasm restriction for the reasons of sexual selfishness! She is collared and her large ample breasts are placed in rope bondage and attached to the collar's D-ring in a predicament. Breath play is explored. The soaking wet slave girl is placed on a glass table and slapped, then placed in bondage for pussy and breast flogging, pussy clamping and forced masturbation. A clothespin zipper is attached to her breasts while she holds the dildo in her mouth. Humiliating painful treatment as Mistress whips her pussy with a signal whip. Princess Jen orally worships a strap on. She is eventually rewarded once she has been punished by being allowed to climax on film. 21 minutes

Lady Ayhla and dannyboy - dildo pogostick

Western or English style domination?

Lady Ayhla chooses Western.

The scene opens with danny boy saying his special prayers to his Mistress.

They are very well composed and beautifully written.

She is very pleased to hear them.

He is then commanded to ride the dildo pogostick while she beats his ass with a Cherokee D0G whip. (If he puts on a good show she will be rewarding him at the end with a special unmentionable activity.)

He bends over for a very hard paddling including a treatment with several severe riding crop type implements and also several "white witches" canes.

His back is caned too and the Cherokee D0G whip returns.

Extremely large ass insertions follow.

Lady Ayhla and her sub in black leather chaps.

Ms Xena's spit / snot pig raunchathon

This horny male creature was being nosy by spying on his mistress. He peeped on her while she was taking a shower and even stretched our her panties by wearing them secretly without her permission. This simply will not do! EXTREME face slaps are in order, followed by filthy soled boot worship. Deep throat boot worship gagging, humiliating spittoon play and burp fetish ensue. The slave begins to cry. She slaps his ass very hard and makes him eat her boogers. He oinks and barks while she punishes him. He smells like ass. EXTREME BALL KICKING and he cries mercy. It's time for some rope C&B. She covers his body with a clothespin zipper and spanks him really hard with her bare hands. She flogs him and riding crops his ass and balls. He must recite "this little piggy" throughout his humiliation. He is made to suck Mistress Xena's huge flesh colored strapon cock with EXTREME VERBAL HUMILIATION. She smacks him in the face repeatedly with her huge cock and blows her nose on the cock and makes him suck it. Snot worship! He is made to drink her golden. She dismisses him and he crawls away in abject humiliation. 29 minutes

Mistress Ellen Disciplines Etienne

"Where is Etienne?" Mistress Ellen is sitting in a chair with her legs crossed impatiently wondering. He arrives and says he was "late because of traffic". Ms Ellen plans on getting to the bottom of things. She removes an activity he dearly loves which is making dinner, and decides to discipline him instead. Additionally he had also cut contact during the day. Ms Ellen was unable to get a hold of him and it was vexing, as she couldn't make any plans. He is made to remove all his clothing while she inspects him. She pulls out the new prison strap that has just arrived from the London Tanners, and he must bend over and take it like a man. She then discovers he was late because he was being spanked by another. Tiny itty bitty clamps are applied to his nipples and cock and ball area while she lectures him on his lifestyle slave duties. His cock, ass and calves are punished with a rubber whip. He is caned upon his back thighs and bottom, and must count the strokes. Ms Ellen the brings the martinet out and he gets a does of that too, along with a heavy metal paddle. She soothingly rubs his bottom for awhile and then decides to give him another caning followed by the rubber flogger. He then gives her a foot massage. 21 minutes

Ms Minax meets Monty

Here is what happened behind the scenes...

Poor Monty is in a black leather hood AGAIN for the Dom Con series. Unfortunately the filming slave who showed up to work with the fabulous Ms M brought an annoying master in tow and their primary aim was to try to ruin the Dom Con series. The cameraman had to throw the louts out of the suite. Drama with "phony zoolander filming slaves". Who would have thought. (A video in it's own right huh?) Lifestyle slave Monty just happened to be on hand and being a Minax admirer for so many years he really lucked out in doing this, and we got a much better shoot for you to view too. A win win situation! So here is the action: Ms Minax in exquisite custom black leather, nipple play, CBT, bondage mitts, leather glove smelling, spanking, gagging, sensual play, bare hand spanking, caning, corporal punishment, raw hide caning, and he ate her superior spit for lunch! Ms Minax is a true professional and did a great job during this shoot against all odds. 13 minutes

Lady Hillary spanks Natalie's bare bottom

submissive natalie bends OTK for her perfect posterior to be hand spanked by Lady Hillary! She is wearing an open backed rubber skirt. Both Ladies are in seductive black leather and rubber. She is made to hold Lady Hillary's bracelet in her mouth while she is bring spanked. The first implement "The evening Star" (from Shadow Lane) comes out to play. The heavy wooden "Boss Lady" paddle is next for a hard wooden paddling. Lady Hillary rubs her sumptuous ample breasts against the slave girls red hot bottom and begins tickling her tight sensitive tummy, which she hates! Lady Hillary decides to break the whip out next followed by the cane. The soles of the feet are caned briefly. The finale is another OTK spanking with attention paid to the backs of the thighs too with brief breast smothering. This is one of the most spankable bottoms you will ever behold on a lovely slender gapped tooth girl! It was an honor to work with these 2 amazing ladies. 22 minutes

Cocksucker deep throats huge strapon

slave hovis proves his devotion to Mistress Astria and Mistress Heather during this extreme Fem Dom shoot by deep throating very large strapon cock.

Mistress Heather is attached to a violet wand and touching him throughout. Mistress Astria pulls on his choke collar and pulls his nipples while he receives this brand new sensation of electro play.

She rubs her cock harshly against his man boobs. Mistress Heather is very verbally humiliating to the cock whore throughout. Double flogging commences while he begins to suck the strapon.

He is ordered to attach another bigger appendage to his Lady's lovely physique. Extreme nipple torture with her slender boot heels takes place next. The slave breaks down and cries. Mistress Heather scratches his back with her long nails. Lot's of deep throat gagging action. He is in a chastity devise throughout the filming and endures extreme boot heel trampling upon his tender nipples as well as hand spanking. 16 minutes

Anna Valentina's Leather Dominance

slave Monty has been placed on loan to Mistress Anna Valentina for this video shoot. Let's see how he does! They begin on the couch with Monty positioned ass out for some choice slaps from Mistress Valentina's leather gloved hands. She talks soothingly and seductively to him. He is hooded and vulnerable. She remarks at how well used his ass already is! Mistress Valentina's outfit is a fetishists dream with side lacing leather chaps, lace panties, fishnets, a leather top, leather boots and leather gloves all in black. She pulls his balls frequently with her gloved hands and lightly spanks his balls. Bare ass spanking with leather gloved hands is very sensual...followed by strapping! She humps him over the couch to get him all excited and gets out a bigger, thicker, heavier strap. He repositioned and ready for a few swats with a heavy wooden paddle followed by more strapping. She has an excellent technique! She rewards him at the end by making him kiss her superior ass and then lays him over her lap for a few moments of soothing aftercare. 16 minutes

Ms Thora's BALL of DESTRUCTION

Ms Thora has decided to enlist her CBT slave to appear in "the Dom Con series" DVD production.

She smacks his business around with a riding crop while he lays still on a glass table in the suite.

She uses her leather gloved hands frequently to squeeze and caress his cock and balls.

She ties his balls off and paddles his cock and spits frequently into his mouth.

A custom ball crushing devise is then applied along with clips to the penis shaft. She follows up with a stern strapping on his tender bottom and canes him with a acyclic implement on the soles of his feet and ass.

He is rewarded by being allowed to worship her boots after she torments him by pulling his spiked parachute ball sheath with her boot heel.

She kicks his balls hard and jams her boot heel right into his asshole!

Spread your cheeks wide

Mistress Jeannine has her hands full with slave Janet's passive aggressive behavior, and the time has come to do something about it! A Mistress should never have to wait for a phone call from a slave who has signed a contract for service! Is Janet deliberately pulling strings to get Mistress Jeannine to react, or is this all subconscious? Janet is summoned to go over the knee in her new latex outfit. Strict corporal discipline between two TS Ladies, with the insertion of a butt plug for good measure. Janet is made to get down on her knees and fully worship Mistress Jeannine's ass and then receive a good sound strapping. Breast worship and pussy worship (cock sucking) follows. Janet is then fucked in the ass by Mistress Jeannine. Janet is told to bend over and take a hard wooden paddling (just like her grade school principle used to give), a stern caning and direct punishment on her tender freshly fucked asshole with a firm riding crop. Mistress Jeannine is an excellent Spankologist / Punisher and has long beautiful tattood arms. Janet is fucked OTK by Mistress Jeannine with a big black toy. Watch this real BDSM Transgender lifestyle punishment! 23 minutes

Spitting and caning with Domina Snow

"I don't want to look at you."

"Do you ever do anything right?"

"I don't even want to hear what you have to say".

These pearls drip from Domina Snow's mouth as she lectures her slave on his bad behavior during the annual Dom Con convention in Los Angeles.

She has decided to put him in a video anyway.

Use him she will!

She begins by spitting in his face after she has applied a tight rubber hood. She uses him as a foot rest for her long narrow heels, then makes him put his face where her ass has been on her chair and ties his wrists behind his back.

It's time for a caning on his defenseless behind!

She canes his balls a little too and slaps his face lightly before he is made to worship her superior feet.

Domina Snow spanks and slaps Ariel Hope

Ariel has been flirting with quite a few people at the annual Dom Con convention in Los Angeles,

This is very irritating to Domina Snow!

Ariel is supposed to be paying attention to her Mistress, not fooling around making eyes at other Doms.

A good old fashioned over the knee bare bottomed hand spanking is followed by the use of leather spanking gloves and then straps.

The poor girls ample breasts are slapped and pinched too.

Domina Show teaches her quite a lesson and proves that she can spank harder than any man!

Mistress Simone's puppy training class

HUMAN ANlMAL!

The slave is trained by Mistress Simone in puppy obedience school. We begin by scent worship of leather and boots. It is discovered that the carpet is moist and the puppy has "had an accident". He is made to sniff his own wee wee. She threatens to use him as a toilet. Poor boot service is punished with a riding crop! The whiny puppy needs to be potty trained. Spanking and bare handed ball stretching with face slapping and bark instructions, along with nipple play in combination with predicament CBT follows. It is now time for a game of fetch! "Move that ass and don't make me wait" she scolds. The puppy is made to exercise by doing calisthenics while she flogs and straps him. His weighted man bits and nipples are stretched. He gets a good riding crop treatment to his balls. Hands and knees strapping and barking. Puppy is taught to roll over and gets his balls kicked. He is allowed to worship pantyhose ass, face sat and smothered. The slave wears a custom made hood with muzzle.

Mistress Luna Sea's long nailed dominance

This young man has chosen to sit around in panties and play as if he's waiting to be caught. This is exactly what happens...though certainly not the way he intended. She makes him wear her dirty panties over his head with a rubber hood over top. Breathing deprivation takes place. A pink wig is next and he must don a square dancing tu tu. She bends him over and gives him a good paddling followed by some scratching with her long luscious nails and bare handed spanking. He performs "The hokey pokey". She suspends him over the door jam and strips him down of sissy clothes. She slaps, punches, prods and scratches his back. She moves her nails around to the front of his body and plays with his nipples, tickling them! You can hear her long nails clicking noisily. Mistress dons vampire gloves and gives him more of the same. The gloves are removed and more tickling occurs on his defenseless tender sides. His upper back is strapped, flogged and bullwhipped. 21 minutes

Mistress San's sensual style

Mistress San and slave marty begin their scene very sensuously - by kissing and cuddling.

The slave begins by worshiping her Mistresses heels, feet and shoes.

Fishnet hose and platform shoes!

Leg worship follows and the slave girl begins to get quite excited.

She moves her tongue to the Mistresses inner thighs and pussy and then to her breasts.

Extremely sexual lesbian domination between a lifestyle female bonded couple. Tribadism and foot worship followed by toe sucking through fishnet stockings and nipple/breast torture with toes.

The scene ends with an OTK spanking and the Ladies kiss again.
Complete Boxcover art: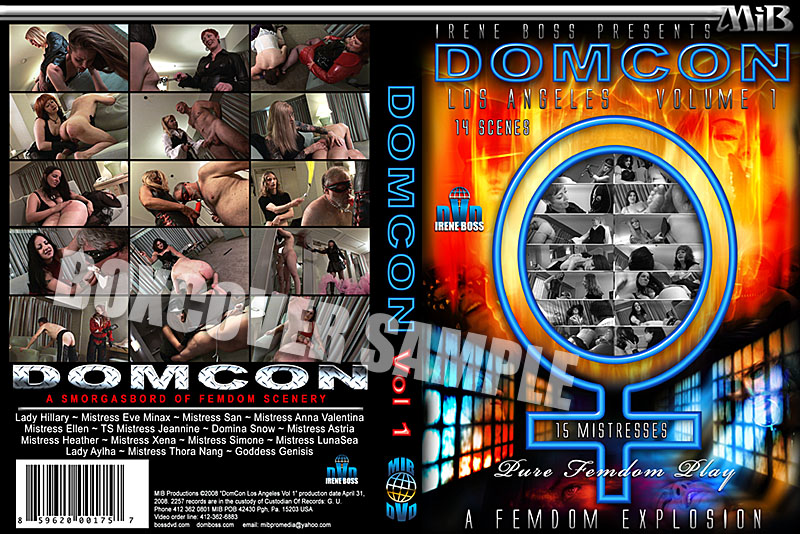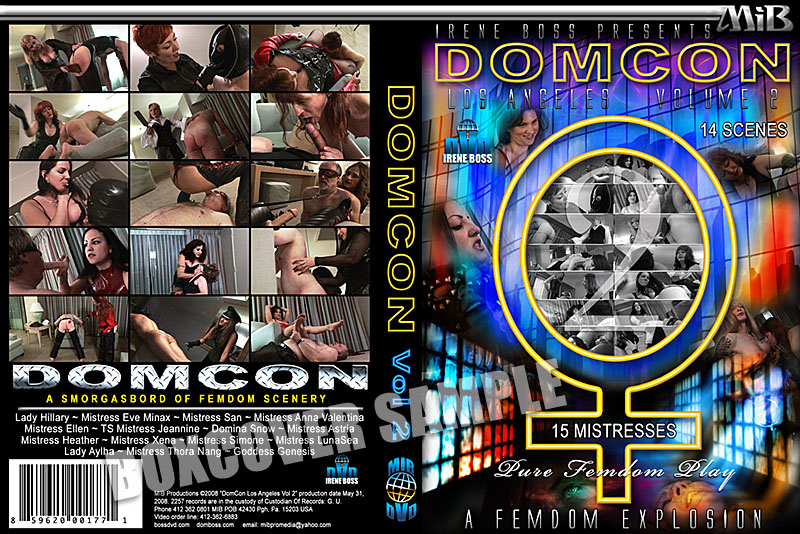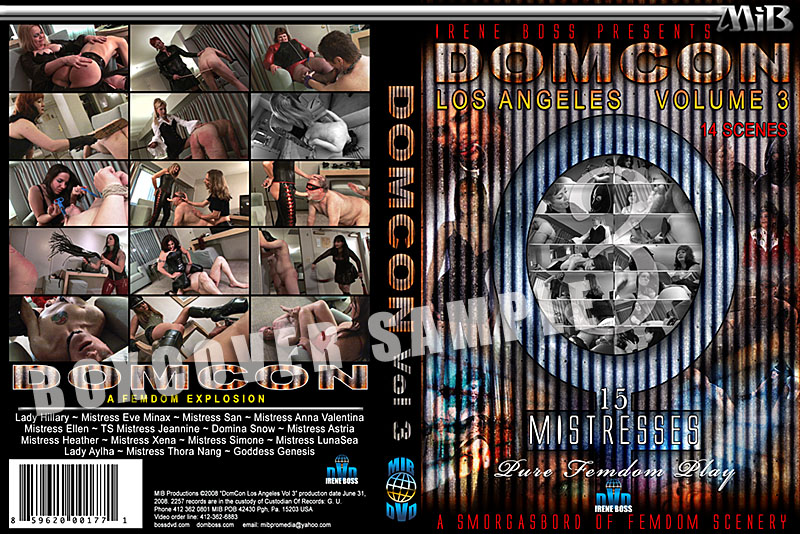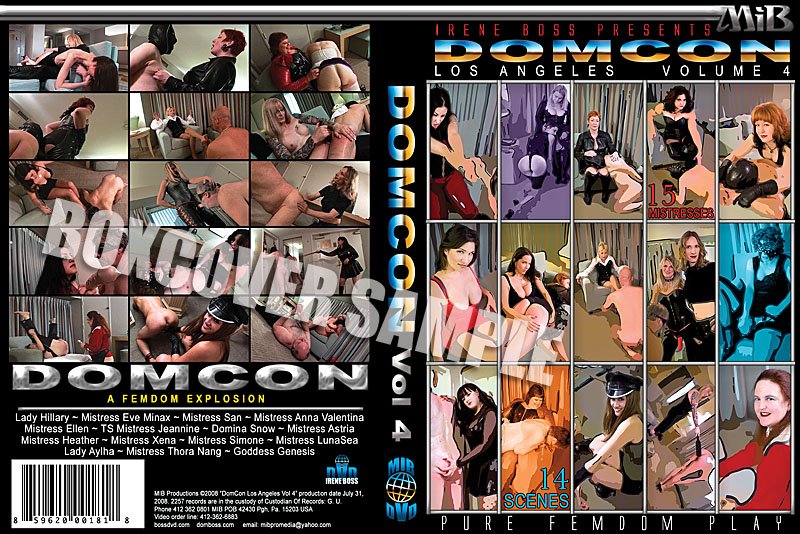 Images from play galleries 8 thumbnail samples from 74 high resolution images. Join to see the full size!
These are a few of my favorite things!
| | | | |
| --- | --- | --- | --- |
| Electro CBT stretching | Electro CBT stretching | Medical electro suspension | Medical electro bondage |
| Medical bondage/fuck machine | Medical suspension bondage | Multi bench whipping | Armpit worship |

Excerpt from Member's writing Worth the weight! Not the normal beginning to a story…..my post Christmas visit with Mistress Irene took a few weeks to occur enhancing the anticipation to an incredible level. I'll skip all the details as they don't truly add to the literary outcome…. Speaking with Mistress Irene the day before my appointment She asked about any special activities I'd like to explore…. I mentioned a combination of some of my favorites….some rope, stretching and electricity. I always trust Mistress Irene choice of torments as well. "Why don't you bring your paint can?" She asked…I'd be honored too Ma'am, it's filled with concrete, 15 lbs, I replied with a smile. Giving me my final instructions we end our conversation and my visit was less than 24 hours away. Arriving in the driveway promptly at my scheduled time I telephoned Mistress Irene as instructed. Up went the garage door and in I went. Leaving my shoes outside the Top Secret studio I entered the bathroom and removed all of my clothes as ordered. I stood naked as Mistress Irene descended the spiral staircase. OMG! Mistress Irene was looked stunning in Her revealing top, short skirt, pantyhose and high heeled pumps. Mistress Irene handed me a pair of soft leather bondage socks and instructed me to put them on. Mistress Irene was choosing a new posture collar. She placed it on my neck in short order and handed me a tube of J-lube and an inflatable butt plug…with a grin She instructed me to return to the bathroom, lube and pump up to a comfortable level. I greased up the plug, slid it in and gave it 10 good pumps. Exiting the bathroom, my ass filled, the inflation bulb swing between my legs Mistress Irene smiled and asked "How many pumps slut?" 10 Ma'am I Sheepishly replied, "Good" I would have only started you with five. Mistress Irene ordered me to stand under the hoist hook as She gathered some restraints and bars. Read more Images from the scene:

"In the Company of Ms Demore" is number 1 at Hot Movies for lesbian bondage!

DVD length 73 minutes Free Trailer

Miss Demore owns a successful adult toy manufacturing company and attends a convention in Los Angeles accompanied by her sexy irreplaceable assistant Ariel (whom Miss Demore has been lusting over for quite some time). Unable to control her amorous urges, Miss Demore summons Ariel to her room. Ariel is taken aback by the sexually aggressive intentions of her boss. Miss Demore seduces the young assistant. The two business beauties engage in a private meeting which includes heavy wooden paddling, kissing, nipple torture, pussy spanking, ass eating, pussy eating, flogging, dildo gags, strap-on play, breast caning, hair brush pussy paddling, rope bondage, double dong dildo play and the testing of a secret Russian prototype sexual stimulator. What fun it is to be the boss! Dripping hot with authentic BDSM sex and filmed with two of the top fetish stars in the business. Original musical score, multi-angled split screens and an animated version on the same disc highlight this magnificent film. Buy DVD View online now
(January 2011 archive) More archives