Now in members: "The Exacting Executrix" 31 minutes

Order the dirty Director's cut DVD

(DVD is 47 minutes and contains extreme content)

Superior Stiletto Scolding. The Compound's electrical repair slut endures a verbal tirade from an annoyed Boss Lady about the state of disrepair concerning a certain appliance crucial in the Compound's scenes. Retraining is in order for a distracted subbie! Get mesmerized by the slow seductive stills at the beginning of this video lesson with the sound of Ms Boss's authoritative voice leading the way. She is going to use fetish exploration to get you all excited so she can take you upstairs and torture you. There is not going to be any orgasm today for you at all, because you are going to be sent away with blue balls. Learn how to respect the equipment and learn how to respect the Boss. You are going to lick her trade show shoes for lunch today. Suck the steel heels and lick the soles you slut! Ms Boss does not wash her pantyhose and simply wears them until they are dead - kind of like the way she treats a car...or a man? Listen to the sound of the silky shiny hose and Ms Boss rubs her stocking covered legs together. Where could a heel be stuck? Up someone's ass perhaps? If you don't straighten out you are going to have to suck nasty ass heels, and who knows who's ass they've been in. Ha ha ha! Ms Boss's feet smell better than sex. Watch sexy leg shot stills as Ms Boss discusses all her various whips and what she plans to do with them once she gets you upstairs while you sniff and worship her luscious stocking covered tootsies! Ms Boss discusses in great detail what she is seeking in a foot slave. A submissive masochistic fetishist is a very rare find indeed. It's time for a bi polar electric nipple treatment on the 3rd floor CBT chair combined with the nova pro while Ms Boss continues her tempting tirade with a heavy double flogging - a preparation for a solid whipping! Electric CBT combine with the stretching cross and spanking preface a very severe bull whipping. Many bullwhips are discussed and used. Observe the "men-struation"!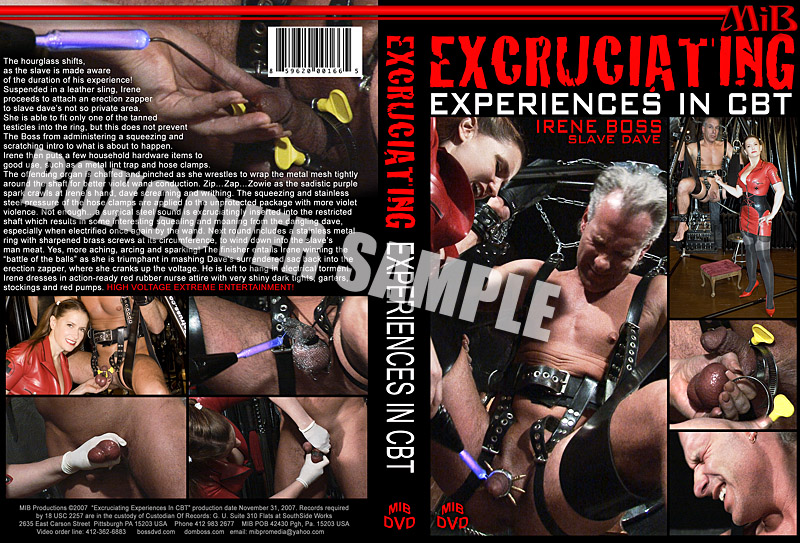 "Excruciating Experiences in CBT!" Free Trailer View now - 50 minutes Order DVD View at Clips 4 Sale
The hourglass shifts, as the slave is made aware of the duration of his experience! Suspended in a leather sling, Irene proceeds to attach an erection zapper to slave Dave's not so private area. She is able to fit only one of the tanned testicles into the ring, but this does not prevent The Boss from administering a squeezing and scratching intro to what is about to happen. Irene then puts a few household hardware items to good use, such as a metal lint trap and hose clamps. The offending organ is chaffed and pinched as she wrestles to wrap the metal mesh tightly around the shaft for better violet wand conduction. Zip...Zap...Zowie as the sadistic purple spark crawls at Irene's hand, dave screaming and writhing. The squeezing and stainless steel pressure of the hose clamps are applied to the unprotected package with more violet violence. Not enough... a surgical steel sound is excruciatingly inserted into the restricted shaft which results in some interesting squealing and moaning from the dangling dave, especially when electrified once again by the wand. Next round includes a stainless metal ring with sharpened brass screws at its circumference, to wind down into the slave's man meat. Yes, more aching, arcing and sparking! The finisher entails Irene winning the "battle of the balls" as she is triumphant in mashing Dave's surrendered sac back into the erection zapper, where she cranks up the voltage. He is left to hang in electrical torment. Irene dresses in action-ready red rubber nurse attire with very shiny dark tights, garters, stockings and red pumps. HIGH VOLTAGE EXTREME ENTERTAINMENT!

New Images of Ms Boss - February 1st 2012 - in members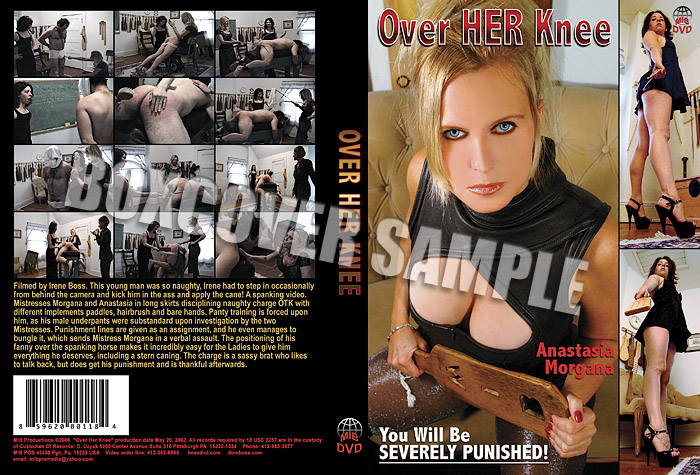 "Over Her Knee!" Free Trailer View now - 38 minutes Order DVD View at Clips 4 Sale
Filmed by Irene Boss in the late 90's. This young man was so naughty, Boss had to step in occasionally from behind the camera and kick him in the ass and apply the cane! Mistresses (Morgana and Anastasia) in long skirts disciplining naughty charge OTK with different implements (paddles, hairbrush) and bare hands. Panty training is forced upon him, as his male underpants were substandard upon investigation by the two Mistresses. Punishment lines are given as an assignment, and he even manages to bungle it, which sends Mistress Morgana in a verbal assault. The positioning of his fanny over the spanking horse makes it incredibly easy for the Ladies to give him everything he deserves, including a stern caning. The charge is a sassy brat who likes to talk back, but does get his punishment and is thankful afterwards.

Check out my new Interview at Sinical Magazine!