All films are being converted into larger format .mp4 five minute segments
A great time to join DomBoss.Com! 90 days nonrecurring - 49.95

"Jayne's Sex Change" now in members!

Over 1 hour

Are you a sissy?

Then get this video so you can tour the Compound! Imagine being deliberately 15 minutes early to serve your Mistresses, because you were 15 minutes late the last time and want to avoid punishment. Imagine being a slave who finds it difficult to keep your mouth shut. slave jayne bungles again, in this 3 way extravaganza.

Dominant Ladies wear leather, nurse outfits, and military gear. 1). Lobby: Mistress Morgana, Mistress Anastasia and the Boss decide to teach jayne a lesson by taking turns raping 'her' mouth for a full 15 minutes in the dark lobby. jayne is forced to sit on a metal spike mat while she sucks the strap ons. 2). Sissy Room: Next sassy jayne is taken upstairs where 'she' is forced to strip in front of all 3 Mistresses and change into a new outfit (jayne is forced to change 3 times during the video). 3). Interrogation chamber: Once properly attired jayne is placed standing in the middle of the room, fastened with 'her' arms in the air and legs spread. The Ladies make 'her' watch with virtual reality glasses, while 'she' takes some heavy corporal, cbt, and nipple play. 4). Clinic: The 'sex change' begins, with some intense cleaning to 'wash away the man'. jayne's tittie size is increased with a cupping set during her 'pregnancy' and 'period'. There is much nipple play and cbt. 5). Gothic Dungeon: jayne's 'treatment' ends in the sit sling, while the 3 Ladies take turns with 'her' poor pussy, and verbal admonishment ensues through out. View Now Order DVD

Extreme mummification bondage and tickling of a male's feet who is wearing pantyhose and wrapped in duct tape. Irene is diabolical! Extreme cbt. Irene rips open his duct tape to reveal his cock. She connects herself with a violet wand. She sits on him and tickle tortures his cock with her electric fingers! He is gagged and cannot get away. Then she uses the violet wand right on his cock! She attaches electrical bands around the shaft and turns up the juice. She cuts holes in the duct tape to reveal his nipples. Extreme nipple play and electric cbt. Irene attaches nipple clamps, and then brings out the nipple tower for a good nipple stretching. She uses 2 different stretching towers! Irene adds electricity! No sex for you slave...this IS your sex! Irene pumps up his gag and tickles his feet again. More extreme nipple play and electric cbt. Irene continues stretching his nipples out and adjusts the electricity! The she prepares his cock area for branding. More extreme nipple play - piercing along with electric CBT. Then, predicament bondage! Irene attaches the piercing calipers to his gag and every time he moves he pulls on his poor nipples...then Irene removes the electricity from his cock and draws where she is going to place the brand. His cock gets very hard while she is doing this! Then Irene begins to brand him with the branding pen. She says: "It smells like steak...like filet mignon". She soothes him and forces him to take it for her while she giggles! "How delightful" she says. View Now Order DVD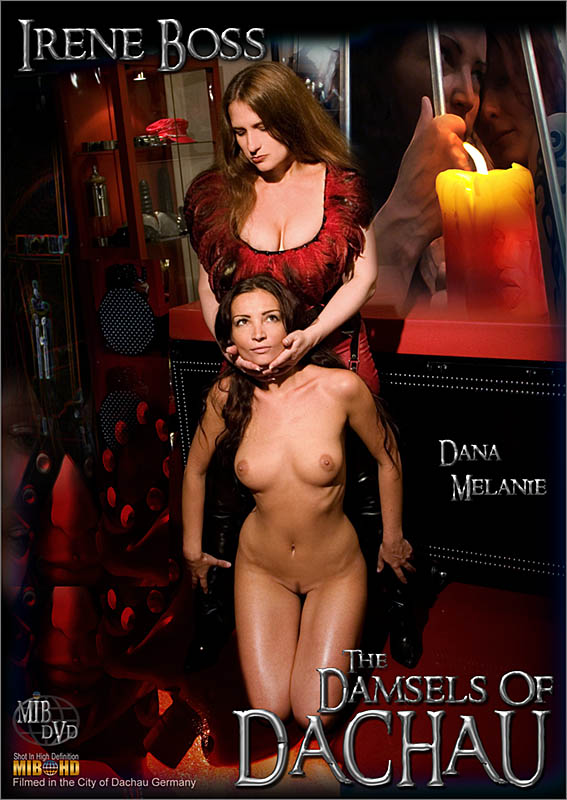 "Damsels of Dachau" (58 min) Irene Boss visits Dachau Germany after the annual Bound Con Convention (where she was a guest of honor frequently), and corrupts 2 innocent young fetish models in the arts of lesbian rubber bondage, sex, and S/m. Both girls are so innocent! Neither girl has been in rubber before, or has experienced any real domination. Irene gets them to do everything! These scene opens with slave Dana in a black rubber cat suit kissing slave Melanie, while Irene initiates Dana in corporal. Irene places Dana in a corset and Melanie is stretched on the rack. Irene then decides to make the two girls dominate each other! They are made to spank each other and kiss each other's nude beautiful behinds. Irene then makes a nude bondage sand which out of the two girls and they experience their first whipping while one wears an inflatable rubber hood. The girls are interrogated hospital military style on an OBGYN table to give up secrets about their male lovers while Irene examines and humiliated them during a strip search. They are inspected and one is forced to sit on an electric dildo. The Ladies are then tied to each other and forced to give oral service to each other in a scorching 69. They are then caged standing naked pressed up against each other. Irene swallows the only key to the lock, telling them that she will return to unlock them when "the key comes out the other end". Cruel and unusual punishment, sexy and lascivious. An experienced Female libertine with 2 young maidens! View Now Order DVD

A new edition to the writing section (plus 12 more updates!)

| | |
| --- | --- |
| | "Super Concentrated Bitch" (51 min) All alone on her birthday, this young lady decided to visit the Compound and pretend that she had a pre arranged audience with the Boss. Irene goes along with it at first for some fun, but then decides to interrogate the girl to find out the truth! The girl is found smoking by the window in the schoolroom, with the disposition of a brat! Very intense tickle torture in interesting bondage positions. She is tied to a chair, and then over a punishment box. The girl is face sat often and smothered as well before she gives up her secrets. Her clothes are ripped off by Irene. Good spanking scene too! Irene in 2 different military costumes, and slave girl in sexy garter belt, black stockings, and ballet bondage boots. For the bondage/tickle enthusiast! View Now Order DVD |
| | |
| | |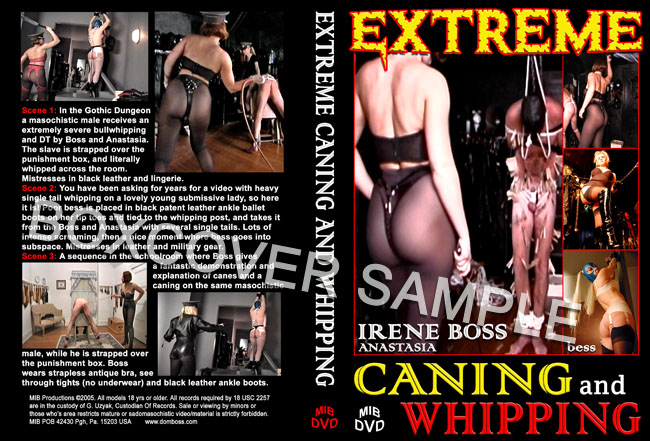 "Extreme Caning and Whipping" 69 minutes
3 Scenes! 1). In the gothic dungeon, extremely severe bullwhipping and dildo training is take place on a masochistic male by Irene Boss and Mistress Anastasia. The slave is then strapped over the punishment box, and literally whipped and fucked across the room. Mistresses in black leather and lingerie. 2). Poor slave girl Bess (AKA Mistress Morgana) is placed in black patent leather ankle ballet boots on her tip toes and tied to the whipping post, and takes it from Boss and Anastasia with several single tails. Intense screaming, and then a nice moment where Bess goes into subspace. The male and female slave are both tied back to back and suspended together upside down for electric violet wand and nova pro play in conjunction with nipple torture. Mistresses in leather and military gear. 3). A sequence in the schoolroom where Irene Boss gives a fantastic demonstration and explanation of canes and a caning on a masochistic male, while he is strapped over the punishment box. Irene Boss wears strapless antique bra, and see through tights with no underwear.

"Zapped by the Boss" 32 minutes

ELECTRO PLAY / CBT / BONDAGE / CANES / CROPS / GS

Beautiful music fills the air. What a calm working environment, We spy a nude male affixed to a cbt chair in tight heavy bondage with a face muzzle. What will become of this man? Something is certain. He is Irene Boss's slave secretary and he has to prove himself in order to keep his job in the cruel series of electrical displays and vicious canes.

The Boss is calm upon entering the room, but soon becomes her usual self. Pinstripe suit, heels, and vicious red riding crop. The breathing of the underling changes at the site of her! First she gently plays with his nipples while electrocuting his cock, and then begins to lash at his tender exposed white thighs with the crop. She then crops his nipples and cock. The Mistress announces that the crop marks look beautiful! She then crops his stomach savagely and runs her long nails over his belly and things. We hear the first diabolical laugh of the evening. She beats him again and touches him sensuously all over his body. What a mind fuck! Sensuous soothing of a punished area! Tender things are rubbed as Mistress announces she is going to get the cane this time. The muzzled slave objects! We hear the second evil laugh. The caning of the thighs begins and he hates it! She changes his arm position and then plugs her self into a violet wand and proceeds to tickle his cock with her long fingernails. Sparks fly! She uses the violet wand directly on his cock. Evil laugh number 3! Don't be afraid, it's just electricity! Zap, zap, zap again! She gets his ass, nuts and shaft! It's excruciating and she laughs! She then sooths him in T&D with a nice wind down using a vibrator. He is bondaged tightly and cannot move an inch! You want to come? Very well, then you shall be caned right afterwards. Mistress is diabolical as she brings hew slave to orgasm with 2 different vibrators and then viciously canes his thighs while he it tightly bound on a CBT chair. This is his reward, not the orgasm. The bound blindfolded slave is caned anywhere on his body the Mistress chooses. She looks sternly at the camera throughout and laughs. It is clear that she is enjoying herself while he suffers! She then lovingly runs her hands all over his welts and forces him to have another orgasm. This one is explosive! The Mistress then uses the slave as GS receptacle.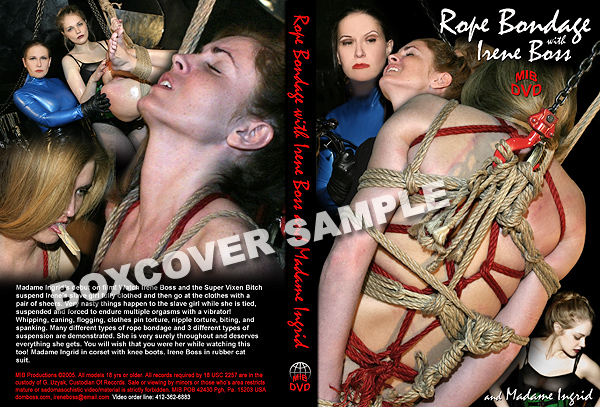 "Rope Bondage with Madame Ingrid" 51 minutes
Madame Ingrid's debut on film! Watch Irene Boss and the Super Vixen Bitch suspend Irene's slave girl fully clothed and then go at the clothes with a pair of sheers. Very nasty things happen to the slave girl while she is tied, suspended and forced to endure multiple orgasms with a vibrator! Whipping, caning, flogging, clothes pin torture, nipple torture, biting, and spanking. Many different types of rope bondage and 3 different types of suspension are demonstrated. She is very surely throughout and deserves everything she gets. You will wish that you were her while watching this too! Madame Ingrid in corset with knee boots and Irene Boss in rubber cat suit. View now Order DVDr

Mistress Simone of Chicago visited February 7th - 10th!
On Youtube: http://www.youtube.com/watch?v=vUwn4sVdHko