January 2009! (December 2008 archive)
Please hit refresh and scroll this whole page for complete updates to this site!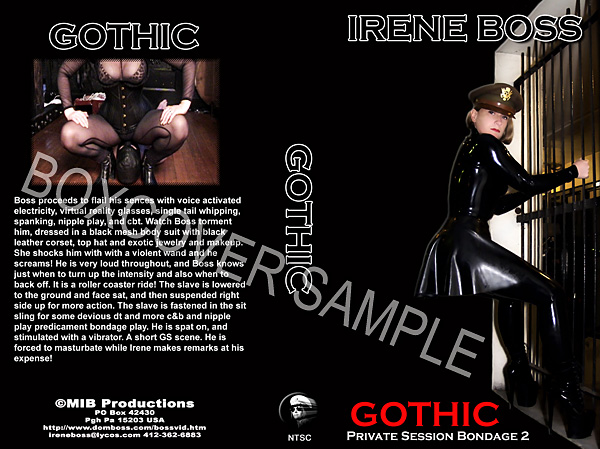 "Private Sessions Bondage 2 - The Gothic" 45 minutes CBT

The saga begins with an upside down suspended hooded slave in predicament bondage, wearing cuffs, nipple clamps, and a cbt devise. Boss proceeds to flail his sences with voice activated electricity, virtual reality glasses, single tail whipping, spanking, nipple play, and cbt. Watch Boss torment him, dressed in a black mesh body suit with black leather corset, top hat and exotic jewelry and makeup. She shocks him with with a violent wand and he screams! He is very loud throughout, and Boss knows just when to turn up the intensity and also when to back off. It is a roller coaster ride! The slave is lowered to the ground and face sat, and then suspended right side up for more action. The slave is fastened in the sit sling for some devious dt and more c&b and nipple play predicament bondage play. He is spat on, and stimulated with a vibrator. He is forced to masturbate while Irene makes remarks at his expense!

Members writing! "Newbies first visit with Ms Irene (by Leo)" From the message board and also in members!
Members writing! "An Electrical Educational Experience (by footsucker)" It was the coldest night of the year in Pittsburgh, the wind howling and the real feel below zero. Brrrrrrrrr rr!!!!! Cap and gloves on I hurried my way from my car to the Compound. Ringing the doorbell I stood shivering on the porch until my entrance was granted. Deep down inside I knew that the evening filming duties would soon heat things up. Making my way to the studio I was greeted by Mistress Irene, dressed in casual attire Mistress Irene looked just as beautiful as always. "We'll be filming in the Medical Room" Mistress Irene noted as She motioned to me to follow. I could already feel the chill leaving me when Mistress Irene directed me to assist in preparing the medical room for the scene. I was honored to lend a hand with the groundwork, re-arranging, shinning up, making the bed and displaying a plethora of painful and pleasurable props. Since the Rimba Company was so kind to provide Mistress Irene with sampling of their latest products for Her enjoyment I thought I'd list them.I hope I haven't forgotten any! 880-1 Electro Sex Digital Power Unit, Dual Channel, 850 Electro Sex Stimulation Power Box Set Manual Tens Unit, Vibrating Electrosex Kit, Electrosex Leather Scrotum Parachute, Electro Sex Bi-polar silicone cockrings, Electro Sex Gloves, Electro Sex Stainless Steel Ballstretcher or Cock Ring, Aluminum uni-polar cockrings, #3000 contact gel, Electro Sex Stimulation Adhesive Pads, Electrosex Cock and Ball Strap, Electrosex Nipple Clamps, Electrosex Torpedo Plugs, Electrosex Penis Sheath and Electrosex Penis Bands. Oh my it's going to be a long night! Read the rest in members!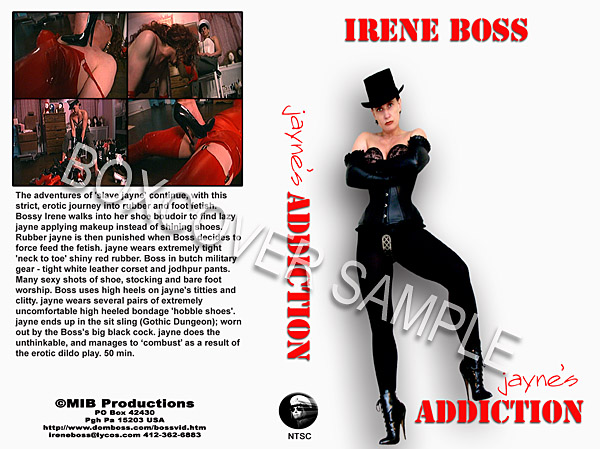 "Jayne's Addiction" 45 minutes SHOE, RUBBER and FOOT FETISH

The adventures of 'slave jayne' continue, with this strict, erotic journey into rubber and foot fetish. Bossy Irene walks into her shoe boudoir to find lazy jayne applying makeup instead of shining shoes. Rubber jayne is then punished when Boss decides to force feed the fetish. jayne wears extremely tight 'neck to toe' shiny red rubber. Boss in butch military gear - tight white leather corset and jodhpur pants. Many sexy shots of shoe, stocking and bare foot worship. Boss uses high heels on jayne's titties and clitty. jayne wears several pairs of extremely uncomfortable high heeled bondage 'hobble shoes'. jayne ends up in the sit sling (Gothic Dungeon); worn out by the Boss's big black cock. jayne does the unthinkable, and manages to combust as a result of the erotic dildo play.

Member's Imagery 2 new Irene Boss photo galleries... (40 new never before seen images) These photos are Irene Boss as a Disciplinarian. 314 other images put into slideshow for easier viewing. Join to view the full size!
"Mommie's Home"!

Cock Mommie Debut

LESBIAN STRAPON

Madame Nadine as COCKMOMMIE. Jillian and Ginger's debut on film - the pilot of the Cockmommie series! Chili Face: Mommie comes home (after a hard day of nothing) and finds Jillian making vegetarian chili for dinner. How freaking lazy! Whatever. She explodes and decides to make Jillian wear it and then she must tongue polish Mommie's boots in the bathroom while Mommie sits on the can smoking. Splosh, food humiliation, bootworship, bare bottom corporal and a sadistic sexy "shower show" with soap in the mouth punishment. This will teach you to have proper dinner ready when Mommie comes home! Rough Dirty Sex in the dungeon at the Compound: DP with anal and speculum exam, searing hot wax treatment while restrained in the sit sling. Doggie style, hair pulling and strap on blow job with verbal humiliation. Pizza Slut: Hungry Cockmommie is tired and resting her feet after a long day on the show floor at the AVN. She orders room service. Ginger the delivery girl is persuaded to stay for a drink and poker. Guess what? It's Ginger's 21st birthday and Cock Mommie wants a piece. Mommie slips her a mickey and bangs the little worker bee to hell and back. Screwed on the bed, forced to eat her pizza, coffee table sex with chocolate covered cherries and a hot bathroom scene complete with lots of screaming and kissing. COCK MOMMIE - It's your Daddie's porn and it's hot. Get yours now!!! Running time 60 minutes.

"Electric cock control" Longer trailers in members

Irene Boss knows...control the cock - control the man! The human body is comprised of water and muscle, so adding electricity to the mix only adds to the domination. The male slave is restrained on the CBT chair in a leather harness wearing a heavy leather face restraint and parachute with custom brass weights. A good scrotal and ball stretching is in order here. Irene goes to town with the violet wand on the erection preventing metal chastity devise he is forced to wear. His thighs are included. A metal egg shaped electric butt plug is inserted and electric bi polar nipple clamps are applied. He is double flogged and thigh cropped. Irene removes the chastity devise to see how many clothespins she can apply and places the head of his penis in predicament bondage attached to his head gear. A very interesting electric butterfly board is demonstrated. Many electrical boxes are put to good use. Special thank you to foot sucker for appearing in the film and building the weight set and custom electrical butterfly board. Special thank you to slave AC for commissioning the video! Running time 60 minutes.

"Just Between Girls" Three scenes! Irene invites her friend Louise D over to play with Angela. Rubber corseted and placed in near suspension, Angela is felt up by the ladies. Louise proceeds to apply hemp rope breast bondage. Irene kisses, caresses and reassures the wide-eyed sexpot. An electric pussy shield is introduced and Angela's panties are placed over her face so she can savor her own excited scent. Her perfect little lunchbox is electrified. She enjoys a light flogging followed by a sound paddling. Angela is restrained to a leather chaise lounge. Kissing and fondling continue. Leather bondage mitts and nylon strapping secure her for some bi polar electric nipple play. Irene attaches a dildo gag to the face of the bound brunette and goes for a ride while Louise serves up some verbal commentary. A hearty foot job is then administered by Louise to her satisfaction. Placed in a sit-sling and bound and fitted with a breath deprivation hood, Angela is now at the mercy of the two Dominas. Irene licks and rubs Angela's amazing assets while Louise applies the Hitachi Magic wand. The ladies take turns with the strap on while controlling her breathing to ramp up for a massive orgasmic ride. Irene fits slave Angela with the Nova Pro to ensure a most unforgettable experience. Glass strap on dildos are used to bang the dark haired damsel into the middle of next week. Irene vibrates the crystal cock with the Hitachi for her own personal stimulation. Several explosive orgasms follow as Angela writhes and moans. Close ups for all to see. This is just between girls! Very sexy and wet. Irene in long red rubber dress and black leather ankle boots; Louise in red, black and clear knee length rubber dress and black strappy high heels; Angela in back and white rubber corset and thigh high leather boots. Running time 55 minutes.