Triple feature!

Holy Cum-ollie...Cock Mommie "Machine Screwd" is number 2 at Hot Movies! FREE TRAILER

DVD 5 "Machine Screwed" DVD length 80 minutes LESBIAN / FUCK MACHINES / DEMONSTRATIONS

Introducing Maria, Svetlana and Hel Inferna to the all star Cockmommie cast! Movie 1: Madame Nadine has her work cut out for her when she hires two personal trainers to keep her new bodacious house girl Maria in shape but Maria has an exercise plan of her own. She discovers various dildos and a fucking machine and gets caught pleasuring herself and is taken upstairs to the sex lounge for a thorough speculum exam and fuck machine training. Downstairs at the Compound a domestic discipline scene is in progress with a most unusual implement - a broken kitchen table leg. Hel Inferna gets her comeuppance! Movie 2: Creamed and Cleaned: Cockmommie comes home to a filthy sty at the hands of house brat Jillian. Jillian is used for target practice as Cockmommie wings and flings whipped cream and frozen potato nuggets. A splosher's delight! Jillian's nude raised ass is decorated with more cream and whacked repeatedly with a very hard red plastic mixing spoon until it breaks. Movie 3: Vanessa's electrical education - electrical demonstrations upon a saucy siren! Buy DVD View online now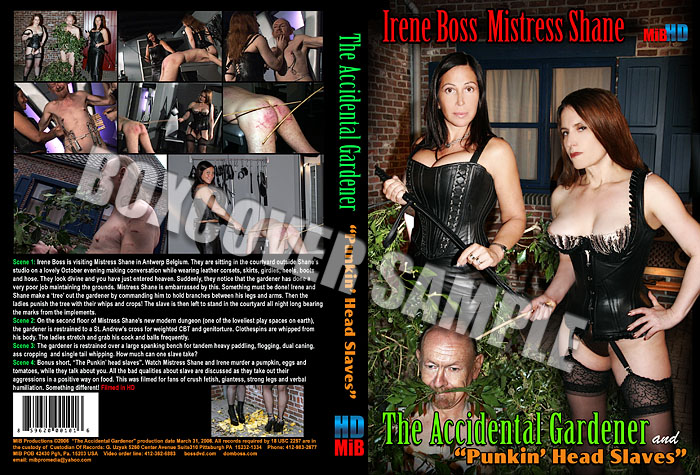 "The Accidental Gardener"
OUTDOORS / WHIPPING / SPLOSH / CBT / CP / SHOE AND BOOT FETISH
Scene 1: Irene Boss is visiting Mistress Shane in Antwerp Belgium. They are sitting in the courtyard outside Shane's studio on a lovely October evening making conversation while wearing leather corsets, skirts, girdles, heels, boots, and hose. They look divine and you have just entered heaven. Suddenly, they notice that the gardener has done a very poor job maintaining the grounds. Mistress Shane is embarrassed by this. Something must be done! Irene and Shane make a .tree. out the gardener by commanding him to hold branches between his legs and arms. Then the ladies punish the tree with their whips! The slave is then left to stand in the courtyard all night long bearing the marks from the implements.
Scene 2: On the second floor of Mistress Shane's new modern dungeon (one of the loveliest play spaces on earth) the gardener is restrained to a St. Andrew's cross for weighted CBT, and genitorture. Clothespins are whipped from his body. The ladies stretch and grab his cock and balls frequently.
Scene 3: The gardener is restrained over a large spanking bench for tandem heavy paddling, flogging, dual caning, ass cropping, and single tail whipping. How much can one slave take?
Scene 4: Bonus short .The Punkin head slaves.. Watch Mistress Shane and Irene murder a pumpkin, eggs, and tomatoes, while they talk about you. All the bad qualities about slaves are discussed as they take out their aggressions in a positive way on food. This was filmed for fans of crush fetish, giantess, strong legs and verbal humiliation. Something different. View now in members - 28 minutes

Another Director's cut DVD has been added to the shopping cart!
DVD 5 "The substandard cock sucker - Director's Cut" 110 minutes. 4 scenes TRAILER
BI / WHIPPING / ELECTRIC CBT / SUSPENSION / CROSSDRESSING
Why on earth would a slave continue sucking cock in front of 2 Mistresses if he can't even get it properly hard? Welcome to the world of sexual humiliation! (The male slave brain works in mysterious ways.) Slave Monty requests a filmed overnight session with Irene Boss and Mistress Gemini. Little does he know that the Ladies have decided to invite TS Mistress Jeannine over. He is broken down with cross dressing, bondage, cbt, speech restriction (clothespins on tongue) and nipple torture. After a substandard oral performance on Mistress Jeannine's large cock he worships feet while Irene Boss and Ms Gemini take turns punishing his ass. He receives a whipping while in upside down suspension, gets tormented with an electric cock catheter, and is also strapped and caned. Lots of heavy corporal! The Ladies have fun with a little breath control and tease the substandard with their stockinged feet and legs, frequently adjusting their garters. Spectacular 4 minute golden / ruby scene at the end!

BossDVD.Com presented once again at the AVN trade show in Las Vegas Nevada. Booth B525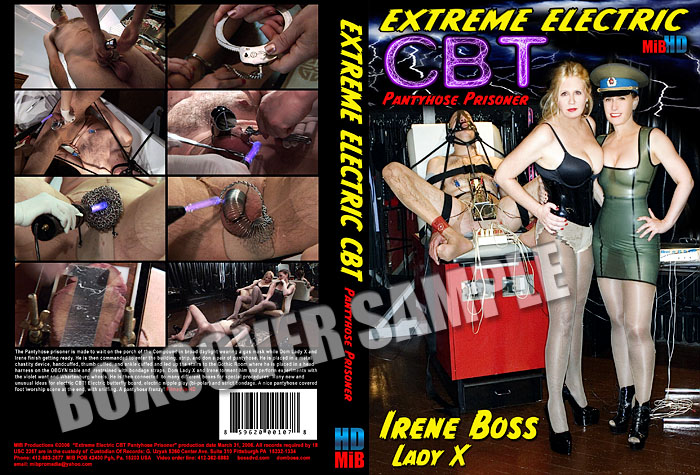 "Extreme Electric CBT - The Pantyhose Prisoner"

FEM DOM - CBT / ELECTRICITY / PANTYHOSE
The Pantyhose prisoner is made to wait on the porch of the Compound in broad daylight wearing a gas mask while Dom Lady X and Irene finish getting ready. He is then commanded to enter the building, strip, and don a pair of pantyhose. He is placed in a metal chastity devise, handcuffed, thumb cuffed, and ankle cuffed and led up the stairs to the Gothic Room where he is placed in a head harness on the OBGYN table and restrained with bondage straps. Dom Lady X and Irene torment him and perform experiments with the violet want and whartenburg wheels. He is connected to many different boxes for special procedures. Many new and unusual ideas for electric CBT! Electric butterfly board, electric nipple play (bi polar) and strict bondage. A nice pantyhose covered foot worship scene at the end, with sniffing. A pantyhose frenzy! View now in members - 48 minutes

These DVDs have been added in Director's cut versions to the cart. Never before seen footage. Extremely naughty!

Excerpt from Member's writing Meeting General Mayhem - chapter 4: Mistress Irene's submissive from the Midwest remained tied face first on the whipping board that stood in the corner of her play space. He was imprisoned by straps and ropes in a room on one of Pittsburgh's many hills. It had been over two hours since he had stepped out of Mistress Irene's black truck, completely naked. He'd been confronted by a very beautiful woman wearing a military uniform. She had ordered him to put on the pair of high heels she had tossed on the garage floor, and to follow her - naked - into her studio. He hadn't noticed the nametag "General Mayhem" that was prominently displayed over one of her sexy, ample breasts. - until she playfully pointed at it. Then she had sternly instructed him to address her by that name throughout their session: "General Mayhem". Now he was enduring pain! "Mercy, Mistress!!" He cried out as Mistress Irene's slow rhythmic strikes with her loud bullwhip rained down on the flesh of his naked back, legs and shoulders. Red slash marks from the woman's whip crisscrossed the back, legs and shoulders of the man's white flesh. "What is my NAME?", asked Mistress Irene, with a laugh that was more affectionate than cruel. "Mercy, General Mayhem!!" "What is the CODEWORD to use?" she demanded, laughing again at his mistake. She began to ease off on the strokes from the large, long bullwhip she had been wielding so expertly. "RED, General Mayhem, RED" shouted the man, squirming inside the straps and ropes that bound him helpless to Mistress Irene's X-cross in the corner of the darkened studio. The blows stopped. "See, that wasn't so bad, was it?", said the lovely Mistress, who had stripped down to a skirt and bra while whipping the naked man. Whipping a man was exhausting work! "Thank you, Mist.. I'm sorry, General Mayhem", said the man with a relieved sigh. "I don't think this is something I can take, I'm sorry, General Mayhem. "He groaned a few times, more quietly now. "Oh, I think you did GREAT!", exclaimed Mistress Irene. "Your first time with the bullwhip, too! I'm so proud!" "Thank you....General Mayhem. I don't know", said the man, as he felt the warm hands of Mistress Irene running over the red marks her whip had left across the man's sweating white flesh. Mistress Irene continued stroking the flesh she had just spent the last few minutes punishing with her long lanky Western bullwhip. Read more
(December 2010 archive) More archives