Ms Boss visited the DC Metro area and NYC (West Chelsea)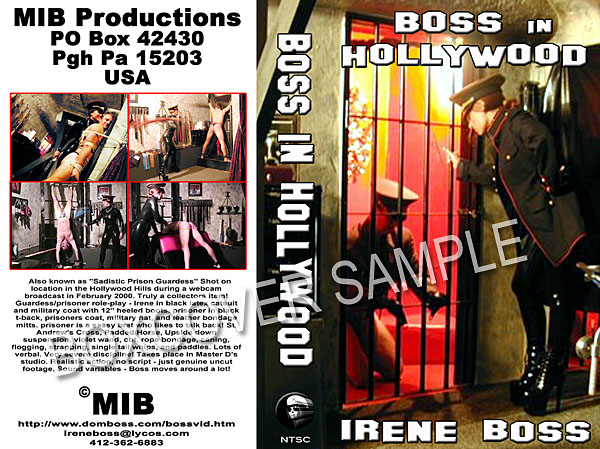 "Boss in Hollywood" 55 minutes. Shot on location in the Hollywood Hills during a web cam broadcast in February 2000. Truly a collectors item! Guardess/prisoner role-play - Irene in black latex catsuit and military coat with 12" heeled boots. prisoner in black t-back, prisoners coat, military hat, and leather bondage mitts. prisoner is a sassy brat who likes to talk back! St. Andrews Cross, Padded Horse, Upside down suspension, violet wand, cbt, rope bondage, caning, flogging, strapping, single tail whips, and paddles. Lots of verbal. Very severe discipline! Takes place in Master Ds studio. Realistic action, no script, just genuine uncut footage. Sound variables. Boss moves around a lot! View now

"Private Bondage" 22 minutes: From CBT games to the Pillory! Ms Boss is seductive one minute and cruel the next, but isn't that what you love? A good mindfuck is always an excellent method to seduce subspace. This clip is very early MIB - 2001 from the film "Private Sessions Bondage" part 1 of 2 parts. Actual session footage. Upside down suspension, CBT, bondage, Corporal. Assplay dilation leading to strap-on. Ms Boss demonstrates with different sized toys and methods how she gets a miscreant ready for the big bang!

"Proximity Fetish"
"You have a proximity fetish," she whispered in my ear.
And of course she was right. She had me pegged, not literally this time, but figuratively. When I am in the proximity of the Mistress my world changes. My mouth gets dry, I don't know what to say, my hands start to shake, my pulse races, and other physiological changes occur. "Yes, Mistress, you are right," I thought, but I could not say the words because I was ball-gagged so tightly that I almost could not swallow. The ball gag was only a small part of my bondage…. join to read more
and "A First Time"
Dear Mistress Boss, Thank you very much for the time that we spent together this week. It was all I hoped it would be and more. As a complete newbie, I was something across between nervous, thrilled, terrified, curious, anxious, and exhilarated in the lead-up to the session. Upon entering the Compound, your approachability put me at ease, reinforcing the positive energy in my head and banishing the concerns and anxieties. While I believe there is a wild misconception that all dommes are cruel, mean, and even abusive, you showed me that you are exactly the opposite: kind, generous, patient, and thoughtful. join to read more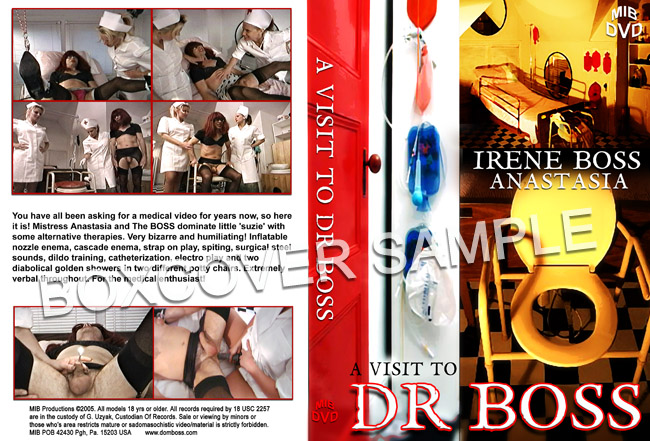 Brand new to DomBoss.Com members! You have been asking for an intense medical video for years, so here it is! Mistress Anastasia and the Boss dominate little 'Suzie' with some alternative therapies. Very bizarre and humiliating! Inflatable nozzle E, cascade E, strap on play, spiting, surgical steel sounds, DT, catheterization, and electro play. Extremely verbal throughout. For the medical enthusiast.
Join to view - 35 minutes