What happened in July
Below - Photo size in members. 700 - 750 k!
Brand new releases:
Content Update: Trailer RM file: Your appearance is in question! (8 minutes) Extreme foot worship! Do you lust after slick patent high heeled shoes, Cuban heeled stockings, and sexy French pedicured toes? How about when the woman is a real bitch on wheels?! Irene the corporate dream is serviced by slave Dave who has quite a foot fetish. Next, he is bent over and punished for his horrible hair. It looks like a welcome back kotter sos pad disaster. Yes, his appearance is definitely in question. He is strapped and caned until his bottom cheeks ooze. Cut to the gothic dungeon at the Compound. Mistress Gemini and Irene are decked out in tight shiny rubber and Dave must serve a s a toilet for both of them. He is then tortured "medical style" upon an OBGN table in a smother box with bondage, piercing, and electricity. A trip to the schoolroom is next for some serious face slapping, verbal admonishment and stripping under the keen eyes of the two stern Mistresses. A heavy birching, caning, strapping, and more face slapping takes place. A hair pulling lecture finishes off this diabolical punishment. Mind your P's and Q's young man, and you better drink your pee! Order full length DVD online or call 412 362 6883
Content Update: Slave humor - At the Compound for awhile (Sung to the tune of Gilligan's Island)
Content Update: Irene Boss 1 and 2 Part 1 - IPOD version (2 minutes 30 seconds)
Content Update: Download Windows media here to play Irene Boss 1 and 2 (2 minutes 30 seconds) Part 1 - the verbal warm up to the action! "Get my hairbrush now!" Presenting the first two videos ever made by the Compound - now available as a compilation. Part 1: Errant husband gets caught watching the game without doing chores! OTK spanking with hand and hairbrush, caning, verbal and cross dressing. Ends with naughty house husband cleaning the house. Ms. Boss wears the pants in this video, with a white satin sports bra and sensible ankle boots. Takes place in Her personal living quarters. Part 2: Errant husband gets caught watching the game without doing chores (again!)! Role play - OTK spanking with hand and hairbrush, caning, belt, bondage, smoking, and cross dressing. Sexy smoking scenes while slave husband is hogtied. Ashtray use of slave/husband too. 3 costume changes for Ms. Boss, including a black girdle with a see through back panel and black leather bra, and a skin tight PVC black cat suit with knee length black patent platform boots. Takes place in Her personal living quarters. Genuine vintage Irene Boss in action! Order full length DVD online or call 412 362 6883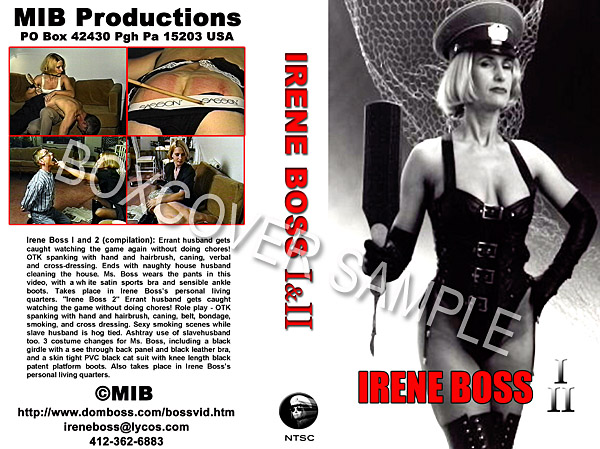 Content Update: Gallery - Part 4 of "The Prisoner!" (The final installment) 30 full size images in members. Irene Boss, Dom Lady X, and introducing "the prisoner". Images shot on location in Irene's Envoy, the studio of Dom Lady X, and Irene's Compound.
Written by Irene (a former Leda Lady): I was happy to find out that "the prisoner" (one of my favorite play partners) wished to travel to Pittsburgh to see me again. This time he was coming for the weekend, and I decided to keep him the whole time - not allowing him a break. This would be 24/7 for 36 hours! Since kidnapping is a big fantasy of his, I arranged for another Dom to help me, so we drove to the airport to pick him up together. We looked so sexy, she and I - both in our corporate drag, with garters and stocking on underneath. While I drove, she applied the straight jacket, inflatable gag, and hood. We took him to her facility, where we parked the car in the garage. I took his cock out for inspection, and was pleased to see that he had done as instructed and worn his CBT 2000 chastity devise. Let the games begin! I began by using his feet as a toilet in a dishpan while she photographed, and then she and I took him up to her corporal room where we took turns photographing each other dominating our victim. I really dug his lingerie too! I then brought him back to my place for branding, bondage, strap on play, inflatable rubber bondage bag, piercing, jail time, and a meal of cold gruel. Jealous? You should be. Become a member now!
Content Update: Writing: "Strap-on story! (with images)" ...electrodes were reattached and I was once again brought to the brink of orgasm….leaking somewhat, Irene would collect this 'juice' and coat my lips with it…forcing me to lick and swallow what SHE called 'my brain juice'. I was then told about this device a Friend gave HER…much like a tuning fork….it was a tuning dildo! Long, sleek and sexy…when inserted and struck, vibrations are sent echoing throughout your midsection! What a devious and delightful instrument! Read in members
Content Update: 113 images from my trip to Tokyo. Pictures of the Japanese countryside and architecture too - as well as pictures of me in regular clothes. Shocking!
Content Update: You were late Part 1 - IPOD version (6 minutes 30 seconds)
Content Update: Writing: Interview with Irene Boss in a prominent fetish publication! ("Female Energy") Read in members
Content Update: Download Windows media here to play You were late! 6 minutes 30 seconds. "Since you have been late, I have decided that you are going to receive cock training! The electrical punishment you are to receive correlates with the amount of minutes you were tardy!" Watch this little man get verbally humiliated, sat upon, scolded, squeezed, slapped (face slapping), spanked, teased and tortured. Get a good look at the Gothic Room at the Compound circa 1996. Genuine vintage Irene Boss in action! Order full length DVD online or call 412 362 6883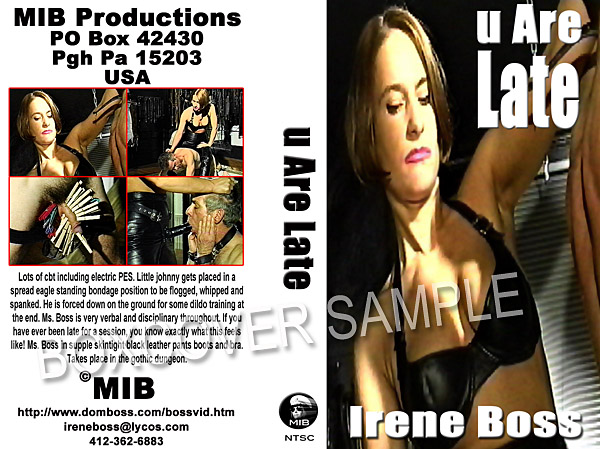 Content Update: Writing: Pulling the "customer card" on your Dom or a Dom? (An observation about the way things have changed from someone who's been in the business for over 12 years.) First of all I am not "chastising" people for doing the things you are about to read. This is not a rant or venting. This is an observation I have made about the gradual decay of communication between scene people in the professional sector. There used to be a politeness, a civility, almost a sense of chivalry or even courtly love from those who desired to be submissive projected upon those who they wish to be dominated by, and in the age of information this has become few and far between. Professional domination is now being viewed as a commodity service instead of a privilege one should feel honored to obtain. People feel that they should be able to have a session simply because they can afford one, and therefore should get to behave any way they please. Many women are doing domination now and anyone can hang a shingle. On the online Domina Directories there are scores of new Ladies advertising every single day and this dilutes the market to a certain extent. It is not as pure as it once was. In some cities there are dungeons like there are nail salons. Read in members
Content Update: Writing: 10 pages of freaky emails!
Content Update: Writing: Comic relief from a slave!
Content Update: Download Windows media here to play A Visit to Dr. Boss 2000 (Part 1 the verbal warm up to the action!) 5 minutes, 30 seconds. You have been asking for an intense medical video for years, so here it is! Mistress Anastasia and the Boss dominate little 'Suzie' with some alternative therapies. Very bizarre and humiliating! Inflatable nozzle enema, cascade enema, strap on play, spiting, surgical steel sounds, dildo training, catheterization, electro play and two diabolical golden showers in two different potty chairs. Extremely verbal throughout. For the medical enthusiast. Order full length DVD or call 412 362 6883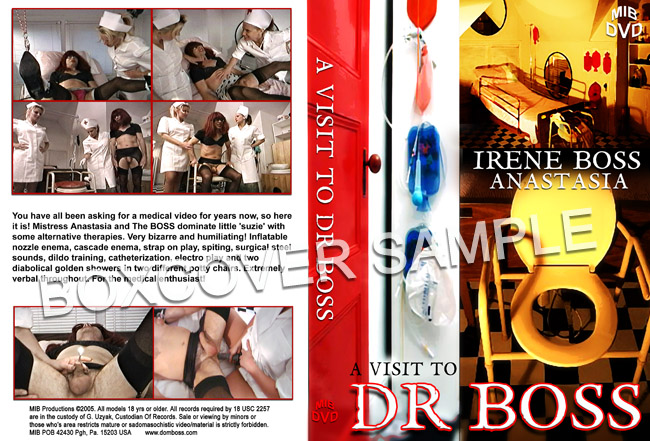 Content Update: A visit to Dr. Boss Part 1 - IPOD version
Content Update: Writing: Filming Anticipation! I arrived right on time for my visit to the Compound. I rang the bell and waited for my entrance to be granted. Mistress Irene floated down the stairs in a white and blue Kimono, WOW! Boss-san was simply gorgeous. Mistress Irene informed me that she would be the camera-woman today, filming Mistress Fawn tormenting me. "Take off those shoes and follow me upstairs" Mistress Irene ordered. I took off my shoes as fast as I could and followed Boss-san upstairs. Mistress Irene is incredible, she looked Hotter than a hibachi in her Kimono. Mistress Irene introduced me to Mistress Fawn, WOW! Mistress Fawn is a very beautiful woman. Dressed to the T, looking incredibly sexy in her seductive pantyhose and busty red corset. Suspended in the slut position, wrists and ankles to bar, ass fully exposed, Mistress Fawn hoisted me up to Her perfect height. Then, Mistress Fawn proceeded to verbally humiliate her pathetic swinging slut, no more thinking of myself I was at Mistress Fawns mercy.Mistress Fawn thought I looked naked so she began decorating me, first attaching a pair of Japanese Clover clamps to my nipples, an electric cock ring followed. Mistress Fawn slid an electric butt plug into me, connected me up and turned on the juice. Slowly increasing the knobs until she was satisfied with my discomfort. My worthless cock and slut hole tingled while Mistress Fawn accentuated the sensations with a pair of Wartenberg wheels. Whoo! I was jumping now……continued in members
New DVD: "Your appearance is in question"
Three scenes! Scene 1: 'Office boy' Dave is being scolded about his appearance by CEO Irene Boss. Dave has been stripped down to his black boxers, but Irene looks sharp and snazzy in her expensive suit, lace topped stockings, and sexy pinstriped pumps. Her hair is long and flowing too. Dave's hair is the problem here, and his nails. His appearance is substandard and an embarrassment to the Boss. He is forced to indulge in an extremely humiliating foot worship scene with creative verbal onslaught, as only Irene can do. Irene removes her jacket. He is restrained over the punishment box for intense paddling, caning, and strapping (razor strap and tawse). Many different rattan canes are used upon him, including the white lightening, nasty bastard, and carbonite (indestructible) implements. Irene finishes with a steel martinet. He must either shape up, or it's a head shaving for him on the auction block next summer at the OWK! He is given a timeline to make the corporate changes, and he fails to achieve them.
Scene 2: Enter Mistress Gemini, Irene's British friend visiting from Los Angeles. The following scene opens in the Compound's Gothic dungeon: Both Ladies are decked out in rubber. Irene is in a pewter cat suit with fetish boots, and Gemini in a shiny black one piece, short red rubber skirt, black corset, garters, clear rubber stockings and red knee high boots. Va va voom! Dave is restrained on the OBGYN table in the smother box with a giant funnel gag and must endure one of Irene's voluminous showers. Gemini uses him next. He is completely unable to swallow the enormous amount and gags. The Ladies then decide that it is time for Dave's 'medical treatment'. He is placed in a stainless steel chastity devise and gagged to prevent any erections and noise. The Ladies warm his nipples up with lots of piercing suspension. Then they decide to play a voice activated electroshock CBT game with him! Many electrical boxes are demonstrated. You can also see that Irene decided to paint Dave's toenails since he refused to keep them trim.
Scene 3: The Ladies are seated on a small couch in the school room with Dave kneeling before them, questioning his appearance. Birching and face slapping takes place. Dave strips and removes his jewelry upon command of the two Mistresses. He is humiliated with an embarrassing hairstyle and sheer black panties. He is restrained over the punishment box for tandem paddling, strapping, and the tawse. The Ladies are wearing lingerie, girdles, hose and heels. Sexy and strict! They move Dave into the caning stockade for reform school style discipline. His ankles and wrists are cuffed in steel and he is made to wear another steel chastity devise. The discipline is extreme and frequently goes over 100 with each implement. Tandem caning and tandem birching take place! Don't ever let your appearance be called into question! Order full length DVD or call 412 362 6883
New DVD: "The adventures of rubber bob"
Frisky reporter visits the Compound in guise, and soon gets figured out. Mistress Anastasia and The Boss put him through his paces in every single room at the Compound. This tape is a must if you would like a tour, as well as voyeuring some fantastic action. Upside down suspension, NT, CBT, spinning bondage wheel, electro-play, inflatable rubber body bag, and punishment box just to name a few. Mistresses in strap-ons and full rubber with thigh-high leather metallic boots. Tons of rubber bondage gear and outfits! Inflatable rubber bondage ball, and forced femme on a latex sissy maid performing a fashion show at the end, in patent leather thigh-high ballet boots. For the rubber fetishist. Order full length DVD or call 412 362 6883