"Mistress Precious Rides again"

- 64 minutes

A sexy blindfolded bikini clad femsub is bound to a St. Andrews cross. Irene in long flowing black robe, garters, girdles, heels and hose. Mistress Precious wears a black leather corset, black leather pants and heels. The Ladies begin by subjecting the submissive siren to electric nipple play and the Whartenburg wheel on her body with electric pussy play, flogging and feather tickling. Scene 2 finds our Luscious Ladies in vinyl, latex, girdles, corsets, stockings, heels and boots for a scrumptious fetish smorgasbord! Angela receives a rough strapon session and plenty of forced orgasms from the Dominant duo! Mistress Precious decides to go for a ride on Angela's ass during a cage suspension sequence in scene 3. You don't want to miss this!

Higher resolution DVD contains 30 minutes of trailers from other films

Ms Boss traveled to several cities!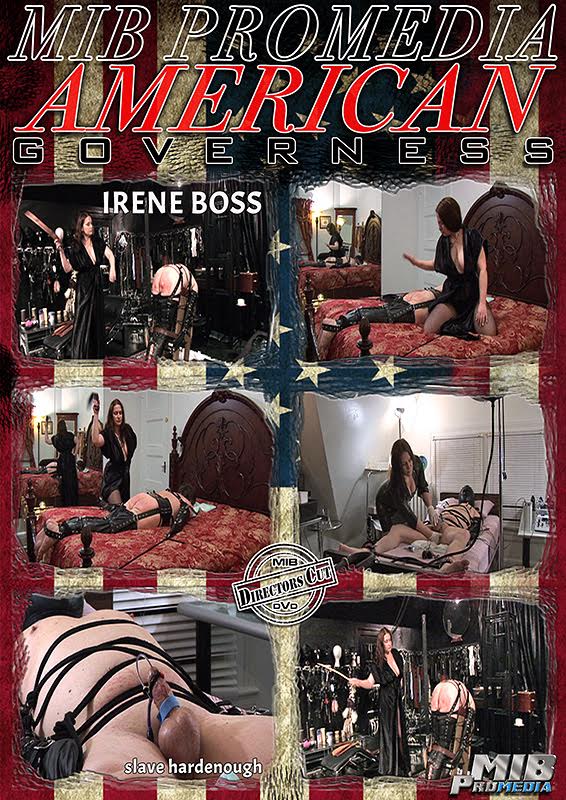 "The American Governess in the Medical Room" - 25 minutes
He signed his own slave warrant by returning to the Compound. Ms Boss as Harriet Marwood with at twist! Welcome to the clinic of the evil Dr Boss, where it is determined that the patient must go through the following to atone for his horrible smoking habit: Extreme medical bondage, inflatable rubber hood, electric corona stimulator, electric bi polar nipple clamps, and the big E (lavender soap) with a double inflatable nozzle. Ms Boss in a custom green rubber dress. While he takes his medicine, She runs her long sharp nails over his swollen balls. She disconnects the hose from the bag and places the tube end into a bucket, making him release his Big E while in bondage How humiliating! Ms Boss teases him in a mind fuck about "earning the right to have sex", but we know that is not going to happen. She rubs his tummy while he releases. There is no escape from Her and he will take the entire treatment. Verbal humiliation is a plentiful in this scene. He screams from the extreme electrical play and Ms Boss intensifies his bondage by lying on him and covering him with Her legs. View Now
Order the full HD DVD which contains 2 other scenes plus explicit Director's cut content!

"Do you think we'll get caught?" 11 minutes
One hot blustering August day (it was 98 degrees) Irene was in the mood to tie and tickle her girl out doors, so they went hunting in North Park for the perfect spot! She tied her to a tree and began her assault. She kept asking her if she thought we would be caught, and threatened to leave her there - while she went to a nearby bar to find a couple of people to handle her. The ladies wear shiny tights, boots, black leather jackets and bras. They eventually got caught by someone who was riding a bike through the park. For voyeurs and exhibitionists! View here Higher resolution DVD

"Bondage and Tickling" 20 minutes Goddess Claudia and Irene Boss take turns with a mummified josie in the Compound Schoolroom. Two duct tape scenes with breath control, tickling, and bondage. Implements are used, as well as Irene's lethal long nails. The ladies wear shiny tights sexy shoes, and platform fetish boots.