June! (May 2010 archive)
Hit refresh and scroll this whole page for complete updates to this site!

45 ravishing new images of Madame Nadine!

New web movie "Top secret CBT" - 35 minutes in members!
TOP SECRET CBT View now! 35 minutes At the Top Secret bunker Rubber Dr Boss is putting a military prisoner through some bizarre electrical experiments! He is transported in a hogtie position in the back of Mistress's H-3 all the way from the airport and we find him restrained and ready to go! He is placed in hospital restraints upon the custom steel stretching rack. Air casts and leg braces are applied. What follows is a diabolical decent into electrical debauchery with electric massage gloves, catheter, sounds, tens units, eros teck, and bipolar nipple play. Rubber Dr Boss laughs throughout and has a jolly good time. He is moved to the custom built CBT chair for some heavy duty Huse violet wand electrical experiments, CBT and nipple play. Zapping is so much fun with sensory deprivation (gags and blindfolds)!

$29.95 + 10.00 S & H - MIB POB 42430 Pittsburgh PA 15203 (412 362 6883)

New writing in members!
"4 hour asylum scene" by patient sub of the Fem Dom Scene
I had received instructions to the asylum and was ordered to drive directly into the waiting garage at the appointed time. I killed the engine and got out, finding the button to close the door as directed. With a rumble, the garage door came down, closing me off from the outside world for the next four hours. I entered the vestibule and removed my shoes before continuing into the treatment room. After a quick look around at the array of equipment waiting, and a deep breath, I entered the bathroom to strip and prepare myself for what was to come as I had been commanded. Soon I was back in the room, lying face up on the exam/stretching table, bare except for the provided blindfold that prevented me from seeing anything. And I waited in anticipation, the haunting music and my rapidly beating heart filling my ears as my back pressed against the cool leather of the table. Read more...

New writing in members!
"Dom Con Days 1 - 3" by USB of the Fem Dom Scene
(Writing unedited to preserve the original flavor. The slaves primary language is German.)
Although we did several sessions before it was again so exiting to stand before the door of Mistress Irene. I knocked at the hotel door in Los Angeles and who opened was "General Mayhem". This was written on Mistresses army jacket and her hat awed me too. "Mayhem" was a key word for me and I could await a hard punishment. But Mistress Irene let me step in in her kindly way with a good portion of humor and I felt more relaxed. Meditation music was in the room. I should take my clothes off and Mistress Irene told me we would start with foot and shoe worshipping. What a fun, I loved it. There were standing two rows of shoes and boots and I was allowed to test them all. Mistress Irene sat comfortable on a sofa, I was kneeling in front of her and put her on the first shoes, black high heels, I kissed and licked and sucked, put my tongue between the wonderful shoe and her foot and enjoyed this very much. And then one after the other. I came deeper and deeper into it and I got the feeling to have to devour my Mistress but I controlled this and had much fun with her shoes. At the end I was allowed to kiss her feet without shoes and smell at them. I can say Mistress Irene has very nice feet and it is a big honor to kiss them. Read more...

32 minute full DVD download in members!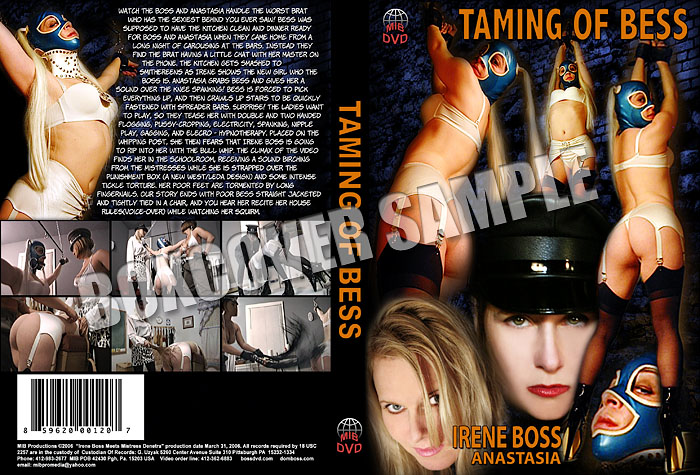 THE TAMING OF BESS View now! 32 minutes The debut of Bess. Watch the Boss and Anastasia handle the worst brat who has the sexiest behind you ever saw! Bess was supposed to have the kitchen clean and dinner ready for Boss and Anastasia when they came home from a long night of carousing at the bars. Instead they find the brat having a little chat with her master on the phone. The kitchen gets smashed to smithereens as Irene shows the new girl who the Boss is. Anastasia grabs bess and gives her a sound over the knee spanking! Bess is forced to pick everything up, and then crawls up stairs to be quickly fastened with spreader bars. Surprise! The ladies want to play - so they tease her with double and two handed flogging, pussy-cropping, electricity, spanking, nipple play, gagging, and elecro-hypnotherapy. Placed on the whipping post, she then fears that Irene Boss is going to rip into her with the bull whip. The climax of the video finds her in the schoolroom, receiving a sound birching from the Mistresses while she is strapped over the punishment box (a New West/Leda design) and some intense tickle torture. Her poor feet are tormented by 2 inch long fingernails. Our story ends with poor Bess straight jacketed and tightly tied in a chair, and you hear her recite her house rules (voice-over) while watching her squirm.

$19.95 + 10.00 S & H - MIB POB 42430 Pittsburgh PA 15203 (412 362 6883)

"Bound Infused Saline Abused" Scene 1: Diabolical Dominas Irene and Chase are getting ready to saline infuse their bound political prisoner in the Vault room at Lady Hillary's Dominion. Lot's of stainless steel and the atmosphere is HOT HOT HOT! Ladies decked out in rubber and fishnets. The scene begins with CBT chastity ala Kal's teeth bracelet. The dicklet will be at attention this afternoon. The scrotal sack will be filled. Both Ladies have huge breasts and long luscious legs. The gimp bought the wrong kind of super glue and it appears as if white spooge is oozing from his ball sack. It's time for clothespin treatment and nipple play. Scene 2: The prisoner is placed in standing near suspension for pin mitt play upon his sensitive nipples, a flogging from Mistress Chase, and a whipping from Irene Boss. While Irene savagely whips the slave she gives him an idea of what his alibi should be for having so many marks. Mistress Chase steps in to deliver a good hard spanking. The obnoxious whiny suck tit get's a tandem strapping from the 2 decadent Dominas and cries mercy to no avail, but ignore his safe word in this consensual non-consensual sacrilege of female domination. Onto the caning of his worthless ass, nipples and balls! Irene hugs him while Mistress Chase canes him. Scene 3: Extreme sounds. The prisoner's legs are suspended for salacious strap-on. Several interesting strap-on positions! $29.95 + 10.00 S & H - MIB POB 42430 Pittsburgh PA 15203 (412 362 6883) $29.95 + 10.00 S & H - MIB POB 42430 Pittsburgh PA 15203 (412 362 6883)

"Bikini Switch Bondage Bitch" Goddess Auriana and Kali Kane like to play hard, however on this day, Auriana wants to show off her new pink bikini at the beach and attract all the attention she deserves. Kali has other plans for the day and begs Auriana to stay indoors alone in their hotel room with their plentiful supply of naughty BDSM gear. Auriana agrees.The lusty ladies turn up the heat on each other, switching their BDSM and sexual desires many times. All this with gorgeous french manicured nails and toes! Irene Boss and MIB Productios welcome Goddess Auriana and Kali Kane to it's roster of beautiful and creative real scene players. Shot in a reality based scene time frame. For lovers of the following fetishes: smoking, cigarette play, pussy smoking, french kissing, bikinis, blue jeans, face sitting, oral worship, ass worship, ass licking, glass dildos, pussy worship, fingering, shoe worship, foot worship, toe worship, handcuff breast bondage, nipple torture, strap-on on play, forced orgasms with Hitachi magic wand. Lot's of POV! $29.95 + 10.00 S & H - MIB POB 42430 Pittsburgh PA 15203 (412 362 6883)