What happened in March 2010?
Please hit refresh and scroll this whole page for complete updates to this site!

Member's video upload - "Zapped by the Boss"! 35 minutes.
Join to view, and / or order the DVD!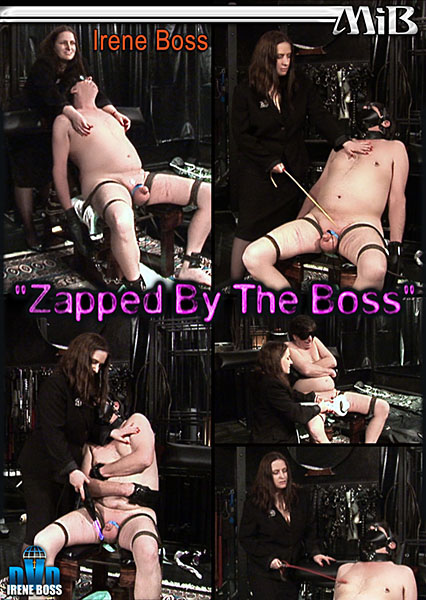 ELECTRO PLAY / CBT / BONDAGE / FINGERNAIL FETISH / CANES / CROPS / PINSTRIPE SUIT / FORCED ORGASMS / BLINDFOLD
Beautiful music fills the air. What a calm working environment, We spy a nude male affixed to a cbt chair in tight heavy bondage with a face muzzle. What will become of this man? Something is certain. He is Irene Boss's slave secretary and he has to prove himself in order to keep his job in the cruel series of electrical displays and vicious canes.
The Boss is calm upon entering the room, but soon becomes her usual self. Pinstripe suit, heels, and vicious red riding crop. The breathing of the underling changes at the site of her! First she gently plays with his nipples while electrocuting his cock, and then begins to lash at his tender exposed white thighs with the crop. She then crops his nipples and cock. The Mistress announces that the crop marks look beautiful! She then crops his stomach savagely and runs her long nails over his belly and things. We hear the first diabolical laugh of the evening. She beats him again and touches him sensuously all over his body. What a mind fuck! Sensuous soothing of a punished area! Tender things are rubbed as Mistress announces she is going to get the cane this time. The muzzled slave objects! We hear the second evil laugh. The caning of the thighs begins and he hates it! She changes his arm position and then plugs her self into a violet wand and proceeds to tickle his cock with her long fingernails. Sparks fly! She uses the violet wand directly on his cock. Evil laugh number 3! Don't be afraid, it's just electricity! Zap, zap, zap again! She gets his ass, nuts and shaft! It's excruciating and she laughs! She then soothes him in T&D with a nice wind down using a vibrator. He is bondaged tightly and cannot move an inch! You want to come? Very well, then you shall be caned right afterward. Mistress is diabolical as she brings her slave to orgasm with 2 different vibrators and then viciously canes his thighs while he it tightly bound on a CBT chair. This is his reward, not the orgasm. The bound blindfolded slave is caned anywhere on his body the Mistress chooses. She looks sternly at the camera throughout and laughs. It is clear that she is enjoying herself while he suffers! She then lovingly runs her hands all over his welts and forces him to have another orgasm. This one is explosive!

Member's video upload - "The Corporal's Punishment"! 75 minutes.
Join to view, and / or order the DVD!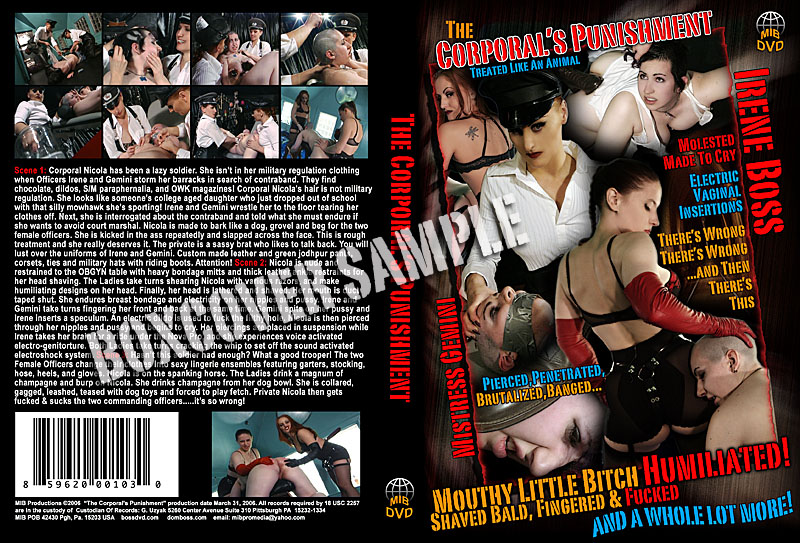 MILITARY LESBIAN ROLEPLAY / HEAD SHAVING / PLAY PIERCING / CLOTHING DESTRUCTION / MEDICAL
Scene 1: Private Nicola has been a lazy soldier. She isn't in her military regulation clothing when Officers Irene and Gemini storm her barracks in search of contraband. They find chocolate, dildos, S/M paraphernalia, and OWK magazines! Private Nicola's hair is not military regulation. She looks like someone's college aged daughter who just dropped out of school with that silly mow hawk she's sporting! Irene and Gemini wrestle her to the floor tearing her clothes off. Next, she is interrogated about the contraband and told what she must endure if she wants to avoid court marshal. Nicola is made to bark like a dog, grovel and beg for the two female officers. She is kicked in the ass repeatedly and slapped across the face. This is rough treatment and she really deserves it. The private is a sassy brat who likes to talk back. You will lust over the uniforms of Irene and Gemini. Custom made leather and green jodhpur pants, corsets, ties and military hats with riding boots. Attention! Scene 2: Nicola is nude and restrained to the OBGYN table with heavy bondage mitts and thick leather ankle restraints for her head shaving. The Ladies take turns shearing Nicola with various razors, and make humiliating designs on her head. Finally, her head is lathered and shaved. She endures breast bondage and electricity on her nipples and pussy. Her piercings are placed in suspension while Irene takes her brain for a ride under the Nova Pro, and she experiences voice activated electro genitorture. Both Ladies take turns cracking the whip to set off the sound activated electroshock system. Scene 3: Hasn't this soldier had enough? What a good trooper! The two Female Officers change their clothes into sexy lingerie ensembles featuring garters, stocking, hose, heels, and gloves. Nicola is on the spanking horse. The Ladies drink a magnum of champagne and burp on Nicola. She drinks champagne from her dog bowl. She is collared, gagged, leashed, and teased with dog toys, and is forced to play fetch. It's so wrong!

Member's Writing! "Edwina's Abduction" (by edwina of the FemDomScene.Com messageboard) To complete my emasculation, I am writing this missive to offer more details on my abduction, beating, deflowering, and ravaging by Mistress Irene and Madame Nadine. For those of you who might find humor in my destruction or might be so enticed to plan a similar experience, I offer my humble story of woe and ecstasy. As some remember, my night of retribution began with an abduction. This, however, was the least of my worries and was relatively mild compared to the remainder of my night. Although Madame Nadine took advantage of me in the backseat of Mistress Irene's mini-hummer by placing a few well placed elbows to my stomach and more painfully taking great pleasure by pulling the hair on my chest and back. This hair pulling experience continued throughout the night and proved to be the most painful of my many tribulations. Lest you wonder why, the hair pulling resulted in hair being pulled and removed from my body and being shoved in my mouth. Once captured in Mistress Irene's lair I was given a good workover, or should I say brutal workover, as whatever male ego I possessed was punched, slapped, cropped, paddled, trampled, and painfully beaten out of me. When I could take no more I was dressed as the bitch and slut I so much want to be, complete with stockings, garter belt, bra, my own rubber tits, corset, wig, high heels, and wig. I was prepared for the rape scene I eagerly anticipated. I was then taken downstairs to suffer more beatings for the pleasure of Mistress Irene and Madame Nadine. Picture a punching bag being pummeled and you have an ideal of my predicament. I was then offered a break, which I very much needed, only to find I was to lie on a bed of rubber spikes. This experience became even more painful when both of my beautiful Mistresses of pain sat on me, and when this wasn't enough to torment me, they would ride me like a bronco as they rose up and down in the saddle only to settle back on my stomach like a weight being dropped from above...Read the rest here

Domestic Discipline and frilly bitch gallery! A 5 hour birthday session. View the fullsize - 13 images.

Boss Boot Worship in Berlin!
Watch the domination of slave USB
(from the FemDomScene Messageboard)
right in his hotel room during Venus Fair in Berlin Germany!
BOOT SLAVE TRAINING / EXTREME VERBAL / NIPPLE TORTURE WITH HEELS / BALL TRAMPLE / BOOT WORSHIP / LANGUAGE BARRIER

"Electric thunder from downunder"! FREE TRAILER
"Machine Screwed" FREE TRAILER

| | |
| --- | --- |
| | "The Enemates" has been added to the online cart. You can order it now! A couple visit the clinic of Dr Boss and report to visiting Clinician Kelly Paine and resident Examiner Irene Boss. Both erotic role play physicians suspect the male transmitted VD to the female. Alternative therapies are in order! Patients are restrained on the hospital bed and ass bench and soundly spanked. It's time for temperature taking, fingering, electro play, vibrating toy insertions and plastic dilators. A caning of the male follows while the female takes an enema. While the female releases in the bathroom the male receives an extreme CP punishment. Ms Paine even breaks a hairbrush! The female is strapon on trained while the male is enemized. A surprise interesting domestic ending with a good old fashioned home punishment. Many sexy moments await you in this extreme clinic escapade! |

"Electric thunder from downunder"!

Welcome to CBT Clinic of the Diabolical Dr Boss and visiting Clinician Ms Servalan! A patient is on the gurney at the Compound South.

The electrical examination includes the following treats: Bipolar electric nipple play, a sado massage with electro therapy gloves, C&B with an electric butterfly board, a microphone hook up for voice activated shock, an electro ball vice and crusher, an electric humbler, bi polar electric nipple vices, many shock boxes and their long lovely nails constantly touch and tease.

The Ladies wear luscious rubber and leather ensembles with sexy shiny pantyhose and stiletto heels. Enjoy the long lingering glances up and down their legs. Ms Servalan sensuously spits into the slave rubber hood while he is shackled in heavy steel restraints on the motorized hospital bed. It's time for your checkup!

| | |
| --- | --- |
| | "Machine screwed" Triple feature! Movie 1: Madame Nadine has her work cut out for her when she hires two personal trainers to keep her new bodacious house girl Maria in shape. Despite this attempt at conventional fitness with Svetlana and Hel Inferna, Maria has an exercise plan of her own. She discovers various dildos and a fucking machine amongst Cockmommie's home gym equipment. Maria gets caught pleasuring herself and is taken upstairs to the sex lounge for a thorough speculum exam and fuck machine training. Downstairs at the Compound a domestic discipline scene is in progress with a most unusual implement - a broken kitchen table leg. Hel Inferna gets her comeuppance! Introducing Maria, Svetlana and Hel Inferna to the all star Cockmommie cast! Movie 2: Creamed and Cleaned: Cockmommie comes home to a filthy sty at the hands of house brat Jillian. Jillian is used for target practice as Cockmommie wings and flings whipped cream and frozen potato nuggets. A splosher's delight! Jillian's nude raised ass is decorated with more cream and whacked repeatedly with a very hard red plastic mixing spoon until it breaks....OUCH!!! Jillian then gives Cockmommie a good washing in the shower. Movie 3: Vanessa's electrical education - Extreme electrical demonstrations! |