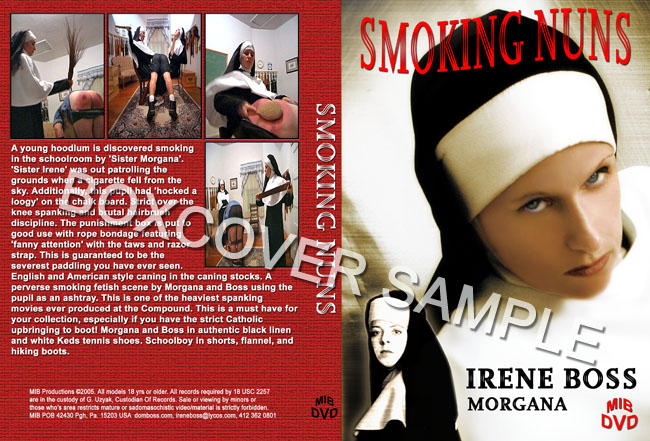 "SMOKING NUNS" 52 minutes CORPORAL / SACRILEGE / CANING / OTK / HAIRBRUSH / BIRCHING / PADDLING A young hoodlum is discovered smoking in the schoolroom by 'Sister Morgana'. 'Sister Irene' was out patrolling the grounds when a cigarette fell from the sky. Additionally, this pupil had 'hocked a loogy' on the chalk board. Strict over the knee spanking and brutal hairbrush discipline. The punishment box is put to good use with rope bondage featuring 'fanny attention' with the taws and razor strap. This is guaranteed to be the severest paddling you have ever seen. English and American style caning in the caning stockade. A perverse smoking fetish scene by Morgana and Boss using the pupil as an ashtray. This is the heaviest spanking tape ever produced at the Compound. This is a must have for your collection, especially if you have the strict Catholic upbringing to boot! Morgana and Boss in authentic black linen and white Keds tennis shoes. Schoolboy in shorts, flannel, and hiking boots. View Now Order DVD

New Writing in Members! "Expanding Limits at the Compound, Part 2" When I arrived at the Compound for my second visit, I was eager to be released from the Curve, the chastity device locked onto me by the Mistress the day before. Following the Mistress' instructions, I was wearing her beautiful rubber corset and her feathered bra and panties set under my man clothes. I also wore my garter belt and hose since they must go on underneath. I worried that the panties would get stretched by the considerable steel bulk of the Curve, but I had to follow the Mistress' instructions. A necklace, bracelet, and rings completed the female part of my attire and I carried a small black sparkly purse at my side to be more feminine, yet not obviously outrageous, as I came to the door of the Compound. My heart skipped a beat as I saw the Mistress descending the stairs in brilliant fetish attire. She was dazzling in a golden spandex body suit accentuated with a black corset, black stack heels, and earrings and necklace to match. I just wanted to gaze at her dominant beauty, but she quickly took control and told me to …(join to read the rest)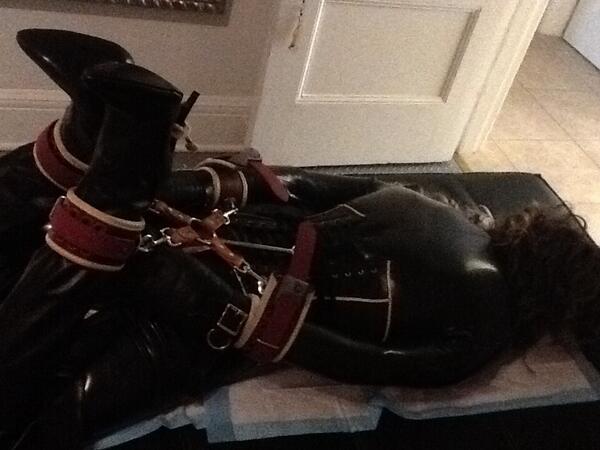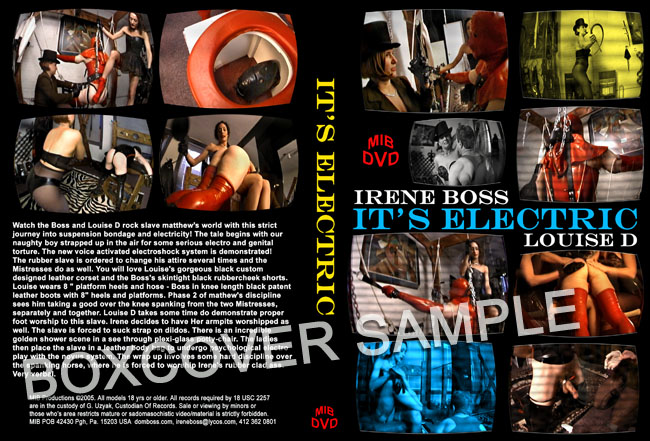 "It's Electric" 37 minutes ELECTRO PLAY / CP / FOOT WORSHIP / RUBBER
Watch the Boss and Louise D. rock slave Mathew's world with this strict journey into suspension bondage and electricity! The tale begins with our naughty boy strapped up in the air for some serious electro and genital torture. The new voice activated electroshock system is demonstrated! rubber slave is ordered to change his attire several times and the Mistresses do as well. you will love Louise's gorgeous black leather custom designed corset and the Boss's skin tight black rubber cheek shorts. Louise wears 8 " platform heels and hose - Boss in knee length black patent leather boots with 8" heels and platforms. Phase 2 of Mathew's discipline sees him taking a good over the knee spanking from the two Mistresses, separately and together. Louise D takes some time do demonstrate proper foot worship to this slave. Irene decides to have Her armpits worshipped as well. The slave is forced to suck strap on dildos. The ladies then place the slave in a leather body bag to undergo psychological electro play with the nova pro system. The wrap up involves some hard discipline over the spanking horse, where he is forced to worship Irene's rubber clad ass. Very verbal. View Now Order DVD

"Pounded Cheerleader" 34 minutes

Objectification!

I dress the bitch up in a green cheerleader's outfit. I am very sexy in my latex, high heels, and shimmering stockings. The bitch is not. (Are you this bitch?) Lust after my luscious ass and strong muscular legs, slave! The bitch is positioned in upside down suspension for bizarre electrical insertions. First, I do her makeup. She needs some serious help! I discover that she has not shaved properly so I rip the hair from her groin and ass. How pathetic! A fingering is in order here! The first electrical plug goes in, while I chastise her about the tiny size of her clitty. It's the smallest dicky doo I have ever seen! It's the itty bitty clitty committee! Next, I decide to give her a GOOD HARD WHIPPING. I am very skillful, administering an intense brush burn but I don't draw any blood. Next, I place the slut in a humiliating position with her arms and legs off the ground, hanging like a side of beef in midair. EXTREME ANAL TORTURE! Watch me put on my strap on harness. It's so sexy. Watch me go to town on this bitch. Don't you wish that this was you?

"Internment at Studio Avalon" 34 minutes

Dom Boss hi definition theatre!

Filmed at studio Avalon in Berlin Germany.

Irene Boss and Lady Marlon terrorize a slave in one of the top FemDom studios in the world.

You will drool over this equipment!

Our "prisoner" finds out what's in store for him after flying out from America to visit Irene while she is in Germany. He is placed on a stage in front of hundreds of screaming Germans at the Venus Fair during a live S/m show, and then the next day he was asked to be in this web movie. What a life! Hey - you follow the Boss - you get "used". He is whipped, cropped, electrocuted and placed on 2 very interesting pieces of bondage furniture - one a tall wall that spins, and the other a rotating table that he is hung from. Eventually the Ladies tire of him, and inter him in a large standing coffin and go off for a lengthy lunch. Leather and whips galore! Gorgeous corsets and sexy boots. Don't you wish it was you?

"Sissy for Morgana" 37 minutes. Strict school room fantasy! Mistress Morgana gives sherri an important lesson in corporal. Cross dressed sherri is disciplined with the paddles and cane over the punishment box and horse. Intensely verbal throughout. Ms. Morgan in short black 'cocktail style' dress, bare legs, and sexy open toed black patent leather strappy high heels. View Now Order DVD

"Slave no mercy's Bachelorette Special" 52 minutes

Starring slave 'no mercy', and a cameo with Mistress Morgana. A 'must have' for your Dominant fiancé. This video will truly put to shame anything you could possibly show at those stag parties. Be careful though - She might learn something and use it against you. This video is actually a compilation of hilarious 'no mercy' vignettes, with emphasis on the holidays. Footage of a phone visit with Mistress Morgan is also included. Extremely humiliating, and definitely not for the novice or faint of heart. DT, splooging, bad singing, dancing and horrible poetry by slut no mercy.

"Irene Boss meets Betka Schpitz" 60 minutes (and the adventures of fuck-hole) The first sequence filmed by Irene Boss, and the second sequence is filmed by Betka Schpitz. Realistic session footage - very spontaneous. The Ladies had a field day with fuck-hole! After being christened with a new name by Domina Betka Schpitz, fuck-hole is dressed in a very provocative and slutty outfit with exotic make up and heels (yes it's once again one of Ms Boss's old stripper outfits. LOL). Betka then takes fuck-hole into the schoolroom so she can try out Irene's new signal whip on the bitch. fuck-hole is bent over the punishment box and is severely thrashed. Irene also jumps in to apply a few lashes. You can hear Irene and Betka talking and making comments throughout. There is a hilarious segment where Betka forces fuck-hole to suck cock while ears and nose are clamped. The second sequence feature Irene administering extreme electro play to an upside down fuck-hole's genital and nipple area. Fuckhole is then suspended right side up for some whipping, and the scene winds down with DT in the sling after electro toy treatment. Betka then administers a good caning to fuck-hole, who cannot escape. View Now Order DVD

http://www.youtube.com/watch?v=C1uAvCWfUIs

"Bound at the Compound"

35 minutes

Image of the lovely Mistress Anastasia

A good example of a Mistress giving some positive reinforcement and praise to a submissive cross dresser. 'slut sherri' gives it up to Mistress Anastasia in this cross dressers/bondage lovers fantasy! slut sherri is dressed in a tight red rubber dress and matching ponytail hood with heels and stockings. Mistress Anastasia in sleek red PVC with matching ankle boots. slut sherri is trained in the standing stockade and endures cbt, nipple play and spanking. Mistress Anastasia takes possession of sherri's 'pussy', and thus sherri is forced to wear a butt plug for the remainder of the scene. A trip to the sit sling where sherri is placed into predicament rope bondage for more cbt and nipple play follows. Mistress Anastasia then decides to place sherri in near suspension, with 'her' hands up in the air over 'her' head for some serious flogging and more edge play. The video ends with sherri orally worshiping Mistress Anastasia's black strap on and red ankle boots