What happened in November 2006
Content Update: Writing: My 9th weekend at the Compound, by slave Dave. Read in members
Content Update: Writing: Explanation of over night sessions and longer sessions. An account of what transpired during a recent overnight session. Read in members
Content Update: Video Clips "Punished Houseboy" Order DVD View online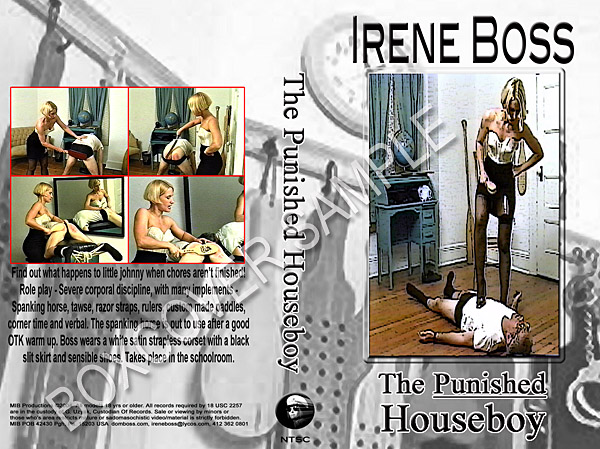 Find out what happens to little johnny when chores aren't finished! Role play - Severe corporal discipline, with many implements - Spanking horse, taws, razor straps, rulers, custom made paddles, corner time and verbal. The spanking horse is put to use after a good OTK warm up. Boss wears a white satin strapless corset with a black slit skirt and sensible shoes. In windows and IPOD (quicktime)! 30 minutes
Content Update: Writing: "The Backdoor Brawl" A cold rainy night in Pittsburgh, while the Panthers and Mountaineers were battling it out at Heinz Field in the Backyard Brawl, I would be taking my licks and sticks at the Compound from the lovely Mistress Irene and the beautiful Mistress Gemini in what was to be coined the "Backdoor Brawl" I arrived promptly for kickoff at the Compound, rang the doorbell and waited patiently for my entrance to be granted. Mistress Irene descended in a sexy black latex corset and an incredible pair of rubber boots, Her hair still wet and looking sexy as ever. I entered the lobby and assumed my position on my knees, Mistress Irene afforded me a whiff of Her hair and scent my brains sailing right from the start. Mistress Gemini soon descended, She was dressed in a matching leopard spotted bra and panties, WOW! Her fiery hair and sexy shape…. She was a walking inferno. Her open toed high heels had me drooling in the lobby. Mistress Irene introduced me to the lovely Mistress Gemini, it was truly my pleasure. My next duty was to worship Mistress Irene's new rubber boots, WOW! what an honor to pay homage to Mistress Irene rubber clad feet. Ordered to give Mistress Gemini's feet some attention, I crawled in Her direction, Mistress Gemini slid Her opened toe shoe toward me, She teased me with Her irresistible red polish toes, I bobbed to kiss them and She pulled them away. Mistress Gemini laughed and slid Her toes toward me again, I bobbed slowly to kiss them and again She pulled them away. Mistress Gemini laughed and once more She slid Her luscious little toes toward me, I bobbed again and was permitted to kiss Her insatiable toes. It was certainly worth the wait to kiss Mistress Gemini delightful digits……Read the rest in members
Content Update: Writing: After several months of e-mails and a phone call between Mistress Irene and myself, I finally found myself on a flight to Pittsburgh to meet the Mistress for two overnight sessions. Read the rest in members
12 new DVD releases at a glance
Content Update: Writing: The European trip started off with Mistress Irene condensing all of my luggage into one suitcase. Mistress Irene had emailed me and told me to try to keep it to one piece of luggage but I ignored it thinking She would forget about it. I was wrong She confiscated all my toiletries and only let me take the essentials and some heavy stuff like shoes and such was left behind too. Mistress Irene knows me quite well so I should have known to leave all of this stuff behind but I had to try, it just never works with Her. Anyway W/we made O/our way to the airport then the long flight to Europe followed/we arrived in Berlin Germany sometime in the afternoon on Wednesday the 18th.W/we had left on the afternoon of the 17th so it was a grueling day of travel. W/we checked into the Estrel, rested up and met up later for drinks and dinner. A pretty light first day but the Venus Fair would start the next day with plenty of work and play plus filming at different locations and a still picture shoot at OWK. Read the rest in members
Content Update: Writing: Note from Irene: I met slave alex in Berlin Germany after exchanging emails for about a year. He expressed some interest in visiting me at OWK, but we wound up getting together in Germany during the Venus Fair instead (a trade fair I attend every year). The following is his account of our session together. English is not his mother tongue, but he does speak it very well. Enjoy! When I arrived at her door, I was too early. Still five minutes until I would stand in front of Domina Boss. Right and left the long and empty hotel floor in Berlin. I sometimes looked at the long door number – I was looking forward so long for this moment and now it becomes reality. A lot of film scenes with Domina Boss arose in me, I saw her gorgeous face looking down to slaves who are whipped. The tension increased painful and it was confusing now to take a step into her world. And will this world change my own one? I knocked. The door was opened. One step – and I could not bring out a word: Domina Boss stood in front of me. She looked firmly in my eyes. It was overwhelming. I became her slave in the first second and could not still say anything. "Kneel down", she said. I was completely surprised, she starts immediately. I was prepared for a long talk, but why, I had sent my Domina a description about my inner life per mail. Enough for her to know, what to do with me. So I knelt down. "I like to dominate tall businessmen." I heard it, but could not really notice it. Her charisma of power filled the whole room. I was still glued to her clear eyes under the grey military cap. She was dressed in a grey military jacket, white riding trousers and high black boots. And she had bound up her hair strictly. During I thought how wonderful she was, I got a leather collar around my neck. As a sign of her control. I still wore my coat and now she sent me into her bath where I had to dress off my clothes. What a feeling to be in her bath, the intimate place of a lady. I took off my clothes and looked at me in the big round mirror – a wide black leather strap with a silver ring was the first sign of my slavery. Back again in the room she took my ankles in bounds and lead me with the ring at my neck in front of a chair. Only little steps were possible for me and I felt me rather helpless. She took place on the chair, put one leg over the other and I had to kneel down again, to kiss her high black boots as I thought. She said: "Lick, not kiss", and smiled. Her smiling took the tension a little bit away from me and I tried to do my best, licking the heels and the toe. I lost the tension of the moment, but I felt the agony of suspense in slavery. Slavery is waiting, between pain and lust in an endless desire for the Mistress. Not able to care for my own lust now in my enchained situation, I was waiting that Domina Boss would do it for me. And she did. I felt I would become the object of her vitality and energy. Read the rest in members
Content Update: Video Clips "Poking and Piercing!" Examples of 'butt play' - toys and strap-ons - with cross dressed sissy sluts. Some medical (enemas) G/S, and cbt/nipple play. Nipple and 'clitty' piercing, forced strap on sucking. Intense strap on play, and shower scenes too! Look through the eyes of the slaves, as you get to see everything they see - they wore "glass tron" deviseses attached to a tripod mounted camera through out the shoots, and had to watch what what being done to them while it was being done! Irene Boss and a cameo with Mistress Anastasia. Filmed in the clinic and gothic dungeon. In ipod and windows!
Clip1: Filmed in the Compound's medical room! The slave is in medical bondage (legs spread and suspended and in a straight jacket). Irene shocks the slaves clitty with a remote shocking devise, and then drags the pinwheel over the balls and taint. Then, Irene informs "sherri" that "she" is going to take a large volumn hot peppermint soap enema. Sherri is left to squirm in bondage with Irene fills the gallon enema bag. A large volumne inflatable double bulb nozzle is used. "Sherri" is dialated with several fingers first. Irene speaks to "sherri" in a very soothing manner. Irene Boss in Doctor's lab coat and military hat! Join to view.
Clip2: Irene stuffs the large inflatable double bulb enema nozzle into the slave's tight ass, and pumps it up with air 5 times so it is completely sealed on both sides. Then Irene starts the flow of peppermint soap mixed with warm water. Irene shows the slave the stainless steel silver bullet enema nozzle. Irene shows the slave some other interesting steel toys. Irene tells the slave that he is going to be forced to expell the enema after 3 quarts. Join to view.
Clip3: Irene asks the slave how his tummy is feeling. The slave is locked to the bed while holding his enema, and Irene must unlock the cuffs so the slave can expell. The slave must now take the stainless steel silver bullet enema nozzle. Once it is inside, Irene vibrates the nozzle. The slut begins to get excited! Irene rubs the slave's swollen tummy. Irene moves the enema bag up higher in the air on the IV stand. Irene removes the nozzle and the slave holds the enema, while Irene places suction devises on his titties to increase their size. Irene then threatens him with a small blow torch. Join to view.

Examples of 'butt play' - toys and strap-ons - with cross dressed sissy sluts. Some medical (enemas) G/S, and cbt/nipple play. Nipple and 'clitty' piercing, forced strap on sucking and a messy partial fisting. Intense strap on play,and GS scenes too! Look through the eyes of the slaves, as you get to see everything they see (they wore virtual reality glasses attached to a tripod mounted camera through out the shoots). Irene Boss and a cameo with Mistress Anastasia. Filmed in the clinic and gothic dungeon. In windows! (30 minutes)
Content Update: Writing:
TGIF (
Thank God it's Friday)
a session with Mistress Irene and Domina Gael
It was a crisp October morning, a wonderful day for a session with Mistress Irene and another of Her lovely guests Domina Gael. I was especially eager this morning since I would be able to present Mistress Irene with a belated birthday gift. Collecting the gift from my trunk I made my way to the porch. After ringing the doorbell I waited patiently for Mistress Irene to descend the stairs. Mistress Irene made Her way down the stairs dressed in a form fitting rubber dress, WOW! Mistress Irene looked incredible. I observed the devilish smile on Her face and when I noticed She was carrying Her favorite bipolar nipple clamps…. I knew why. my nipples were already a little perky from the cool morning air. Mistress Irene granted me entrance to the lobby, a good morning greeting and I assumed my position on my knees. Mistress Irene asked "what do You have there" .…" a belated birthday gift" was my reply. Mistress Irene sat down on the bench and allowed me to open Her gift and present it to Her. I was honored by Her favor as I displayed the "Kommandant Boss" wine tube complete with a visor lid and concealing a bottle of French Pinot Griso. Mistress Irene's affection for my gift was deeply and sincerely appreciated. Mistress Irene had me take note of Her freshly pedicured and polished toes highlighted by a sexy pair of silver Sandals. Whoo! talk about HOT! I was damn near drooling on the lobby floor. When Mistress Irene gave me permission to kiss Her tantalizing toes, I wasted no time, lightly laying my lips on Her delightful digits. Upon properly worshipping Mistress Irene feet Mistress Irene ordered me to remove my clothes and deposit them out of sight...
Mistress Irene explained what was in store for me this morning as I stood naked in front of the sling. Domina Gael has requested that She administer all of the corporal today and She is very cranky this morning, You are really in for it" Mistress Irene said with a laugh "You are so spoiled, it will be good for You". "i will warm you up for Her, starting with something new" I was a little nervous as Mistress Irene grabbed a new toy, a scrotal electrical harness, a shock jock if you will. Stretchy rubber straps to keep it secure, a metallic lined cup for contact and a hole for my worthless cock.
Read the rest in member's
Content Update: Freaks vastly entertaining!
DVD Release "Inside the masochistic circus - screw the thorns!" order your copy now!
Starring Irene Boss, Mistress Shane, and slave Kermit. Part one of this series was filmed in October by MIB Productions (BossDVD.Com), on location at the studio of Mistress Shane in Antwerp Belgium. Mistress Shane's slave Kermit is bound and determined to put on a show! We begin our journey with him standing in an archway outside in the courtyard showing off for the 2 Mistresses. You will not believe how many weights he can swing from his numerous genital piercings. The things he does are simply unbelievable! Kermit wears a red lingerie set, chrome collar, and high heels while he is spread in the archway. His nipples are tortured severely. He is cropped, caned on his lower stomach and cock. He begs while sucking a dildo, is tortured with a pinwheel, and manages to have an orgasm as a result of this cruelty. Irene decides to use him as a toilet while he lies on his back on the cold cobblestones, and Mistress Shane watches with amusement. He is unable to swallow Irene's copious shower! In the subterranean dungeon, he is restrained with his back against the prison cell door to endure an intense genital caning from the two sadistic Mistresses. The Ladies discover that the slave has been hiding a large dildo in his ass, and he is punished extremely with many cane stripes. A great variety of corporal implements are used upon him, including signal and bull whips. The slave is forced to fuck a bundle of thorns that the Mistresses have hammered to a pillory and mutilates himself while doing so. The grand finale sees the slave on his hands and knees, drilled by a relentless fucking machine. The Mistresses take turns flogging him and making comments until he finally explodes in a series of combustions. Irene Boss and Mistress Shane wear lingerie, girdles, pantyhose, stockings and high heeled shoes. Extreme Action! Pre order your copy now!
DVD Release "Jayne's Sex Change" order your copy now!
Are you a sissy? Then get this video so you can tour the Compound! Imagine being deliberately 15 minutes early to serve your Mistresses, because you were 15 minutes late the last time and want to avoid punishment. Imagine being a slave who finds it difficult to keep your mouth shut. slave jayne bungles again, in this 3 way extravaganza. Dominant Ladies wear leather, nurse outfits, and military gear. 1). Lobby: Mistress Morgana, Mistress Anastasia and the Boss decide to teach jayne a lesson by taking turns raping 'her' mouth for a full 15 minutes in the dark lobby. jayne is forced to sit on a metal spike mat while she sucks the strap ons. 2). Sissy Room: Next sassy jayne is taken upstairs where 'she' is forced to strip in front of all 3 Mistresses and change into a new outfit (jayne is forced to change 3 times during the video). 3). Interrogation chamber: Once properly attired jayne is placed standing in the middle of the room, fastened with 'her' arms in the air and legs spread. The Ladies make 'her' watch with virtual reality glasses, while 'she' takes some heavy corporal, cbt, and nipple play. 4). Clinic: The 'sex change' begins, with some intense cleaning to 'wash away the man'. jayne's tittie size is increased with a cupping set during her 'pregnancy' and 'period'. There is much nipple play and cbt. 5). Gothic Dungeon: jayne's 'treatment' ends in the sit sling, while the 3 Ladies take turns with 'her' poor pussy, and verbal admonishment ensues through out. order your copy now!
DVD New Release! "Don't eat the Candy" Order here!
Games people play…Domina Irene the Boss has hired valley girl Spanky to be her new secretary, but Spanky has ideas of her own. Irene eavesdrops to hear Spanky attempting to steal her clients with cut rates and suggestions of inappropriate activities! Irene decides to send Spanky on a break. While Spanky is away, Irene sticks a sucker up her bottom and calls her clients back, arranging for them to watch her nonconsensually dominate Spanky at a later date. The candy is rewrapped and returned to the jar. (Irene in a business suit and Spanky in school girl attire.) Later that day, Spanky is waiting for Irene in the dungeon. Irene is late on purpose to make Spanky miss her "appointments" and fidget. Spanky continuously looks at the clock while Irene places her in bondage in a 'shoe chair', and goes off to change into rubber while she struggles. (Irene in a short shiny dress, jacket, and thigh black leather fetish platform knee high boots. Spanky in a very tight Collette corset and ankle high black patent leather ballet boots.) Irene returns to place Spanky in upside down suspension bondage, spread eagled. Spanky is flogged and whipped for her misdeeds. Her panties are cast aside. (Irene in a black rubber policewoman's costume and patent leather black high heels.) Spanky is then severely bullwhipped. The story ends with the 2 women sharing pleasantries in the office while Spanky unknowingly places the ass candy in her mouth. Devious! Filmed at Mistress Jordan's studio in Orange County California. Order DVD online or call 412 362 6883
DVD Release! "Over Her Knee" Order here!
Filmed by Irene Boss. This young man was so naughty, Boss had to step in occasionally from behind the camera and kick him in the ass and apply the cane! A new spanking video. Mistresses (Morgana and Anastasia) in long skirts disciplining naughty charge OTK with different implements (paddles, hairbrush) and bare hands. Panty training is forced upon him, as his male underpants were substandard upon investigation by the two Mistresses. Punishment lines are given as an assignment, and he even manages to bungle it, which sends Mistress Morgana in a verbal assault. The positioning of his fanny over the spanking horse makes it incredibly easy for the Ladies to give him everything he deserves, including a stern caning. The charge is a sassy brat who likes to talk back, but does get his punishment and is thankful afterwards. Order DVD online or call 412 362 6883
Do you have these 12 new DVDs yet? Order here!