Scroll the full page for updates!


BRAND NEW TO MEMBERS: high resolution .mp4! "Jayne's Addiction!" 45 minutes
| | |
| --- | --- |
| | |
| | The adventures of 'slave jayne' continue, with this strict, erotic journey into rubber and foot fetish. Bossy Irene walks into her shoe boudoir to find lazy jayne applying makeup instead of shining shoes. Rubber jayne is then punished when Boss decides to force feed the fetish. jayne wears extremely tight 'neck to toe' shiny red rubber. Boss in butch military gear - tight white leather corset and jodhpur pants. Many sexy shots of shoe, stocking and bare foot worship. Boss uses high heels on jayne's titties and clitty. jayne wears several pairs of extremely uncomfortable high heeled bondage 'hobble shoes'. jayne ends up in the sit sling (Gothic Dungeon); worn out by the Boss's big black cock. jayne does the unthinkable, and manages to combust as a result of the erotic dildo play. Join to view |

Just loaded to members in higher resolution .mp4! "Shocked, Bound, Burned, Branded and Pissed on!" 55 minutes
Irene Boss and Mistress Gemini team up on slave dave!

The Mistresses test the slave's devotion to his foot fetish in this new feature.

His brand must be re-enforced because it has grown out again.

Scene one - His body and head are fastened to a leather bondage couch in a predicament, with electricity attached to his nipples and private parts.

He is teased with shiny pantyhose covered feet and face sat often to muffle his screams.

The Ladies bring out the violet wand and the Wartenburg wheels next and introduce alcohol fire play to remove some of that nasty male hair.

Scene two - The slave is bound face down on the floor for branding and piss play.

Both Mistresses use him thoroughly as a toilet, and take turns drawing his brand while he worships the other's feet.

Just loaded to members in higher resolution .mp4! "The Victim" 1 hour of EXTREME FEM DOM BDSM
Slave 'edwina' returns, this time to be brutalized by Mistress Anastasia, Mistress Morgana, and the Boss! edwina's "punishment stay" begins with cross dressing in the interrogation room, where 'she' is placed into standing bondage for some heavy cbt, nipple play, flogging, whipping, body slamming and face slapping. A very physical over the knee spanking occurs and the Mistresses take turns squeezing edwina's head between Their legs. There is a lot of laughing. The action is severe. edwina is then taken up to the schoolroom for some very strict discipline and dt. Many implements are used. The three Mistresses take turns with 'her'. Next, edwina is trampled front and back by all three Mistresses and made to do foot and boot worship. The Mistresses actually jump up and down on edwina's back in heels. There is much face slapping, spitting, and verbal admonishment. For the heavy player. If you liked Gang Bang, you will love this! Join to view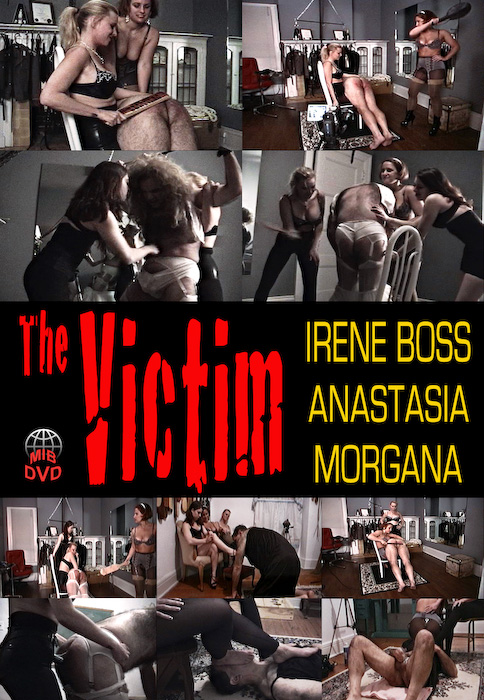 Just loaded to members in higher resolution .mp4! "Sent to the Boss" 30 minutes: Extreme CP Discipline
"Sent to the Boss" 30 minutes

Smoking is a filthy disgusting habit and you will be punished! Lady Victoria and Mistress Kat find a naughty student smoking in the schoolroom, so they decide to send him to the Boss.

They push him violently to the floor and shackle in the schoolroom with metal ankle and wrist cuffs, and march him down the stairs into the off-limits office.

Boss makes him eat a cigarette and spanks him soundly. All the Ladies take turns.

Extreme face slapping scene.

Reform school style discipline.

Punishment lines, paddling, spanking - many implements are used in this CP Discipline video.

Just loaded to members in higher resolution .mp4! "Edwina Returns" 90 minutes: Intellectual forced bi and ego demolition!
| | |
| --- | --- |
| | |
| | Edwina is securely fastened over a large whipping bench in bondage awaiting the Boss's torments. You are guaranteed to see Boss at her bitchiest in this video. Edwina is whipped, caned, spanked, flogged, punched, kicked, slapped and smacked. Anastasia explains and instructs Edwina on how to worship a Mistress's rubber ass properly while beating his with a riding crop. There is also some cbt. Edwina is forced to exchange clothes with another slave, and has a breakdown when he is unable to suck the other slave's cock. The Mistresses change their outfits and tickle torture the other slave. Edwina is bound and plugged and must listen to the other slave receive a good OTK spanking and caning. Edwina is forced to worship shoes and feet in great detail before masturbating under the stern gaze of the two Mistresses. Lots of shoe dangling, smothering and humiliation! Join to view |

Just loaded to members in higher resolution .mp4!
"Irene Boss meets Ember Burns"

(Whips: Bullwhip, signal whip and long whip)

Filmed on location at 'Ascension' - the studios of Ember Burns in Portland Oregon. This is Mistress Ember's video debut. Watch the Boss bullwhip clothespins off a slave's nipples! Watch Mistress Ember administer a severe spanking with a heavy metal paddle. These are just a few of the hard-core D/s treats that await you in this bizarre extravaganza. Mistress Ember discusses why She got into the scene and what She is looking for in a submissive plaything. A cross dressed sissy slut and a masochistic submissive are both worked over with predicament bondage, double flogging, threatened forced bi, tickle torture, cbt, nipple play, and heavy corporal. the bullwhipping scenes take place with the slaves in stockades and mounted on an elevated cross. Mistresses in sexy see through fetish outfits, latex, leather, fetish platform boots, wigs, and exotic makeup. Non stop action!

Just loaded to members in higher resolution .mp4!
"The Twisted Sisters"

From the film vaults of MIB Productions

Look what we found!

Lady Cheyenne and Lady Sage as "nuns who care", and holy sacrilege!

The poor alter boy is strap on trained after sitting in their laps.

It's just so wrong.

First time strap on web film with Lady Cheyenne and Lady Sage while the alter boy masturbates.