Hello I am Ms Irene Boss.
Please adhere to my guidelines in order to be considered. Private introduction via email is the way to discuss an audience with me.
Scene information is available by scrolling this webpage. Please read this entire page before making contact.
I am in Pittsburgh through February 8th, 18th - 27th and March 4th onwards.
Visiting: Orange California: February 9th - 16th and DC Metro February 28th - March 2nd

"Cock Mommie 4 - You can't clean that kind of dirty" (four episodes!) 66 minutes - View Now
Four scenes, bloopers at the end, and ass-tastic trailers from other films!
Scene 1: "You can't clean that kind of dirty" It's Gonzo for sexy submissive violet in her first ever appearance on film. She is auditioning as a house girl today! We begin with a long look at her topless long legged physique decked out in rubber corset and collar, as she goes through the complete collection of MIB Productions BossDVD.Com films in the lobby of the Compound. Sha-wing! Watch as she bends over. Madame Nadine screams and summons her up the stairs. Walk behind her. She is verbally berated by Madame Nadine for not cleaning the bathrooms properly, and now much be punished. She exclaims "You can't clean that kind of dirty"! Face slapping and shoving ensue. A gum snapping Madame Nadine is not pleased with this performance so far. Somethings gotta give. The now panty-less slave girl is panty gagged on the Andrew's Cross. The muscular miscreants nipples are clamped and she is properly gagged. She is smeared with an irritating lube and tied with rough rope. Her nipples and breasts are bitten and smacked. Next an OTK bare bottom spanking scene with fingering and the girl is ordered to masturbate. The bitch is a sassy brat who like to talk back! Dildo gagged she is placed over the horse for a good pussy and bottom flogging/cropping/wooden spoon paddling. She auditions her self dildo masturbatory fuck abilities on a steel chair while undergoing tit play. Next she fucks Cock Mommie with her dildo gag. The sexual audition in the gothic dungeon now moves to the kitchen where a femmy apron-ed and oven mitted Violet provides domestic service to the crabby Mom of Cock with tea, cupcakes, sexual food play and sploshing. A naked Violet lays on the kitchen table while Cock Mommie makes a Sunday out of her with sprinkles leading up to oral sex, vaginal strap-on play and oral strap-on service with a squirting milk cock. What a dumpster slut! Both Ladies are gleeful in their performances.
Scene 2:

"Painted Youth" Cock Mommie and Jillian are at head quarters down at the South Side Office. Dressed as a Gothic schoolgirl, Jillian is learning to speak properly while gagged. There are constant face slapping and corrections for getting things wrong as well as hair pulling. Speech restriction, gagging, and verbal humiliation. Jillian lies down on the kitchen counter for her "art lesson", which includes clothing ripping and destruction. Items that Cock Mommie paid for must be rescued, however. Messy paint is squirted all over the slutty school girl's body and outfit while she is gagged. She is rewarded at the end by being praised for being a good girl.

Scene 3:

"After School Ass" It's time for lessons at the Compound again with Instructress Madame Nadine and pupil Jillian, who much crawl up the stairs bare assed, blindfolded and gagged in her ballet boots. She is placed on the pillory and her shirt is cut off to be flogged on the behind with a rubber implement, and leather paddle. She is moved to an Andrew's Cross for more paddling and trained in obedience with face slaps, erotic nipple play and pussy slaps.

Scene 4:

"Go fuck yourself" Mommie Nadine is resting and reading in the Victorian Boudoir while house girl Jillian simpers about the room pestering her, begging her for instructions, so finally Mommie orders her to "go fuck herself", which she does on a chair. Oral strap-on play while Mommie observes and pulls her hair. Next Jillian does a sexy erotic dance for Mommie and fucks her self vaginally with the dildo. Madame Nadine in a selection of beautiful leather corsets. The Ladies in this Cock Mommie series are beautiful young firm bodied exotic dancers. The emphasis is on erotic lesbian BDSM, humiliation, strap-on and splosh play.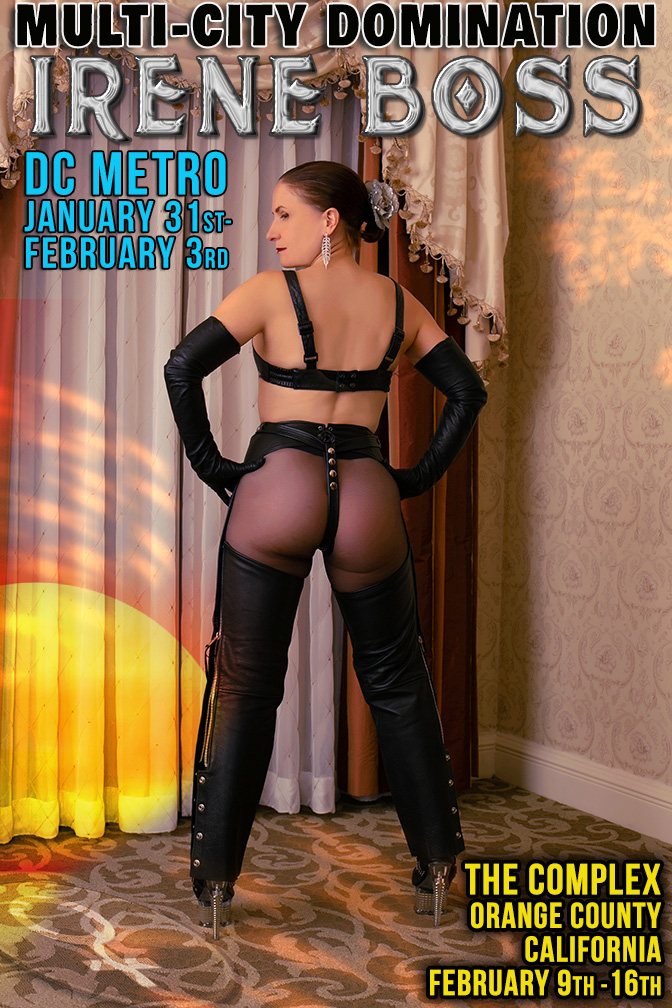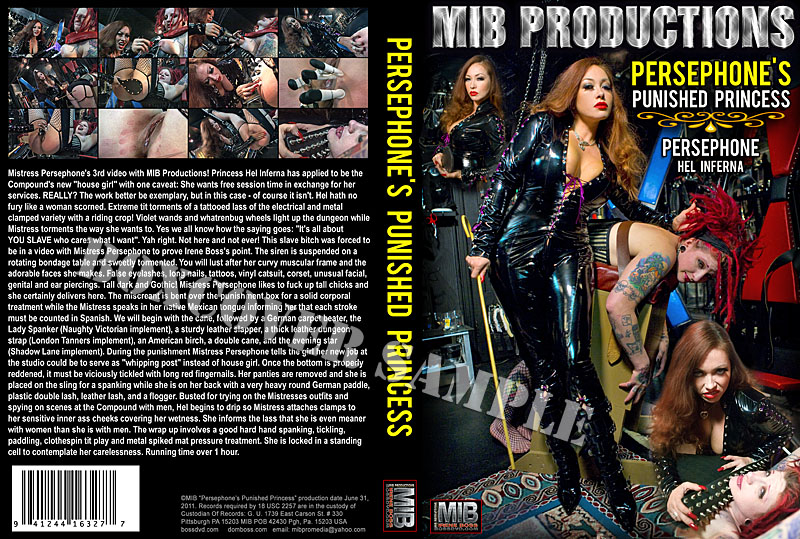 "Persephone's Punished Princess" View now
Mistress Persephone's 3rd video with MIB Productions!
Princess Hel Inferna has applied to be the Compound's new "house girl" with one caveat: She wants free session time in exchange for her services. REALLY? The work better be exemplary, but in this case - of course it isn't. Hel hath no fury like a woman scorned. Extreme tit torments of a tattooed lass of the electrical and metal clamped variety with a riding crop! Violet wands and whatrenbug wheels light up the dungeon while Mistress torments the way she wants to. Yes we all know how the saying goes: "It's all about YOU SLAVE who cares what I want". Yah right. Not here and not ever! This slave bitch was forced to be in a video with Mistress Persephone to prove Irene Boss's point. The siren is suspended on a rotating bondage table and sweetly tormented. You will lust after her thick muscular frame and the adorable faces she makes. False eyelashes, long nails, tattoos, vinyl catsuit, corset, unusual facial, genital and ear piercings. Tall dark and Gothic!
Mistress Persephone likes to fuck up tall chicks and she certainly delivers here. The miscreant is bent over the punishment box for a solid corporal treatment while the Mistress speaks in her native Mexican tongue informing her that each stroke must be counted in Spanish. We will begin with the cane, followed by a German carpet beater, the Lady Spanker (Naughty Victorian implement), a sturdy leather slapper, a thick leather dungeon strap (London Tanners implement), an American birch, a double cane, and the evening star (Shadow Lane implement). During the punishment Mistress Persephone tells the girl her new job at the studio could be to serve as "whipping post" instead of housegirl. Once the bottom is properly reddened, it must be viciously tickled with long red fingernails. Her panties are removed and she is placed on the sling for a spanking while she is on her back with a very heavy round German paddle, plastic double lash, leather lash, and a flogger. Busted for trying on the Mistresses outfits and spying on scenes at the Compound with men, Hel begins to drip so Mistress attaches clamps to her sensitive inner ass cheeks covering her wetness. She informs the lass that she is even meaner with women than she is with men. The wrap up involves a good hard hand spanking, tickling, paddling, clothespin tit play and metal spiked mat pressure treatment. She is locked in a standing cell to contemplate her carelessness. Running time over 1 hour. Higher resolution DVD

Goddess Cheyenne of Atlanta Georgia visits the Pittsburgh Compound March 14th - 16th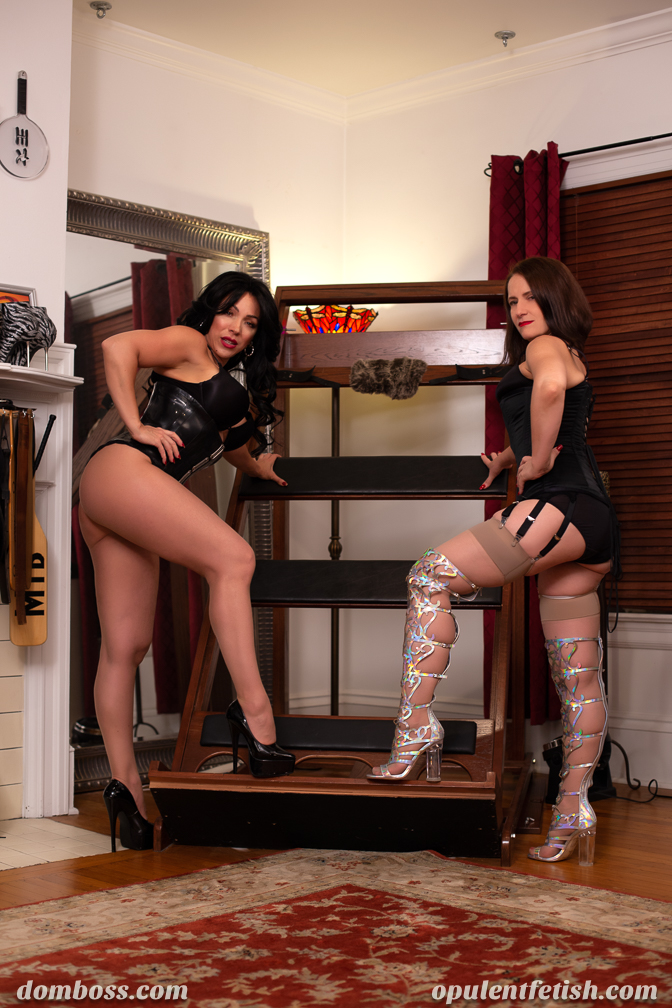 By popular request - My need's page has been updated

Select films are being converted into large format .mp4 segments. New content is being added.
It's a great time to join DomBoss.Com!

Director's Cut DVD sale! 6 DVDs for 200.00 S&H included in the US


Friends: Rebecca Knox and
Madame Ingrid

A listing of the Luscious Ladies in MIB films!
BossDVD.Com! Titles available at adult stores near you.

A huge amount of content! Click here for the video content you will see when you become a member
(List generally updated every other month or so)
Lengthy trailers from new DVD releases, full length web movies and full length DVD features.
MIB Productions FemDom DVDs is an industry benchmark standard for Female Domination Films
Boss DVD.Com has presented booths at the Venus Fair (Germany), AEE (Vegas), ANE (Vegas), AVN (Vegas), BondCon (NYC and Vegas), FetishCon (Tampa), FetFest (Maryland), BoundCon (Germany) Black Rose (DC), Diabolique (Philadelphia), Demonia (France), DomConAtlanta, DomConLA, Kink Fest (Oregon), and LA Erotica just to name a few!
(January 2019 archive) More archives