"Breaking the Rules" 35 minutes View now

SPANKING / LESBIAN DOMINATION

Nice girls who like spanking don't think about nasty painful S/M games right?

Wrong!

This new feature breaks all the rules!

Red hot action.

Mistress Antoinette's video debut at the Compound. Irene shares a girl for some inescapable bondage, tit torture, smothering, breast worship with the slave girl - who is unable to move an inch - enduring intense torture. There is also some good old fashioned over the knee bare bottom spanking. Filmed in the gothic dungeon and schoolroom. Mistresses in black leather corsets, fishnets, see through cat suits and high boots. Slave girl nude. Spanking sequence features Mistresses in business women's attire and slave girl in tiny white see through bikini panties.

DVD 5 product comes with box art and 30 minutes of trailers from other films!

"Beach House Bonanza Part 2" 55 minutes View now

(Member's Content is in High Resolution .mp4)

EXTREME FEM DOM BDSM
An abomination of domination!

Starring Irene Boss, Goddess Claudia, Madame Nadine and Lady Jillian (from the MIB Cock Mommie series), assland tom, heelslut and slave dave.

Filmed on location in Florida during MIB Production's famous annual beach house retreat!

Strict Female Supremacy.

4 Doms on 3 subs - the men are outnumbered during 3 simultaneous scenes presented in play party style!

Here is what goes on...

Hooded suspension in the Tetruss system with electric cbt and clothespins, hooded bondage on the St. Andrews Cross with heavy nipple play, hooded strap on sucking with strap on humiliation, foot worship, lots of corporal, a spectacular bullwhipping scene and extreme verbal humiliation.

DVD 5 product comes with box art and 30 minutes of trailers from other films!

Travels: January and February 2015
DC/DMV January 16th - 19th and 24th
Visiting Mistress Tyler in DC January 23rd
LA Playroom is all set up! LA: February 16th - 19th

"The New Girl" 39 minutes

LESBIAN BONDAGE / RUBBER / DILDO GAGS

From the office, to the dungeon, to the schoolroom. Role play, SM, rubber fetish, and corporal discipline! Scene 1: Irene has hired Spanky to be her office manager for the weekend, to "see how things go". During a routine office inspection Spanky is found to be surfing the web and goofing off. She did not write out the checks to pay the bills, and she was discovered impersonating Irene over the phone. Irene instructs Spanky to sort videos for awhile, and the whole time Spanky is fantasizing about "nasty rubber goings-on" while in bondage in the sit sling at the hands of Irene. The fantasies include being face sat by Irene while wearing a dildo gag, dildo training, and vibrator stimulation. Both ladies wear sexy skintight rubber cat suits, with strategically placed zippers. Irene wears sexy fetish stilettos with 7 inch steel heels, and Spanky is in ballet boots and head harness dildo. Very hot, shiny, sexy and nasty! Scene 2: Spanky is unable to concentrate on work, so Boss orders her upstairs to the schoolroom for some discipline over the punishment box! The following occurs: Razor stropping, tawsing, caning, birching, whipping, strokes with long wooden rulers, slappers, and a thin mahogany spanking stick. Spanky is thankful for her punishment and repentant afterwards. Irene is pleased with the behavior modification. Spanky is dressed as a school girl, and Irene wears office attire in this scene. Order the hi definition DVD

DVD 5 product comes with box art and 30 minutes of trailers from other films!

Have you visited the Compound previously?
There are extended stay session specials available at the Pittsburgh Compound.
Offer will be active now through the end of January 2015.
Send an email to inquire!

All films are being converted into large format .mp4 segments
A great time to join DomBoss.Com! Nonrecurring option: 4 months for 49.95!

"My Big Greek Pain in the Ass"

Free flash trailer

110 minutes

View now (members content hi rez .mp4)

Multiple scenes! The Greek patient has an appointment at the CBT clinic of Dr. Boss. He is put through many procedures including electroplay, sounds and chastity. He is straightjacketed and mouthy throughout but Dr. Boss prevails in controlling him. Me think thou doth protest too much! Goat boy is then teased mercilessly with fragrant foot worship. His suffering lent fetish is discussed plentifully. Dr. Boss threatens his ass. Mistress Persephone teases the slave with her gorgeous thigh high leather boots and black leather outfit. Irene is filming and giggles constantly. He is made to lick Irene's ass sweat for his dinner off a couch. His nipples are trampled with long boot heels. Irene lends a foot to his stocking foot smothering. He gets a good whack in the face for his insubordination and soon winds up tied down to the bondage couch for foot CBT domination and calf locks. It's time for a caning. He is then moved to the jail cell for foot worship and has a phobia about putting his thread through the door. Madame Nadine takes control of the miscreant with boot adoration, bondage, verbal admonishment and foot smothering. Hilarious bonus scene at the end with all 3 Ladies!

Featuring Mistress Persephone and Madame Nadine

DVD 5 product comes with box art and 30 minutes of trailers from other films!


"Private Sessions Bondage Part 3"

45 minutes View now

Irene begins with bedspring bondage. The slave is bound to a bare metal frame bed complete with pinching springs and cold steel. Nipple torture, cbt and butt plug insertion soon follow. Tickling is also administered in this first scene. The slave is then bound over a custom bondage apparatus where Irene brings forth a heavy dose of classical corporal - paddling, birching and caning. Taken to the Gothic Dungeon, the nearly spent slave is sling fucked and teased!

Director's Cut DVD sale! Shipping and handling included in the US

New images of Ms Boss taken December 1st 2014 - Scattered through the scene information pages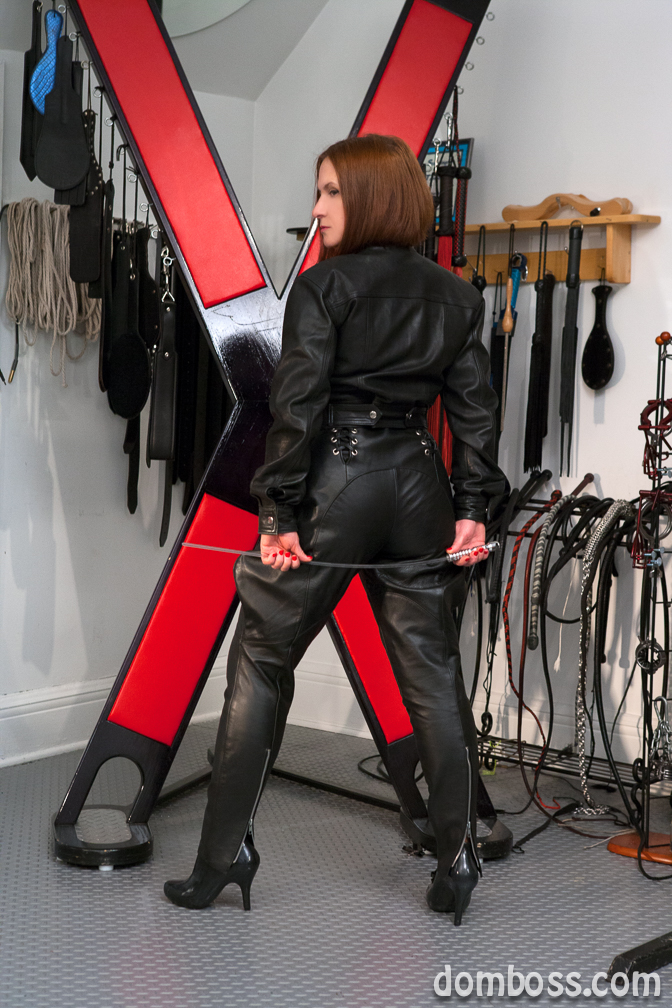 Vinyl Queen of San Francisco visits the Compound March 13th - 15th!
(link clicks to another website)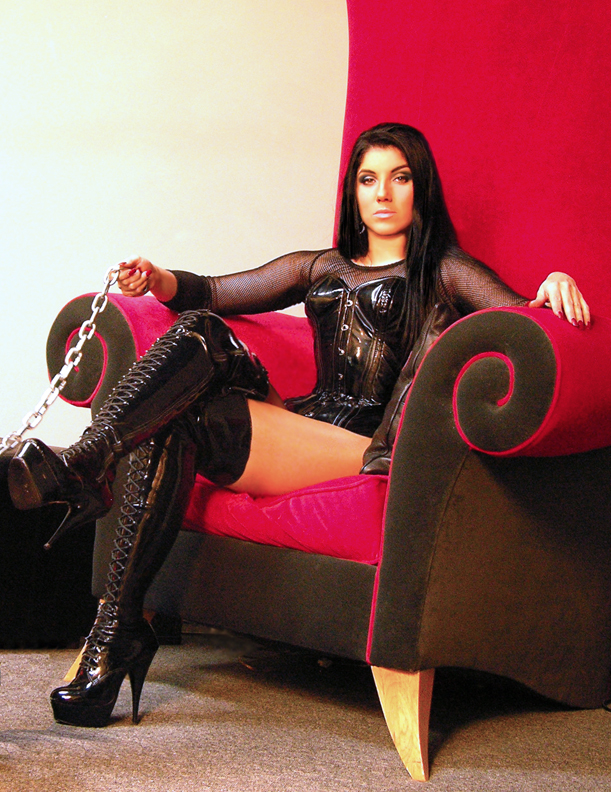 I am taking calls on Night Flirt when the call button is on:
I am also available through my own company: MIB Productions
Statement appears: MIB

(Multi Media Internet Business)
A listing of the Luscious Ladies in MIB films!
BossDVD.Com! Titles available at adult stores near you.

A huge amount of content! Click here for the video content you will see when you become a member
(List generally updated every other month or so)
Lengthy trailers from new DVD releases, full length web movies and full length DVD features.
MIB Productions FemDom DVDs is an industry benchmark standard for Female Domination Films
Boss DVD.Com has presented booths at the Venus Fair (Germany), AEE (Vegas), ANE (Vegas), AVN (Vegas), BondCon (NYC and Vegas), FetishCon (Tampa), FetFest (Maryland), BoundCon (Germany) Black Rose (DC), Diabolique (Philadelphia), Demonia (France), DomConAtlanta, DomConLA, Kink Fest (Oregon), and LA Erotica just to name a few!
(November 2014 archive) More archives