Miss Grey of San Francisco visits the Pittsburgh Compound December 1st - 4th


Now in members! Butt Crack Pig Cake Fucker Part 1 and 2 - 99 minutes
Butt Crack Pig Cake Fucker Part 1!

Extreme Humiliation! Stuffed turkey with "special dressing". How disgusting! Sheer Dominatrix madness. Filmed in August during Goddess Claudia's (South Florida) visit. The return of "troll boy the ashtray pig" who morphs into "the butt crack pig". Very extreme - he cries! Goddess Claudia and Irene Boss humiliate a pig! A disgust to behold. What a grossathon this is.

Goddess Claudia is SUPERIOR to butt crack pig! He is so gross and covered with dog food, spit, cigarette butts, and cake that he is not even allowed to dance near Irene Boss's equipment. Spitting and calisthenics compliment this sorry "show". He will never get an Emmy for this! The pig is made to masturbate while Goddess Claudia and Irene Boss laugh so hard they cry! He manages to even cum on command. Yuck - how disgusting. He is then made to get dressed over his mess of cake, spit, cigarette ash, and dog food. GET DRESSED YOU PIG! Goddess Claudia and Irene Boss clean their shoes and the slave is forced to place his dirty socks in his mouth. He can't take it and has a break down after Irene makes him put his shoes on opposite feet. This is "AFTER CARE". Ha ha ha ha ha ha ha

Woohoo! Butt crack pig is forced to finger himself, and rub cake in his crack and eat it while Irene and Claudia jeer at him, and right at you too. You will feel just like you are him! You know that 'crack kills' (the smell of nasty butt crack, that is). "Cry baby cry baby stick your finger up your butt"! Cake fucker - extremely humiliating splooge. The slave is made to finger himself in front of Goddess Claudia and Irene Boss while they laugh! Spitting and cackling at the disgusting BUTT CRACK pig. Ha ha ha! Spanking with a heavy metal paddle! Goddess Claudia smokes sexily in a teasing way and the slave gets extremely excited! Irene Boss spits at him and humiliates him by discussing full toilet training under the outhouse in the backyard. Goddess Claudia drools spit into his mouth. Is this you? What a pig! Extreme spitting and drool! Not even foot worthy! The pig is only allowed to lick the shoes of Goddess Claudia because he is so disgusting. He must chew and swallow the cigarette butt after begging to eat it. He does a troll dance for the 2 Mistresses. He is forced to eat his boogers. Irene Boss decides that the slave must get dressed over his disgusting cake-mess and leave that way. Irene makes extremely humiliating comments during this clip. Goddess Claudia almost vomits from the grossathon. Hilarious! Bend over and spread your ass crack! Tons of fun with this pig. Extreme verbal humiliation and the disgusting pig is forced to exercise in front of Goddess Claudia (in jeans) and Irene Boss. What a mess! You won't believe how mean!
Butt Crack Pig Cake Fucker Part 2!

Goddess Claudia and Irene Boss! Extreme verbal humiliation. The slave is covered in dog food, cake, spit, and cigarette ash, and forced to dance to Peaches. He is so disgusting Goddess Claudia has trouble looking at him, and he is only allowed on the tarp. Cake Fucker is then made to fuck a cake. Irene spits on him while Claudia laughs! Irene lights another cigarette for Claudia and she blows smoke right at you! The pig is made to masturbate while Irene spits on him. Goddess Claudia smokes in a very sexy manner and teases the pig slave. Goddess Claudia then spits in his mouth. What a disgusting raunchathon! "Butt crack, that's where it's at!" The pig is made to sing and dance to the B52's song "Love Shack" butt must insert the words 'butt crack' instead, while Goddess Claudia and Irene Boss spit on him, hoot and jeer! Very humiliating. What's wrong Mr. Penis Wood Poopy Pants? Not the kind of "dancing" you were thinking about? Well too fucking BAAAAD. This is FEMALE DOMINATION - "FEMALE SUPREMACY STYLE". You don't like it? TOUGH ! I dare you to jack your meat to this canker sore of a clip and I bet ten dollars you won't cum either. Ha ha ha! (Seriously. If you manage to cum from watching this, then email me your address and I will ship you a free DVD-5 trailer of over 60 titles.)


Now in Members:

Torturing the Sausage: 36 minutes

Cockcentric! Scene 1 - The slave is restrained to a St. Andrews cross in Mistress Shane's formidable gothic industrial dungeon. He braves electric cbt with an antique violet wand, cock slapping, smearing of spooge on his face, nipple play, and weights by parachute. Shane and Irene tease him mercilessly with their shapely voluptuous shiny pantyhose covered legs. He drips uncontrollably. Shane in short black tight spandex dress and Irene in short rubber mini dress. Both Ladies in sexy high heels! Scene 2 - The slave is bound over the punishment bench for CBT treatments on his balls, sensitive taint and under-cock. Weight work and antique violet wand shocking continue! Scene 3 - The Mistresses make a "deal" with the slave...he is only allowed to come while they shower him if he is willing to be shocked electrically right after his orgasm...what do you think he decides to do? Find out what becomes of this soaked slave!

Order higher resolution DVD (DVD R format and contains trailers from other films)

Personal image galleries - Ms Boss
Video image gallery - "Machined to Obey"

Mistress Lynn visited the Pittsburgh Compound November 18th - 20th!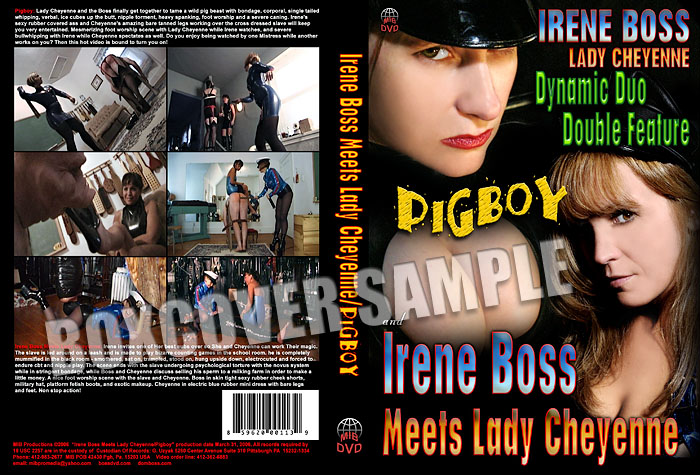 Update to DomBoss.Com members: "Irene Boss meets Lady Cheyenne" 60 minutes - view now
Lady Cheyenne´s video debut at the Compound! Meet the legend from Columbus Ohio who is one of the first Ladies of the Internet! Irene invites one of Her best subs over so She and Cheyenne can work Their magic. The slave is led around on a leash, and is made to play bizarre counting games in the school room. he is completely mummified in the black room . smothered, sat on, trampled, stood on, hung upside down, electrocuted, and forced to endure cbt and nipple play. The scene ends with the slave undergoing psychological torture with the novus system while in stringent bondage, while Boss and Cheyenne discuss selling his sperm to a milking farm in order to make a little money. A nice foot worship scene with the slave and Cheyenne. Boss in skin tight sexy rubber cheek shorts, military hat, platform fetish boots, and exotic makeup. Cheyenne in electric blue rubber mini dress with bare legs and feet. Non stop action! Order higher resolution DVD (DVD 5 format and contains trailers from other films)

All films are being converted into large format .mp4 segments
A great time to join DomBoss.Com! Nonrecurring: 4 months for 49.95!

Director's Cut DVD sale! Shipping and handling included in the US

Ms Boss visiting Orange County November 22nd - 29th!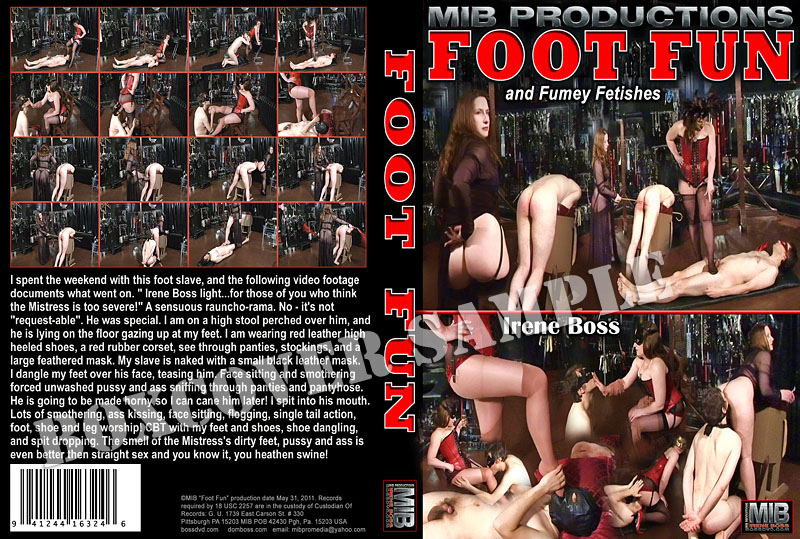 Update to DomBoss.Com members: "Foot Fun" 110 minutes - view now
I spent the weekend with this foot slave, and the following video footage documents what went on." Irene Boss light...for those of you who think the Mistress is too severe!" A sensuous rauncho-rama. No - it's not "request-able". He was special. I am on a high stool perched over him, and he is lying on the floor gazing up at my feet. I am wearing red leather high heeled shoes, a red rubber corset, see through panties, stockings, and a large feathered mask. My slave is naked with a small black leather mask. I dangle my feet over his face, teasing him. I tell him that I am going to get him so horny he is going to want to drink my pee and lick the pee from my bare feet. I shove my big toe right into his mouth. Face sitting and smothering - forced unwashed pussy and ass sniffing through panties and pantyhose. He is going to be made horny so I can cane him later! I spit into his mouth. Lots of smothering, ass kissing, face sitting, foot, shoe and leg worship! CBT with my feet and shoes, shoe dangling, and spit dropping. The smell of the Mistress's dirty feet, pussy and ass is even better then straight sex and you know it, you heathen swine! No nudity in this fetish exploration - pure fetish only (no sex). Order higher resolution DVD (DVD 5 format and contains trailers from other films)

I am taking calls on Night Flirt when the call button is on:
I am also available through my own company: MIB Productions
Statement appears: MIB

(Multi Media Internet Business)
A listing of the Luscious Ladies in MIB films!
BossDVD.Com! Titles available at adult stores near you.

A huge amount of content! Click here for the video content you will see when you become a member
(List generally updated every other month or so)
Lengthy trailers from new DVD releases, full length web movies and full length DVD features.
MIB Productions FemDom DVDs is an industry benchmark standard for Female Domination Films
Boss DVD.Com has presented booths at the Venus Fair (Germany), AEE (Vegas), ANE (Vegas), AVN (Vegas), BondCon (NYC and Vegas), FetishCon (Tampa), FetFest (Maryland), BoundCon (Germany) Black Rose (DC), Diabolique (Philadelphia), Demonia (France), DomConAtlanta, DomConLA, Kink Fest (Oregon), and LA Erotica just to name a few!
(October 2015 archive) More archives