Hello I am Ms Irene Boss. This is my membership website - DomBoss.Com
So - what's in members? Click here: all of this!

New writing in members:
Getting pumped up at the Complex!
It was cold and windy on the New Year's Eve day when I entered her world, but I was soon warming up in a corner of the Complex, tied into a chair encased in a rubber straitjacket. It was the best New Year's Eve day of my life. The Mistress took me to new heights or should I say new lengths. I have never been so elongated with excitement in my life. The Mistress wore leather for the occasion—leather hat, leather coat, leather bra, and even leather chaps! She also wore something shaped like a thong, but with studs all over the leather. The leather only partially covered her beautiful body such that bare flesh and pantyhose were visible in the most tantalizing places. Just looking at her was a major tease. When she turned around, I realized the chaps had only a thin strap of leather on the back. I could not have imagined a more attractive view of her backside. Her dangly earrings accented her long hair under the leather cap and the black leather studded platform heels matched everything else. I wore my best burgundy corset and top to match a great hobble skirt that allowed me to walk only in mincing steps in my five inch heels. She directed me to sit in the V-chair in the corner of the Complex and immediately realized that I could not spread my legs to sit on the two parts. She laughed at my predicament as she put a large rubber straightjacket over my head. "Hold your arms up high," she ordered as she slipped it on me. "I will try to get in on fast before you get claustrophobia." She knows me and all my fears so well. Read the rest in members

For current training options visit this page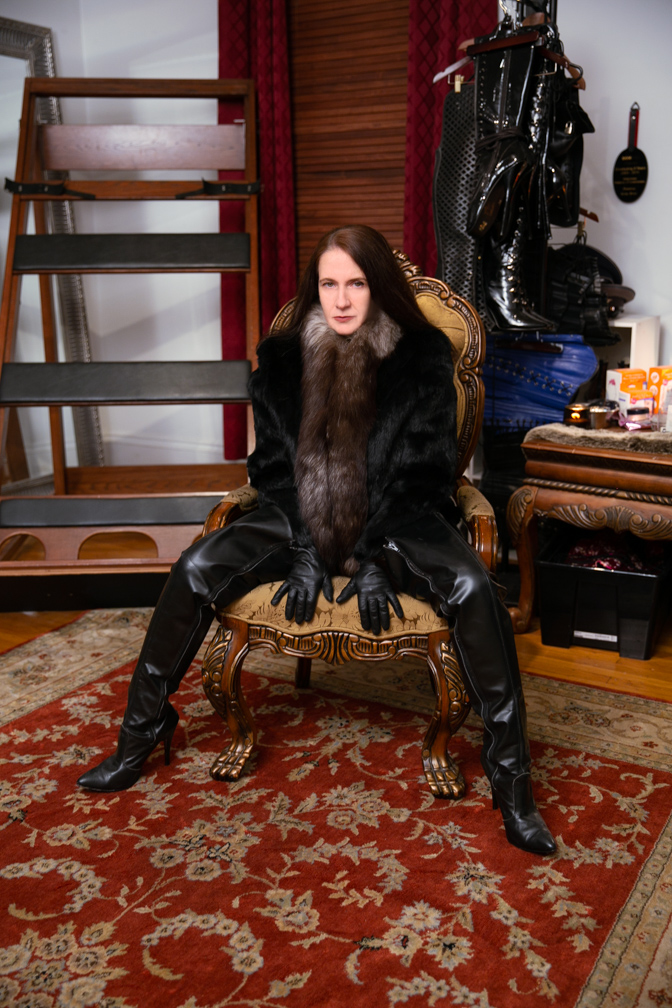 By popular request - My need's page has been updated
Massive updates to only fans page
content completely different and separate from DomBoss.Com members

Lots of advance notice for 2021:
BossDVD.Com returns to ANE, AEE and AVN!
BossDVD.Com exhibiting at ANE 2021 (AVN)!
It's been a few years since we attended ANE (AVN), but the gears are beginning to crank it out again!
Over 200 films are sitting in a pelican case and it has recently been opened and they are starting to be edited. We are going to be steadily releasing 4 DVDs every 4 months beginning March 1st 2020. The movies were lensed between the late 90's and also recently (2019) so never before seen content ranging over the last 20+ years will be placed in DVD-5 (The Hollywood standard) Yes DVD-5 (ntsc) will play on all devises with a disc drive and it will have no country code restrictions.
Why are we doing this you ask? Isn't DVD "dead"?
We are doing this because of what is happening with the Internet with regards to erotica. We want our material to be seen. It's more discreet for our fans to purchase a DVD from us or one of our resellers - nothing to sign up for online and no electronic "history". We also made a commitment long ago to put these movies out. So...you are going to see our widgets flying around again and we do love to hear from you about our content!
Please visit BossDVD.Com: http://www.bossdvd.com
If you are in the adult business as a reseller of adult merchandise, do come and visit us at our trade show booth in Las Vegas Nevada January 22nd - 24th. The booth number will be announced soon. We would love to spend time chatting with you!

Sincerely,
BossDVD.Com and DomBoss.Com
4 new releases:
Yes I have taken the "Quiz" (ha ha ha)
Results: You are often exaggerated and over-the-top in your speech and expressions.
You are a romantic at heart and a natural leader. You are James T. Kirk (Captain) 100%

Director's Cut DVD sale! 6 DVDs for 200.00 S&H included in the US


A listing of the Luscious Ladies in MIB films!
BossDVD.Com! Titles available at adult stores near you.

A huge amount of content! Click here for the video content you will see when you become a member
(List generally updated every other month or so)
Lengthy trailers from new DVD releases, full length web movies and full length DVD features.
MIB Productions FemDom DVDs is an industry benchmark standard for Female Domination Films
Boss DVD.Com has presented booths at the Venus Fair (Germany), AEE (Vegas), ANE (Vegas), AVN (Vegas), BondCon (NYC and Vegas), FetishCon (Tampa), FetFest (Maryland), BoundCon (Germany) Black Rose (DC), Diabolique (Philadelphia), Demonia (France), DomConAtlanta, DomConLA, Kink Fest (Oregon), and LA Erotica just to name a few!
(March 2020 archive) More archives