New images of Ms Boss taken January 7th 2015 scattered through the scene information pages

Travels: February and March 2015
NYC: January March 30th - 31st

"Mayhem in Munich" 86 minutes - 3 scenes. Filmed during BoundCon!

View now

Order the hi definition DVD DVD R product

Our story begins with Irene and slave USB sitting on a bed in a German hotel room. He has just laced and worshiped her boots. He is covered in clothespins. She explains what has happened and what she plans on doing next. She begins batting his clothespins about with a riding crop. She torments his nipples and removes the clothespins on his cock with her mouth. Face sitting, nipple torture, extreme bondage, belly and thigh caning, big dominant female ass walking around the room for a boot wimp, frontal flogging, C&B, cock and ball whipping, and frontal cropping. The slave is moved to a seated chair bondage position for a double flogging. Mistress wears a short tight red mini dress, pantyhose with no panties and sexy shiny black patent leather over the knee boots.

Scene 2: A savage whipping on stage at Bound Con! Mistress in rubber.

Scene 3: Last night's brutal bull whipping marks are evident as Mistress warms the slave up with a double flogging first. The slave is strapped and lectured. The most savage caning imaginable while the slave is in tight rope bondage. Many canes are used including the whippet and the dragon. Caning and rope bondage go so well together! Mistress wears office lady attire - long sleeve white shirt and black skirt. Get an occasional glimpse of her pantyhose covered feet and drool over her long luscious red fingernails!

Are you thinking about Mistress?

Have you visited the Compound previously?
There are extended stay session specials available at the Pittsburgh Compound.
Offer will be active now through the end of January 2015.
Send an email to inquire!

Coming soon!

Coming soon!

All films are being converted into large format .mp4 segments
A great time to join DomBoss.Com! Nonrecurring option: 4 months for 49.95!

"Edwina 5 still alive" 103 minutes

View now

Ladies in luscious long leather order the whore edwina into the building, but his pathetic maleness cannot be seen. He must be feminized before being allowed on camera. Irene Boss and Mistress Persephone are relentless in shredding his male ego, and you can be assured that Madame Nadine thoroughly enjoyed filming this debauchery. She even had to step out from behind the camera and do a few cameos while Irene takes a turn filming.

The Ladies have mountains of satin and frothy lace panties for the sissy bitch to wear. A forced feminine transformation is in order! Edwina is suspended and humiliated about "her" tiny sissy clit, and then placed on the bondage couch for dual strap on on sucking.

The Ladies slap Edwina, change his outfit and move him into the medical room on the ass bench, so he can take a thorough fucking from both of them. Edwina is forced to kiss ass while getting fucked with ATM. The fucking machine has a good time. Edwina is placed on the hospital bed and forced to masturbate while wearing masks. Madame Nadine and Mistress Persephone punch, slap and kick Edwina repeatedly while the bitch is strapped over the punishment box. It's a hairy man butt beat down while Irene Boss laughs her ass off! Mistress Persephone and Madame Nadine deliver a tandem paddling to the pussy boy and it's riding crop central. The bitch is transformed once again and moved to the green room so the Ladies can recline on the black leather couch while edwina performs shoe worship and masturbates under their stern gaze. Mistress Persephone decides to kick edwina in the balls, HARD and he is forced to worship pantyhose encased feet!

Director's Cut DVD sale! Shipping and handling included in the US

Vinyl Queen of San Francisco visits the Compound March 13th - 15th!
(link clicks to another website)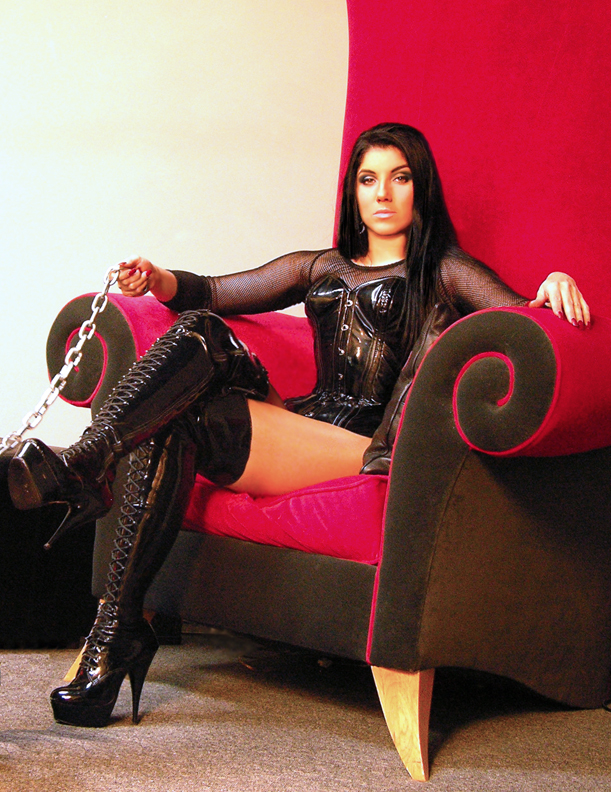 I am taking calls on Night Flirt when the call button is on:
I am also available through my own company: MIB Productions
Statement appears: MIB

(Multi Media Internet Business)
A listing of the Luscious Ladies in MIB films!
BossDVD.Com! Titles available at adult stores near you.

A huge amount of content! Click here for the video content you will see when you become a member
(List generally updated every other month or so)
Lengthy trailers from new DVD releases, full length web movies and full length DVD features.
MIB Productions FemDom DVDs is an industry benchmark standard for Female Domination Films
Boss DVD.Com has presented booths at the Venus Fair (Germany), AEE (Vegas), ANE (Vegas), AVN (Vegas), BondCon (NYC and Vegas), FetishCon (Tampa), FetFest (Maryland), BoundCon (Germany) Black Rose (DC), Diabolique (Philadelphia), Demonia (France), DomConAtlanta, DomConLA, Kink Fest (Oregon), and LA Erotica just to name a few!
(December 2014 archive) More archives