All films are being converted into large format .mp4 segments
A great time to join DomBoss.Com! Nonrecurring: 4 months for 49.95!

Ms Boss and VQ gallery! More in members

A leather masked Ms Boss in fishnet pantyhose giving some serious comeuppance to a Compound slave.
New - never before seen. For the whipping enthusiast. He is kicked, threatened and hoisted!

Vinyl Queen of San Francisco visited the Compound March 13th - 15th and We had a super time!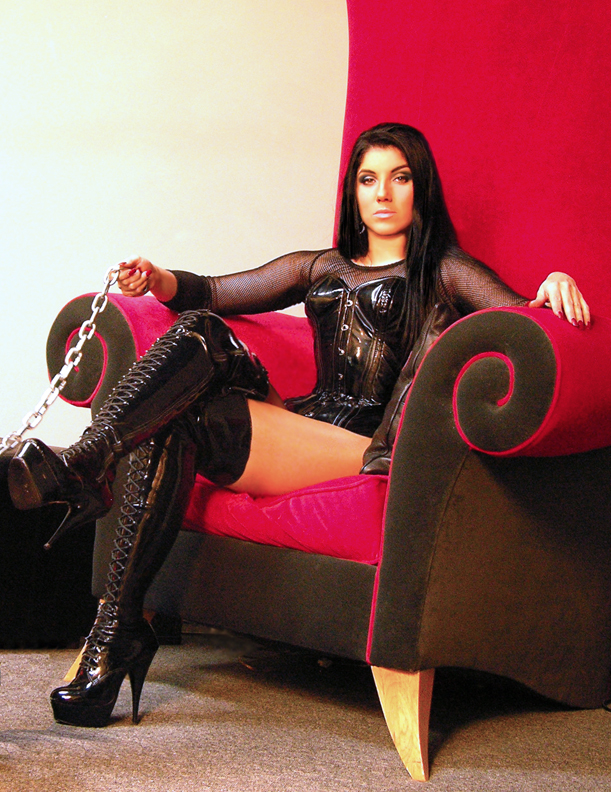 The "Men in Bondage Series" 3 new galleries in members. Join to view!

Ms Boss - personal galleries updated!

"Mastering the Macho Masochist" View

Irene Boss and Mistress Shane know that traveling with a slave through Europe is difficult, and Irene decides to stop over for a visit at Mistress Shane's Studio "Heaven" in Belgium. Slave dave super masochist needs a good working over and there is nothing in this world like the sadistic energies of two Dominant Ladies! In an Equestrienne mood the Ladies decide on jodhpurs and thigh high boots in leather for Mistress Shane and rubber for Irene Boss. Macho slave is placed over the sturdy whipping bench in the upstairs dungeon. The Ladies make a sport of cropping and whipping clothespins off his ass. Upon the standing cross, the slave is forced to worship Female armpits as a reward for enduring cbt with weights, nipple torments with piercing, ball kicking and cock caning. Lastly, the slave earns foot, boot and being Irene's butt kisser. He undresses the Ladies of their boots and sniffs white sweaty socks and sucks sweaty feet clean. He kisses and licks the rubber and leather thigh high boots to perfection. Irene shaves his hairy man ass while he worships Mistress Shane's boots. Ah - all is well again and back to normal! Order DVD

Travels:
NYC: January March 30th - 31st

"A Hitchhiker's Guide to the Compound"

52 minutes View

Scene 1: Irene Boss and Goddess Claudia like to play with their Glock and Beretta. They are bored and therefore are planning the capture of a male hitch hiker in broad daylight. While sitting on the porch at the Compound in their leather pants, they stroke their pieces suggestively and talk to the cameras. Scene 2: They take off in Irene's big black envoy and heads towards the fruit loop which is a favorite Pittsburgh hangout for male prostitutes. They find a regular guy instead in the Frick Park area, and seduce him into the vehicle with the hope of sex. He thinks he's going to get some, but the Ladies have other plans! He will be their entertainment hostage for the evening. Scene 3: The hostage is in bondage on the floor with thigh to wrist restraints, bondage mitts, and very tight straps. The Ladies go through his belongings and poke fun at him. They dominate the front of his body with various small implements, including short whips and riding crops. The punishment is excruciating. He is turned over for more of the same treatment on his backside. He screams and struggles during the genitorture and bastinado sequences. Claudia flips him over, kneels on his chest, and face sits him. Irene then face sits him while cruelly twisting his nipples! She teases his mouth with her sexy boots. Scene 4: The hostage is suspended spread eagled upside down for electro nipple and cbt treatments. Goddess Claudia manipulates the settings on the electrical boxes while Irene goes to town on his back and ass with signal and bullwhips. The Ladies indulge in a tandem bullwhipping scene. Extreme and brutal!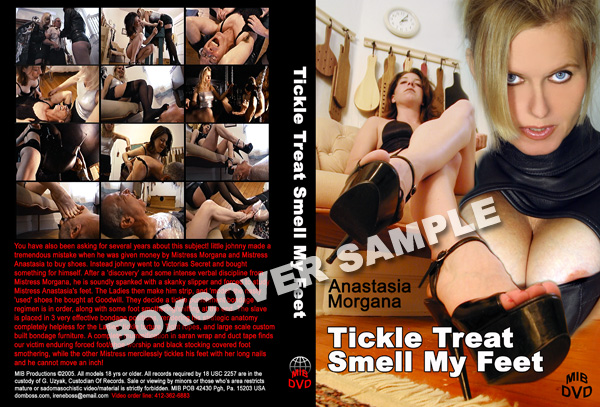 "Tickle Treat smell My Feet"
EXTREME TICKLING
41 minutes in members - view now
Little johhny made a tremendous mistake when he was given money by Mistress Morgana and Mistress Anastasia to buy shoes. Instead, johhny went to Victorias Secret and bought something for himself. After a 'discovery' and some intense verbal discipline from Mistress Morgana, he is soundly spanked with a skanky slipper and forced to study Mistress Anastasia's feet. The Ladies then make him strip, and 'model' the nasty 'used' shoes he bought at Goodwill. They decide a tickle punishment bondage regimen is in order, along with some foot smothering/sniffing at the end. The slave is placed in 3 very effective bondage positions, rendering his strategic anatomy completely helpless for the Ladies' tickle torture. Tight ropes, and large scale custom built bondage furniture. A complete mummification in saran wrap and duct tape finds our victim enduring forced foot/shoe worship and black stocking covered foot smothering, while the other Mistress mercilessly tickles his feet with her long nails and he cannot move an inch! Order

Are you thinking about Mistress?

Director's Cut DVD sale! Shipping and handling included in the US

I am taking calls on Night Flirt when the call button is on:
I am also available through my own company: MIB Productions
Statement appears: MIB

(Multi Media Internet Business)
A listing of the Luscious Ladies in MIB films!
BossDVD.Com! Titles available at adult stores near you.

A huge amount of content! Click here for the video content you will see when you become a member
(List generally updated every other month or so)
Lengthy trailers from new DVD releases, full length web movies and full length DVD features.
MIB Productions FemDom DVDs is an industry benchmark standard for Female Domination Films
Boss DVD.Com has presented booths at the Venus Fair (Germany), AEE (Vegas), ANE (Vegas), AVN (Vegas), BondCon (NYC and Vegas), FetishCon (Tampa), FetFest (Maryland), BoundCon (Germany) Black Rose (DC), Diabolique (Philadelphia), Demonia (France), DomConAtlanta, DomConLA, Kink Fest (Oregon), and LA Erotica just to name a few!
(February 2015 archive) More archives