Travels: DC/DMV January 16th - 19th
Yes my new playroom in LA is all set up!
Travels: LA: February 16th - 19th

"For Women Only" 59 minutes!

A rubber good time...Highly erotic...Slave Whisper has been told that must shine Irene's costume to perfection, from the tips of her toes to the top of her mask. Whisper is then placed in liquid latex on a steel bed for nipple and genitorture with clothes pins, crops and paddles, before being placed in bondage on the floor to serve Irene. The sound of Irene walking around in a rubber skirt is awesome!

Scene 2: Whisper is restrained in the sit sling suffering unbearable hot wax torture. Mistress Antoinette and Irene laugh and encourage her to take every drop. Antoinette in custom made thigh high leather boots, corset, and red latex. Irene in skin tight black latex with leather mask and metal platform shoes. Mistress Antoinette tortures the slave girl with breast smothering, pussy cropping and tit torture, while Irene pleasures her. She is forced to wear a dildo gag and her face is put to good use. Lengthy, sexy, and wet.

Disclaimer: Some of the activities in this film (direct sexual contact) are NOT available during a session at the Compound. This is a Girl/girl erotic film by MIB - not a session example.

All films are being converted into large format .mp4 segments
A great time to join DomBoss.Com! Nonrecurring option: 3 months for 49.95!

"The Disorderly Orderly"

47 minutes!

Dr. Boss has captured an escaped disorderly inmate while in San Fransisco and transported him the the State's medical Asylum. We find him sequestered on the stainless steel OR gurney awaiting procedures. Authentic locking medical restraints, dilation, speculum examination, inflatable nozzle enema treatments, nipple play, saline scrotal infusion, vibrating sounds, electric CBT and catheter play. Dr. Boss adds to the psychological POV nature of this film with lots of entertaining and narrative erotic storytelling to seduce subspace. A sensually sadistic scene with a rubber Dom! Filmed at Madame Katorga's studio during the annual Folsum Fair.

"Milked by the Ma'ams" 59 minutes! Slave hardenough has no idea what he has gotten himself into by volunteering to fly out to the Compound at the last minute to appear in a video with the illustrious Mistress Renee of Philadelphia and Domina Irene Boss. He is bossed into seated suspension electric CBT style including legs spread wide with electric nipple torture, catheter and butt plug. The Ladies have no mercy for his cock and balls. Who would have thought? He receives a punishment on both thighs of tandem birching and caning. He is whipped and flogged while hanging in midair. Ladies in tight rubber mini dresses, hose and heels. LEGS LEGS LEGS. Scene 2 features heavy duty full body restraint, face sitting, crotch sniffing, mouth to mouth spitting, electric cock ring, head bondage, CBT, breast worship teasing and nipple play. He is forceably milked by hand to orgasm by the cunning cougars and made to eat his liquid lunch after a bizarre "deal" he makes with the Boss. Lots of teasing and sexual innuendo, graphic sex and body part talk. HOT HOT HOT for you verbal humiliation whores and dirty panty sniffers. Irene and Renee both in classy see through lingerie for fetishists of panties, stockings, hose and heels, garter belts, sheer robes and open toes shoes. MESS YOURSELVES! View now DVD

The Exacting Executrix! 31 minutes

Superior Stiletto Scolding. The Compound's electrical repair slut endures a verbal tirade from an annoyed Boss Lady about the state of disrepair concerning a certain appliance crucial in the Compound's scenes. Retraining is in order for a distracted subbie! Get mesmerized by the slow seductive stills at the beginning of this video lesson with the sound of Ms Boss's authoritative voice leading the way. She is going to use fetish exploration to get you all excited so she can take you upstairs and torture you. There is not going to be any orgasm today for you at all, because you are going to be sent away with blue balls. Learn how to respect the equipment and learn how to respect the Boss. You are going to lick her trade show shoes for lunch today. Suck the steel heels and lick the soles you slut! Listen to the sound of the silky shiny hose and Ms Boss rubs her stocking covered legs together. Where could a heel be stuck? Up someone's ass perhaps? If you don't straighten out you are going to have to suck nasty ass heels, and who knows who's ass they've been in. Ha ha ha! Ms Boss's feet smell better than sex. Watch sexy leg shot stills as Ms Boss discusses all her various whips and what she plans to do with them once she gets you upstairs while you sniff and worship her luscious stocking covered tootsies! Ms Boss discusses in great detail what she is seeking in a foot slave. A submissive masochistic fetishist is a very rare find indeed. It's time for a bi polar electric nipple treatment on the 3rd floor CBT chair combined with the nova pro while Ms Boss continues her tempting tirade with a heavy double flogging - a preparation for a solid whipping! Electric CBT combine with the stretching cross and spanking preface a very severe bull whipping. Many bullwhips are discussed and used. Observe the "men-struation"!.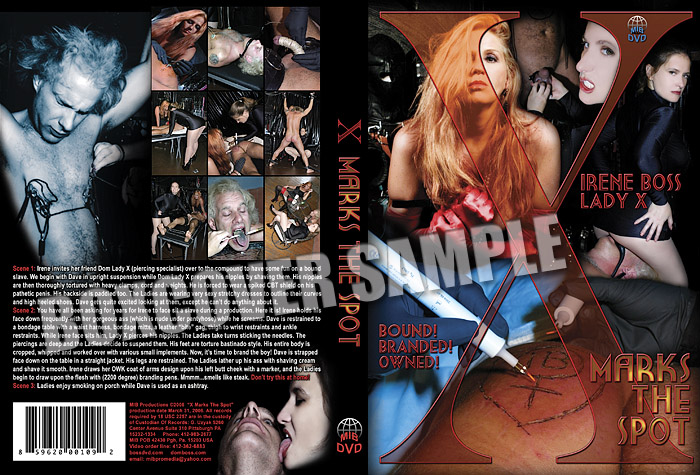 X Marks the Spot
58 minutes
Scene 1: Irene invites her friend Dom Lady X (piercing specialist) over to the compound to have some fun on a bound slave. We begin with Dave in upright suspension while Dom Lady X prepares his nipples by shaving them. His nipples are then thoroughly tortured with heavy clamps, cord, and weights. He is forced to wear a spiked CBT shield on his pathetic penis. His backside is paddled too. The Ladies are wearing very sexy stretchy dresses to outline their curves and high heeled shoes. Dave gets quite excited looking at them, except he can't do anything about it.
Scene 2: You have all been asking for years for Irene to face sit a slave during a production. Here it is! Irene holds his face down frequently with her gorgeous ass (which is nude under pantyhose) while he screams. Dave is restrained to a bondage table with a waist harness, bondage mitts, a leather .bite. gag, thigh to wrist restraints and ankle restraints. While Irene face sits him, Lady X pierces his nipples. The Ladies take turns sticking the needles. The piercings are deep and the Ladies decide to suspend them. His feet are torture bastinado style. His entire body is cropped, whipped, and worked over with various small implements. Now, it.s time to brand the boy! Dave is strapped face down on the table in a straight jacket. His legs are restrained. The Ladies lather up his ass with shaving cream and shave it smooth. Irene draws her OWK coat of arms design upon his left butt cheek with a marker, and the Ladies begin to draw upon the flesh with the (2200 degree) branding pens. Mmmm...smells like steak. Don't try this at home!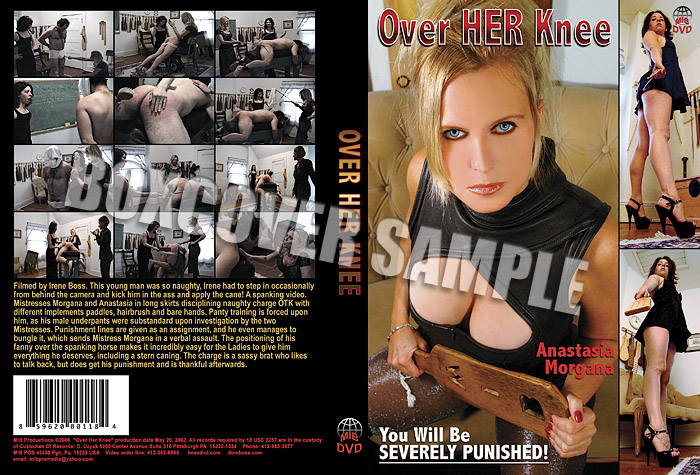 "Over Her Knee" 38 minutes Finally available in DomBoss members! Filmed by Irene Boss in the late 90's. This young man was so naughty, Boss had to step in occasionally from behind the camera and kick him in the ass and apply the cane! Mistresses (Morgana and Anastasia) in long skirts disciplining naughty charge OTK with different implements (paddles, hairbrush) and bare hands. Panty training is forced upon him, as his male underpants were substandard upon investigation by the two Mistresses. Punishment lines are given as an assignment, and he even manages to bungle it, which sends Mistress Morgana in a verbal assault. The positioning of his fanny over the spanking horse makes it incredibly easy for the Ladies to give him everything he deserves, including a stern caning. The charge is a sassy brat who likes to talk back, but does get his punishment and is thankful afterwards. View now Order DVD

Total Invasion of the Man Ass

33 minutes

CANNIBAL / MEDICAL / ASS fetishes! Filthy, slutty and fucking disgusting. Madame Nadine and Irene Boss are totally out of control in this custom video commissioned by a Northern European BDSM cannibal/medical enthusiast. POV style: The Ladies threaten to eat you after you have been fattened up, and in order to get you ready, you must first be cleansed and infused with WOMEN'S HOLY WATER, because it's a WOMAN'S WORLD. Sit like a girl and wee used woman's holy water, slave. A 2nd generation toilet! In a cage at the slave-cow ranch you will fattened for dining pleasure. It's time to go spelunking in the GIANT ASS MAN CAVE. Enemas and expulsion, examinations and various speculum with lights. Dirty horny descriptive talk. This is so nasty. I'm going to fuck you with a banana you whore. You will be basted, tasted, licked and stuffed with fruit smoothies before being roasted and consumed...not today, but TOMORROW. Watch them lick the mask and the blender too. Filmed by a young lesbian college student. Sweaty pantyhose wet with pussy juice and see thru latex mini dresses.

"Gimpy get's fingered" 45 minutes
Holy dildo training bat man! BDSM circus theatrics extraordinaire! The scene opens with slave gimpy in a flying suspension leather bondage hog-tie and CBT weighted parachute. He is wearing a custom rubber vision restriction and breath play hood. While he is flying the Ladies have a good time with crops, canes and fingering. Irene then uses not two, but four single tail whips on him -(two in each hand). He howls at the moon! He demonstrates a second rubber breath control hood while being dildo trained; gasping for breath throughout. Irene in red rubber dress, pants and garter belt with leather ankle boots and Gemini in black mini dress and black satin corset with black backless ankle boots. Drool over the outfits, slave! For fans of breath play, suspension and extremely bizarre bondage!
Order High Resolution DVD contains trailers from other films!

Director's Cut DVD sale! Shipping and handling included in the US

Members writing: "A Walk on the Bossy Side"
Aug 8 – The Foreplay Begins
Alright, yes, ya-hoo - just passed the first hurdle. Through the mystical magic of email, I'm on the books with Boss Irene for a session in 2 weeks. Can I wait? Actually passing this threshold initiates a steady stream of activities & thoughts that will be part of my daily life for the next fortnight. Having firmly in my little mind the heady impact of the ~½ dozen previous sessions with the Boss and her emporium of erotic delights, the anticipation of session number XXXXXXXXXX . . later this month lingers on the fringe of obsession.
Why wax verbose on this phase of the proceedings? Doesn't all the good stuff occur during the session? Most, but I wouldn't want to miss this period of anticipation/ planning/savoring the actions to come for anything. Asking for an appointment on short notice would deprive me of this meditational period that is, for me, so delectable.
What goes into the proper preparation for a visit to the dungeon in the Burgh? Ah yes, those little tasks at the mall. First, it is imperative to be properly attired for a fitting meek & mild presentation to The Boss upon arrival, and this means "get thee out there, Missy, for a little shopping". While Boss Irene is not demanding on arrival garb, it just seems a proper slut should arrive in the right frame of mind & body – it's just the right thing to do. How to accomplish?? First, you make a beeline to those marketplaces not traditionally known to be one-stop eroto-shops e.g., WalMart or Target. Then you look for the overhanging "lingerie" sign which warns you that your browsing is likely to be male-lonely. No big – who doesn't like sharing the deep contemplation with other ladies on what is required to get the bestest apparel to make you feel good & girly?? My favs – go for those panties that are (a) big-time tight and (b) huggy, preferably with a middle seam and built-in crease that fits between those man cheeks. When those go on, you can just feel the love! Read the rest

See what's interesting: Updated wish list - The Serious Kit Milker has arrived!

I am taking calls on Night Flirt when the call button is on:
I am also available through my own company: MIB Productions
Statement appears: MIB

(Multi Media Internet Business)
A listing of the Luscious Ladies in MIB films!
BossDVD.Com! Titles available at adult stores near you.

A huge amount of content! Click here for the video content you will see when you become a member
(List not complete - updated every other month or so)
Lengthy trailers from new DVD releases, full length web movies and full length DVD features.
MIB Productions FemDom DVDs is an industry benchmark standard for Female Domination Films
Boss DVD.Com has presented booths at the Venus Fair (Germany), AEE (Vegas), ANE (Vegas), AVN (Vegas), BondCon (NYC and Vegas), FetishCon (Tampa), FetFest (Maryland), BoundCon (Germany) Black Rose (DC), Diabolique (Philadelphia), Demonia (France), DomConAtlanta, DomConLA, Kink Fest (Oregon), and LA Erotica just to name a few!
Join DomBoss.Com to watch these exciting web movies just mentioned now!
We make films containing... Amazons, Enemas, Ball kicking, Breath play, BDSM (Bondage and Discipline / Sadism and Masochism), Bullwhipping, CBT: Cock & Ball Torture, CP: Corporal Punishment (Includes spanking OTK, paddling, whipping and caning) Canine / Equestrienne, CFNM, Cigars, Corsets, Cross dressing, Crush, Dildo gags, Dildo training, Domestic Discipline, Dominance and Submission, Electrical (Electro), Exhibitionism, Face Sitting, Feet, Fisting, Forced bi, Forced Feminization, Fuck Machines, Hoods, Humiliation, Huge Insertions, Intergenerational D/s scenes (great age differences), Interracial DS scenes (different races), Latex, Leather, Legs, Medical, NIP (Nude in Public), Nipple torture, Oral sex (Female / female), Panties, Panty hose encasement, Piercing, Pony Play, Power Exchange, Sensory Deprivation, Blow up Sex Dolls, Shoes, Single tail whips, Signal whips, Smoking, Smothering, Spanking, Spitting, Sploshing, Stockades, Suspension, Tickling, Trample, Transvestites, Transsexuals, Torture, Uniforms, Wet and Messy and Wrestling!
The member's area features famous International Ladies!
Our films, web movies, and photographs feature...
Madame Nadine - Pittsburgh Pennsylvania USA, Natali Demore - Los Angeles California USA, Porshe Lynn - Phoenix Arizona USA, Mistress Precious - Houston Texas USA, Sabrina Belladonna - Los Angeles California USA, Lady Sage - Columbus Ohio USA, Mistress San - Denver Colorado USA, Madame Sarka - Prague Czechoslovakia Europe, Mistress Shane - Antwerp Belgium Europe, Mistress Simone - Chicago Illinois USA, Domina Skye - New York New York USA, Domina Snow - Columbus Ohio USA, Lady Tantalize - Atlanta Georgia, Mistress Thora Nang - Los Angeles California USA, Mistress V - Atlanta Georgia, Lady Victoria Frost - Pittsburgh Pennsylvania USA, Dom Lady X - Pittsburgh Pennsylvania USA, Mistress Xena - Chicago Illinois USA, Sublime Lady Amazon - Netherlands Europe, Goddess Amazon - Atlanta Georgia USA, Mistress Amrita - Tokyo Japan Asia, Mistress Anastasia - Pittsburgh USA, Mistress Anna Valentina - Los Angeles California USA, Mistress Antoinette - Tampa Florida USA, TV Mistress Astria - Lexington Kentucky USA, Lady Ayhla - Los Angeles California USA, Betka Schpitz - Portland Oregon USA, Mistress Brianna - Washington DC USA, Caroline Pierce - Henderson Nevada USA, Lady Cheyenne - Providence Rhode Island USA, Goddess Claudia - Pompano Beach Florida USA, Ms Coral Korrupt - Philadelphia Pennsylvania USA, Domina Danielle - New York New York USA, Domina Dante Posh - New York New York USA, Mistress Denetra - Scotland Europe, Mistress Ellen - San Diego California USA, Ember Burns - Portland Oregon USA, Mistress Eve Minax - Chicago Illinois USA, Mistress Fawn - Baltimore Maryland USA, Mistress Gemini - Los Angeles California USA, Goddess Genesis - Los Angeles California USA, Madame Ginger Fyredanzer - New York New York USA, Mistress Heather - Lexington Kentucky USA, Lady Hillary - Los Angeles California USA, Ilsa Strix - San Francisco California USA, Madame Ingrid Valkerie - Pittsburgh Pennsylvania USA, Kendra James - Ft. Lauderdale Florida, USA, TS Mistress Jeannine - Los Angeles California USA, Lady Jillian - Pittsburgh Pennsylvania USA, Princess Kali - Boston Massachusetts USA, Mistress Kat - Boston Massachusetts USA, Louise D - Chicago Illinois USA, Mistress Luna Sea - Charlotte North Carolina USA, Lady Marlon - Berlin Germany Europe, Maya Sinstress - Chicago Illinois USA, Mistress Morgana / AKA Bess - Pittsburgh Pennsylvania USA, Claudia Varin - New York, NY USA, Madame Christine - Czech Republic Europe, Mimi Divine - Philadelphia USA, Countess Diane - Pittsburgh PA USA, TS Mistress Jeannine - Los Angeles CA USA, Mz Kara - Pittsburgh PA USA, switch Marnie - Los Angeles CA USA, switch spanky - Berlin Germany Europe, submissive whisper - Columbus Ohio USA, submissive angelica - England UK
(September 2014 archive) More archives