"The examination of little red riding hood"

60 minutes - View Now

This little bitch "gets it" 10 ways to Sunday on the OBGYN table in the Gothic room.

Lots of pre-dick-a-ment bondage, spitting, gags, Electricity, CBT, ass play and GS.

Watch My BIG BEAUTIFUL DOMINANT FEMALE ASS in a garter belt with crotch high stockings dominate his pathetic manhood.

Watch me use the "man-go". (Female prosthetic cock).

Many scenes are split screen for your viewing enjoyment pleasure.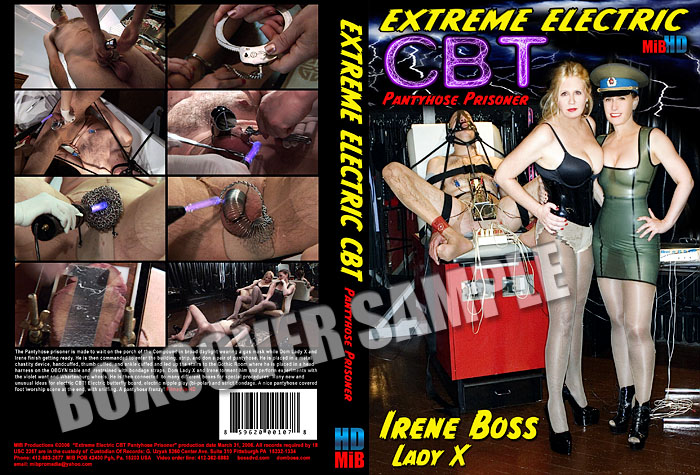 "Extreme Electric CBT - The Pantyhose Prisoner" 48 minutes Free Trailer
The Pantyhose prisoner is made to wait on the porch of the Compound in broad daylight wearing a gas mask while Dom Lady X and Irene finish getting ready. He is then commanded to enter the building, strip, and don a pair of pantyhose. He is placed in a metal chastity devise, handcuffed, thumb cuffed, and ankle cuffed and led up the stairs to the Gothic Room where he is placed in a head harness on the OBGYN table and restrained with bondage straps. Dom Lady X and Irene torment him and perform experiments with the violet want and whartenburg wheels. He is connected to many different boxes for special procedures. Many new and unusual ideas for electric CBT! Electric butterfly board, electric nipple play (bi polar) and strict bondage. A nice pantyhose covered foot worship scene at the end, with sniffing. A pantyhose frenzy!
Order High Resolution DVD contains trailers from other films!

All films are being converted into large format .mp4 segments
A great time to join DomBoss.Com! Nonrecurring options starting at 29.95

"A Dog's Day at the North Sea" 47 minutes Free Trailer
MIB Productions (BossDVD.Com) traveled all the way to the North Sea to film this feature! Irene is building sandcastles near the ocean in an electric blue latex cat suit, while .alpha dog. is playing fetch with his owner Sublime Lady Amazon of OWK (Holland). Lady Amazon is attired as a strict military Guardess and makes her dog run into the cold water many times to retrieve his toys. He gets playful and decides to run through Irene's sand castle, tries to dunk her, and also buries her shoes! It is obvious that alpha dog mush be punished for this behavior, so the Ladies drive him to a private dungeon. There he is caged and prodded. He is placed high in the air in suspension rope bondage and hung to be whipped, flogged and cropped. He is forced to wear an inflatable gag. He is place in upright suspension (in a mask), wrapped in cellophane with roses (many thorns), and Irene whips the heads off the flowers. His back, chest, and torso are flogged by both Ladies. Lady Amazon wears shiny black PVC, and shiny black thigh high stiletto boots. Irene wears a black rubber policewoman's ensemble with black patent leather fetish platform ankle boots. Do you want to lick these boots, slave?
Order High Resolution DVD contains trailers from other films! Read an interesting back story about this film

Director's Cut DVD sale! Shipping and handling included in the US

"Your appearance is in question": 105 minutes.
The Premise: Three scenes! Scene 1: .Office boy. Dave is being scolded about his appearance by CEO Irene Boss. Dave has been stripped down to his black boxers, but Irene looks sharp and snazzy in her expensive suit, lace topped stockings, and sexy pinstriped pumps. Her hair is long and flowing too. Dave's hair is the problem here, and his nails. His appearance is substandard and an embarrassment to the Boss. He is forced to indulge in an extremely humiliating foot worship scene with creative verbal onslaught, as only Irene can do. Irene removes her jacket. He is restrained over the punishment box for intense paddling, caning, and strapping (razor strap and tawse). Many different rattan canes are used upon him, including the white lightening, nasty bastard, and carbonite (indestructible) implements. Irene finishes with a steel martinet. He must either shape up, or it's a head shaving for him on the auction block next summer at the OWK! He is given a timeline to make the corporate changes, and he fails to achieve them.
Scene 2: Enter Mistress Gemini, Irene's British friend visiting from Los Angeles. The following scene opens in the Compound's Gothic dungeon: Both Ladies are decked out in rubber. Irene is in a pewter cat suit with fetish boots, and Gemini in a shiny black one piece, short red rubber skirt, black corset, garters, clear rubber stockings and red knee high boots. Va va voom! The Ladies then decide that it is time for Dave's medical treatment. He is placed in a stainless steel chastity devise and gagged to prevent any erections and noise. The Ladies warm his nipples up with lots of piercing suspension. Then they decide to play a voice activated electroshock CBT game with him! Many electrical boxes are demonstrated. You can also see that Irene decided to paint Dave's toenails since he refused to keep them trim.
Scene 3: The Ladies are seated on a small couch in the school room with Dave kneeling before them, questioning his appearance. Birching and face slapping takes place. Dave strips and removes his jewelry upon command of the two Mistresses. He is humiliated with an embarrassing hairstyle and sheer black panties. He is restrained over the punishment box for tandem paddling, strapping, and the tawse. The Ladies are wearing lingerie, girdles, hose and heels. Sexy and strict! They move Dave into the caning stockade for reform school style discipline. His ankles and wrists are cuffed in steel and he is made to wear another steel chastity devise. The discipline is extreme and frequently goes over 100 with each implement. Tandem caning and tandem birching take place! Don't ever let your appearance be called into question!
Another written description: Extreme foot worship! Do you lust after slick patent high heeled shoes, Cuban heeled stockings, and sexy French pedicured toes? How about when the woman is a real bitch on wheels?! Irene the corporate dream is serviced by slave Dave who has quite a foot fetish. Next, he is bent over and punished for his horrible hair. It looks like a welcome back kotter sos pad disaster. Yes, his appearance is definitely in question. He is strapped and caned until his bottom cheeks ooze. Cut to the gothic dungeon at the Compound. Mistress Gemini and Irene are decked out in tight shiny rubber and Dave must serve a s a toilet for both of them. He is then tortured "medical style" upon an OBGN table in a smother box with bondage, piercing, and electricity. A trip to the schoolroom is next for some serious face slapping, verbal admonishment and stripping under the keen eyes of the two stern Mistresses. A heavy birching, caning, strapping, and more face slapping takes place. A hair pulling lecture finishes off this diabolical punishment. Mind your P's and Q's young man, and you better drink your pee!
Free Trailer View Entire Film Now
Order DVD contains trailers from other films!

More MIB: "Men in Bondage": 5 new galleries!

New story in members: Latrina's first visit to the Compound!

Ms Boss Travels: DC August 28th - 31st LA October 5th - 10th

"The Accidental; Gardener" 28 minutes Free Trailer

All domboss.com content is currently being converted to .mp4

Scene 1: Irene Boss is visiting Mistress Shane in Antwerp Belgium. They are sitting in the courtyard outside Shane's studio on a lovely October evening making conversation while wearing leather corsets, skirts, girdles, heels, boots, and hose. They look divine and you have just entered heaven. Suddenly, they notice that the gardener has done a very poor job maintaining the grounds. Mistress Shane is embarrassed by this. Something must be done! Irene and Shane make a 'tree' out the gardener by commanding him to hold branches between his legs and arms. Then the ladies punish the tree with their whips! The slave is then left to stand in the courtyard all night long bearing the marks from the implements. Scene 2: On the second floor of Mistress Shane's new modern dungeon (one of the loveliest play spaces on earth) the gardener is restrained to a St. Andrew's cross for weighted CBT, and genitorture. Clothespins are whipped from his body. The ladies stretch and grab his cock and balls frequently. Scene 3: The gardener is restrained over a large spanking bench for tandem heavy paddling, flogging, dual caning, ass cropping, and single tail whipping. How much can one slave take? Scene 4: Bonus short "The Punkin' head slaves". Watch Mistress Shane and Irene murder a pumpkin, eggs, and tomatoes, while they talk about you. All the bad qualities about slaves are discussed as they take out their aggressions in a positive way on food. This was filmed for fans of crush fetish, giantess, strong legs and verbal humiliation. Something different!

Order DVD contains trailers from other films!

See what's interesting: Updated wish list - The Serious Kit Milker has arrived!

I am taking calls on Night Flirt when the call button is on:
I am also available through my own company: MIB Productions
Statement appears: MIB

(Multi Media Internet Business)
A listing of the Luscious Ladies in MIB films!
BossDVD.Com! Titles available at adult stores near you.

A huge amount of content! Click here for the video content you will see when you become a member
(List not complete - updated every other month or so)
Lengthy trailers from new DVD releases, full length web movies and full length DVD features.
MIB Productions FemDom DVDs is an industry benchmark standard for Female Domination Films
Boss DVD.Com has presented booths at the Venus Fair (Germany), AEE (Vegas), ANE (Vegas), AVN (Vegas), BondCon (NYC and Vegas), FetishCon (Tampa), FetFest (Maryland), BoundCon (Germany) Black Rose (DC), Diabolique (Philadelphia), Demonia (France), DomConAtlanta, DomConLA, Kink Fest (Oregon), and LA Erotica just to name a few!
Join DomBoss.Com to watch these exciting web movies just mentioned now!
We make films containing... Amazons, Enemas, Ball kicking, Breath play, BDSM (Bondage and Discipline / Sadism and Masochism), Bullwhipping, CBT: Cock & Ball Torture, CP: Corporal Punishment (Includes spanking OTK, paddling, whipping and caning) Canine / Equestrienne, CFNM, Cigars, Corsets, Cross dressing, Crush, Dildo gags, Dildo training, Domestic Discipline, Dominance and Submission, Electrical (Electro), Exhibitionism, Face Sitting, Feet, Fisting, Forced bi, Forced Feminization, Fuck Machines, Hoods, Humiliation, Huge Insertions, Intergenerational D/s scenes (great age differences), Interracial DS scenes (different races), Latex, Leather, Legs, Medical, NIP (Nude in Public), Nipple torture, Oral sex (Female / female), Panties, Panty hose encasement, Piercing, Pony Play, Power Exchange, Sensory Deprivation, Blow up Sex Dolls, Shoes, Single tail whips, Signal whips, Smoking, Smothering, Spanking, Spitting, Sploshing, Stockades, Suspension, Tickling, Trample, Transvestites, Transsexuals, Torture, Uniforms, Wet and Messy and Wrestling!
The member's area features famous International Ladies!
Our films, web movies, and photographs feature...
Madame Nadine - Pittsburgh Pennsylvania USA, Natali Demore - Los Angeles California USA, Porshe Lynn - Phoenix Arizona USA, Mistress Precious - Houston Texas USA, Sabrina Belladonna - Los Angeles California USA, Lady Sage - Columbus Ohio USA, Mistress San - Denver Colorado USA, Madame Sarka - Prague Czechoslovakia Europe, Mistress Shane - Antwerp Belgium Europe, Mistress Simone - Chicago Illinois USA, Domina Skye - New York New York USA, Domina Snow - Columbus Ohio USA, Lady Tantalize - Atlanta Georgia, Mistress Thora Nang - Los Angeles California USA, Mistress V - Atlanta Georgia, Lady Victoria Frost - Pittsburgh Pennsylvania USA, Dom Lady X - Pittsburgh Pennsylvania USA, Mistress Xena - Chicago Illinois USA, Sublime Lady Amazon - Netherlands Europe, Goddess Amazon - Atlanta Georgia USA, Mistress Amrita - Tokyo Japan Asia, Mistress Anastasia - Pittsburgh USA, Mistress Anna Valentina - Los Angeles California USA, Mistress Antoinette - Tampa Florida USA, TV Mistress Astria - Lexington Kentucky USA, Lady Ayhla - Los Angeles California USA, Betka Schpitz - Portland Oregon USA, Mistress Brianna - Washington DC USA, Caroline Pierce - Henderson Nevada USA, Lady Cheyenne - Providence Rhode Island USA, Goddess Claudia - Pompano Beach Florida USA, Ms Coral Korrupt - Philadelphia Pennsylvania USA, Domina Danielle - New York New York USA, Domina Dante Posh - New York New York USA, Mistress Denetra - Scotland Europe, Mistress Ellen - San Diego California USA, Ember Burns - Portland Oregon USA, Mistress Eve Minax - Chicago Illinois USA, Mistress Fawn - Baltimore Maryland USA, Mistress Gemini - Los Angeles California USA, Goddess Genesis - Los Angeles California USA, Madame Ginger Fyredanzer - New York New York USA, Mistress Heather - Lexington Kentucky USA, Lady Hillary - Los Angeles California USA, Ilsa Strix - San Francisco California USA, Madame Ingrid Valkerie - Pittsburgh Pennsylvania USA, Kendra James - Ft. Lauderdale Florida, USA, TS Mistress Jeannine - Los Angeles California USA, Lady Jillian - Pittsburgh Pennsylvania USA, Princess Kali - Boston Massachusetts USA, Mistress Kat - Boston Massachusetts USA, Louise D - Chicago Illinois USA, Mistress Luna Sea - Charlotte North Carolina USA, Lady Marlon - Berlin Germany Europe, Maya Sinstress - Chicago Illinois USA, Mistress Morgana / AKA Bess - Pittsburgh Pennsylvania USA, Claudia Varin - New York, NY USA, Madame Christine - Czech Republic Europe, Mimi Divine - Philadelphia USA, Countess Diane - Pittsburgh PA USA, TS Mistress Jeannine - Los Angeles CA USA, Mz Kara - Pittsburgh PA USA, switch Marnie - Los Angeles CA USA, switch spanky - Berlin Germany Europe, submissive whisper - Columbus Ohio USA, submissive angelica - England UK
(July 2014 archive) More archives